Continuing with our ongoing support for local businesses in Greater Birmingham, this blog will look at 4 sustainable supermarkets to check out for a more sustainable grocery shop.
One topic that has been gaining considerable traction in recent times is environmental sustainability. The COVID-19 pandemic has accelerated this topic considerably over the past 12 months. Local and international environmental organisations such as the European Environment Agency (EEA) have noted that resulting restrictions imposed to fight the spread of the disease has provided some short-term positive impacts on the environment. These include temporary improvements in air quality, lower greenhouse gas emissions and lower levels of noise pollution.
However, they are also warning about the negative consequences of the restrictions such as increased use of single-use plastics. The recycling system is also flawed itself with much of the "recycled" waste still ending up in landfills – partially due to the process itself and partially due to a lack of education on to properly recycle as well as understanding what recycling is.  This has prompted renewed calls for ways out of the pandemic to focus on reshaping our unsustainable production and consumption systems to achieve long-term environmental benefits – enter the sustainable supermarket!
What's a sustainable supermarket?
Simply put, a zero-waste supermarket has everything you'd find in your regular supermarket but with zero plastic or waste and more sustainable supply and distribution methods. You bring your own containers, weigh your products then take them to the till. A relatively new concept, Birmingham is lucky to have several of these fantastic supermarkets around to help people shop in a more environmentally sustainable way.

(Video Credit: Second City)
The Clean Kilo – Digbeth and Bourneville
The Clean Kilo is one of the largest zero-waste supermarkets in the UK. Starting out in Digbeth in Birmingham city centre, they have become so popular that they have expanded to a second site in Bourneville. They sell most items you would expect at a conventional supermarket – including dry food, household products and toiletries. They've also recently expanded their product range to include a frozen section, delicatessen counter, fruit and vegetables, orange juice/coffee machines and chilled milk dispensers.
Both sites are open for business with Covid-19 safety measures in place which include facemasks, mandatory handwashing, social distancing and zero contact payments. You can also click and collect, or get your products delivered to you in any of four delivery zones across Birmingham. Full details on how all of this works under Covid guidelines are on their website.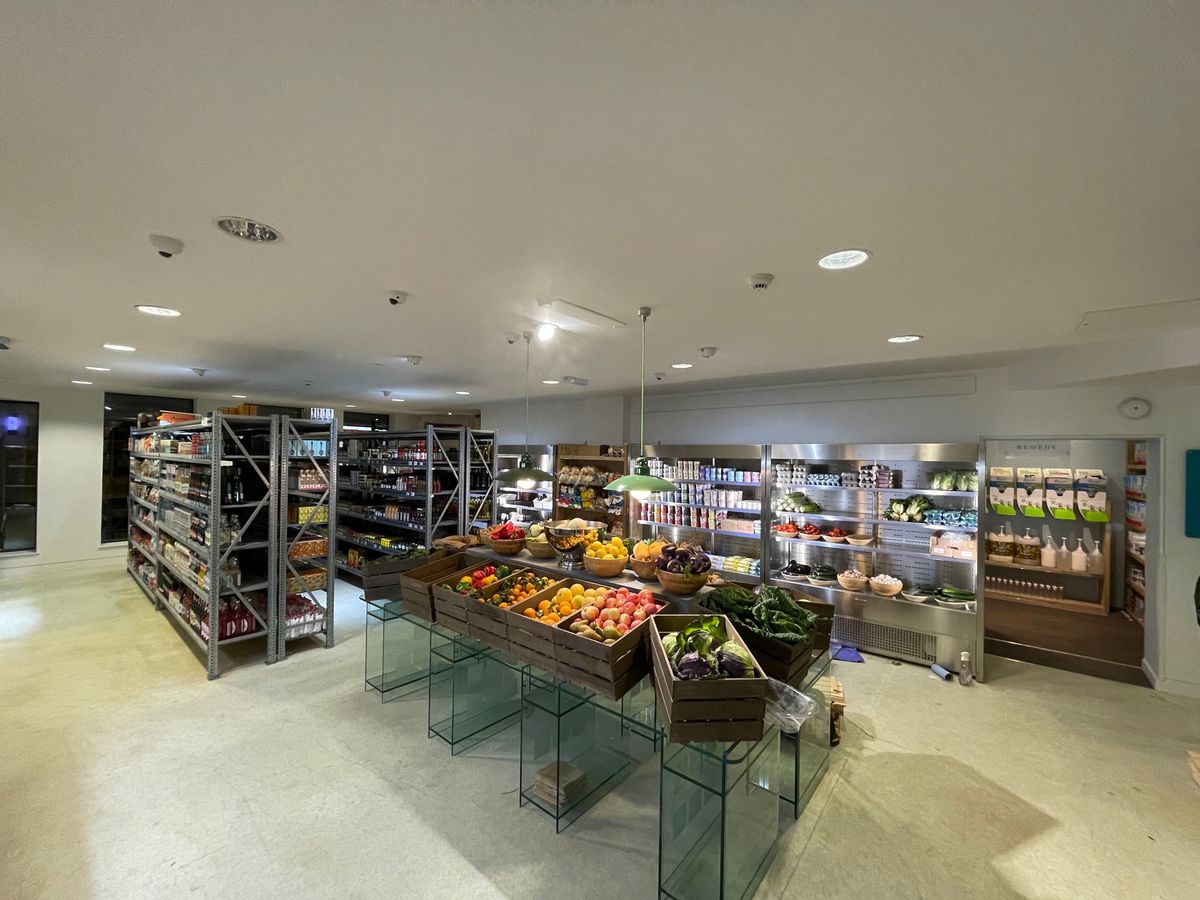 Roots Market – Jewellery Quarter
Roots Market defines itself as a brand new "independent supermarket concept" which combines health and wellbeing with sustainable grocery shopping. Opened in 2020, they have refillable household products from sustainable brands like Faith in Nature and Ecover, alongside fruit, vegetables and meat all ethically sourced. They also have a wide range of natural vitamins and complimentary supplements; skin and body care products, male grooming and oral care as well as aromatherapy essential oils. Roots Market also offer education from their training team including specialists in backgrounds ranging from food, health, beauty, service and herbal remedies. Lastly, they freshly prepare a range of ready meals made in their own on-site kitchen ready for you to easily cook at home.
Roots Market is open for business with Covid-19 safety measures including facemasks, social distancing and readily available sanitisation. All details on how all of this works under Covid guidelines are on their website.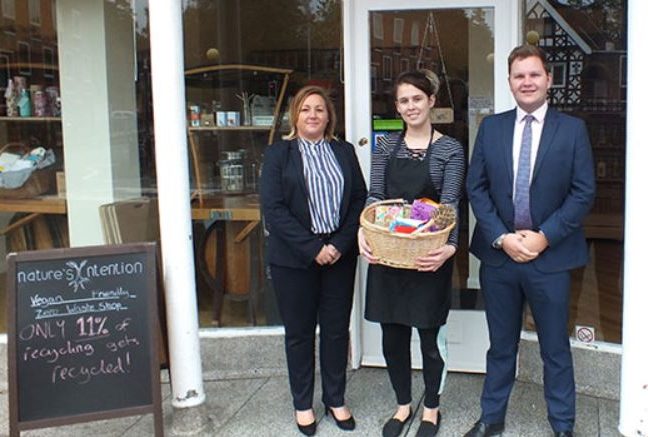 Nature's Intention – Bromsgrove
Nature's Intention on Bromsgrove High Street are champions of the "5 r's" of zero waste – refuse, reduce, reuse, recycle and rot. Their vegan friendly, zero waste shop has an abundance of products available. This includes breakfast cereals; oils and vinegars, beans and pulses and mixes/meat substitutes to skincare, tea and coffee, cleaning products and even nappies. The majority of products are organic with non-organic items clearly labelled.
The shop is open 10 am – 5 pm Wednesday to Saturday with Covid-19 safety measures in place.  You are encouraged to bring your own containers but they do have paper bags and spare containers available. While they are not able to offer delivery at this time, they do offer a click and collect and a drop off service to avoid waiting outside and minimise contact.  Whether you're a zero-waste veteran or a newcomer wanting to reduce your waste Nature's Intention is a great shop to check out.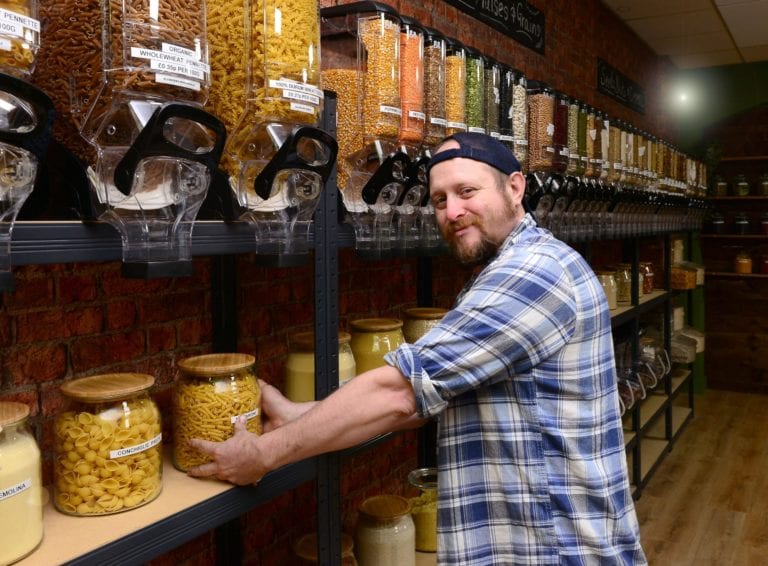 Eden's Weigh – Walsall
A relatively new addition to the scene Eden's Weigh is a zero-waste shop located in Saddlers Centre in Walsall. Like it's contemporaries on this list, Eden's Weigh stock a huge range of package-less groceries and products including cereals and oats, rice and pasta, fruit, coffee, tea and hot chocolate to sweets, household products like bamboo straws, wooden spatulas and toiletries. The majority of their products are organic and all ethically sourced.
Eden's Weigh is open Tuesday and Saturday 10 am to 1 pm for store visits are available online for delivery.
---
Find more interesting content from Millennium Point over at our news section, or follow us for daily updates on Facebook, Twitter, Instagram and LinkedIn with @MillenniumPoint. Millennium Point is a landmark public building and multi-award-winning events venue in the Eastside of Birmingham City centre. Profits from our commercial activity are invested by the Millennium Point Charitable Trust into projects, events and initiatives which support the growth of science, technology, engineering and maths (STEM) and education in the West Midlands.