Thousands of computers around the world are already using the Folding@home software to fight the novel coronavirus and save lives across the globe.
Are you looking to make an impact in the fight against coronavirus but not sure how? Why not join a world-wide network of computers running calculations to help scientists understand and fight Covid-19 with one click of a button?
What is Folding@home?
Folding@home is a distributed computing project inspired by the scientific phenomena of "protein folding", the diseases that result from protein misfolding and aggregation. In a nutshell, it's a software you can download which runs in the background on your PC and uses spare graphics processing power (GPU) on your machine to run calculations and crunch data which better helps scientists understand and fight the virus. Your PC will be one of the hundreds of thousands of PCs running these calculations, all working together.
The project has been around since the year 2000 and the software has been used previously to help find cures to cancer, Parkinson's, Huntington's, influenza, and many other diseases. Now, Folding@home is helping scientists understand the structure of the SARS-CoV-2 virus that causes COVID-19. The project aims to get over 1 million machines on board.
In short, you can put your PC's GPU to work crunching numbers as part of the world's largest supercomputer that will help scientists better understand and fight the novel coronavirus. We recommend reading the specifics about how Folding@home is "simulating the dynamics of COVID-19 proteins to hunt for new therapeutic opportunities" on the project's website to get a better insight on the science behind fighting diseases.
Wait, but is it safe?
Any time you use the internet, whether that's browsing websites or downloading software, there is a risk. To best protect yourself and your PC, we recommend the following:
Install at least one anti-virus programme on your machine and set it to scan regularly.
Always use caution when clicking links or downloading files – if it looks suspicious, then it probably is.
If you're sceptical about the legitimacy or safety of a particular website or programme, then use search engines to see what other people are saying about it.
Folding@home is a legitimate project, supported by high profile tech giants like NVIDIA and Avast Antivirus. The project states the security measures they have taken to minimise risk to your machine on their website. The software also includes options which give you full control over the level of data and resources the software uses on your machine. You are not obliged to provide any personal details.
Be a part of the world's largest supercomputer
In March, the project celebrated being able to complete more than 1,000,000,000,000, 000, 000 operations per second, making Folding@home capable of crunching data 10x faster than the world's most powerful supercomputer. All thanks to the hundreds of thousands of people who donated spare processing power on their PCs.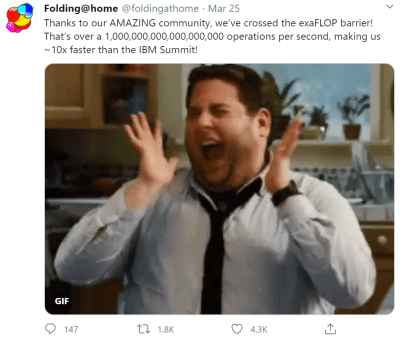 This is a fantastic opportunity to be part of a global movement to help fight an epidemic that has affected all of us. For more information or to take part please visit the website.
This article was written in support of Millennium Point's charitable objectives to support the growth of science, technology, engineering and maths through education and highlighting projects and initiatives.
---
Find more interesting content from Millennium Point over at our news section, or follow us for daily updates on Facebook, Twitter, Instagram and LinkedIn with @MillenniumPoint.
Millennium Point is a landmark public building and multi-award-winning events venue in the Eastside of Birmingham City centre. Profits from our commercial activity are invested by the Millennium Point Charitable Trust into projects, events and initiatives which support the growth of science, technology, engineering and maths (STEM) and education in the West Midlands.