Platform
An incredibly versatile event space that can be dressed and laid out any way you want.
Key Features
Built-in bar
350
Connected to 354 seat Auditorium
Can be incorporated with outdoor space
PA system & presentation facilities
Venue Overview
PLATFORM is a large open-plan semi-private event space on Level 1 of Millennium Point. It includes a built-in bar, presentation facilities and dedicated AV equipment ideal for parties, workshops and intimate performances. PLATFORM is connected by a central staircase to our 354-seat AUDITORIUM making them the perfect pair for receptions and AGMs, conferences and break-out spaces, screenings and dining, award ceremonies and after parties and everything in between. This space also overlooks the vibrant bustle of our central ATRIUM and can open up into the outdoor space, INGRESS for breaks or pop-up stalls.
Hire our AUDITORIUM and PLATFORM individually or together to make the most of your event.
Layouts
We can fully taylor the layout of our venues to suit your needs, depending on the number of delegates and the event type. The layout options available for Platform are:
Venue Gallery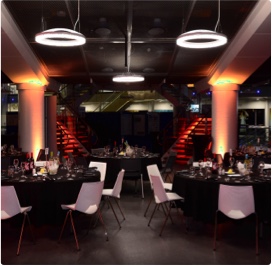 Enquire about this space.
We believe talking is better than typing. Whether you think you've found the perfect event space, or you have a question about our services our team are here to help.
Complete the form on the right and a member of our award winning Events team will be in touch within 48 hours.
Alternatively, pick up the phone and give us a call now on 0121 202 2200.