3 Reasons to Book a Conference Room With Millennium Point
Create a great first impression, through using a conference room for your meetings, staff onboarding and training sessions.  However, these shouldn't just be used to win over new clients. Using a conference room during regular client meetings also shows that you value your client's time, helping you build lasting relationships.
At Millennium Point, we understand the importance of creating strong relationships with your clients and staff. That's why this blog will explore 3 reasons why you should book a conference room with us.
1. Location
Book a conference room at Millennium Point, and let our location enhance your event experience. We provide not only the perfect conference room but also the best backdrop for a successful and convenient meeting. 
After the day's business is concluded, why not take advantage of our prime location to build personal relationships and connections? Being located in the centre of Birmingham means you're only moments away from a range of bars and venues where you can unwind and connect with your staff and clients.
2. Added benefits 
Some of our office spaces come with their very own conference rooms that are equipped to help you host the very best meetings or training sessions. Our rooms benefit from:
High-speed Wi-Fi

– This ensures you have no hiccups throughout your gathering.
On-site AV technician to support

– If you find yourself in a technical glitch, our AV technician can fix any presentation and audio issues you face.
Tea and coffee facilities

– This keeps attendees well refreshed, helping to increase focus and innovation.   
3. Networking opportunities 
A range of companies rent out our properties and conference rooms giving you the opportunity to meet new people and build potential client relationships. 
Our conference rooms aren't just for meetings, they're here to encourage networking opportunities. Through providing a dedicated professional setting, attendees feel comfortable to share ideas, collaborate and build relationships. When you have the right atmosphere you can truly connect with your staff and customers. 
Properties with a conference room 
We have a range of excellent conference rooms perfect for any small or large meeting. Available rooms include:
H3: Station
Station is our  larger space , it combines one main room with multiple boardrooms that can be utilised for speaker green rooms, quiet spaces or offices. You can have a maximum capacity of 112 delegates if you opt for a theatre-style layout or 72 delegates if you choose a cabaret style. This flexibility makes it perfect for team activities, workshops or networking.  
This venue also benefits from:
High-speed Wi-Fi

Holding up to 150 delegates

An on-site AV-technician support throughout your event 
H3: Express
Express is an all-in-one space with one main room and 3 small rooms that can be used as speaker green rooms, quiet spaces or offices. If you opt for a theatre style layout you can have a maximum of 100 delegates or 48 attendees when you choose a cabaret layout. This makes the space ideal for team activities, workshops, presentation opportunities and catering.   
The space also benefits from:
High-speed Wi-Fi

An on-site AV technician support throughout your event

Tea and coffee facilities 
H3: Curzon rooms
Curzon rooms are perfect for training staff. They offer easy access and provide presentation facilities along with high-speed Wi-Fi. 
The space also benefits from:
Holding a maximum of 60 delegates

An on-site AV technician support throughout your event 

Tea and coffee facilities
H3: Curzon Suite
Curzon Suite is also a great place to undertake employee training. This space is surrounded by natural light helping to stimulate learning and innovation and also benefits from:
High speed Wi-Fi

Holding up to 60 delegates 

An on-site AV technician support throughout your event 

Tea and coffee facilities 

Access to Millennium Point's exclusive terrace 
So if you're looking to book a conference room at Millennium Point you can explore our range of conference rooms using our events space matcherator. 
St Basils are back planning the oldest and biggest sleepout in the UK in Birmingham. On Friday 1st December, St Basils will host their annual big sleepout at Millennium Point in Birmingham to raise vital funds to support young people experiencing homelessness in the West Midlands.
This year our own Millennium Point team member Liam will also be taking part to help raise important funding for the amazing work St Basils do.
St Basils are a homelessness charity based in the West Midlands that have been supporting young people in in fear of losing their home since 1972.
St Basils are not charging for this event, it is FREE! But get involved and raise as much as you can by having people sponsor you. Free vegan curry and hot drinks will also be served by Langar Aid on the night! The atmosphere will be set by a Christmas Brass Band before the challenge ahead of keeping warm on a cold winter's evening.
Before heading outside, participants will watch a presentation inside Millennium Point, where St Basils will share heart-warming stories from young people.
You can register for the event here.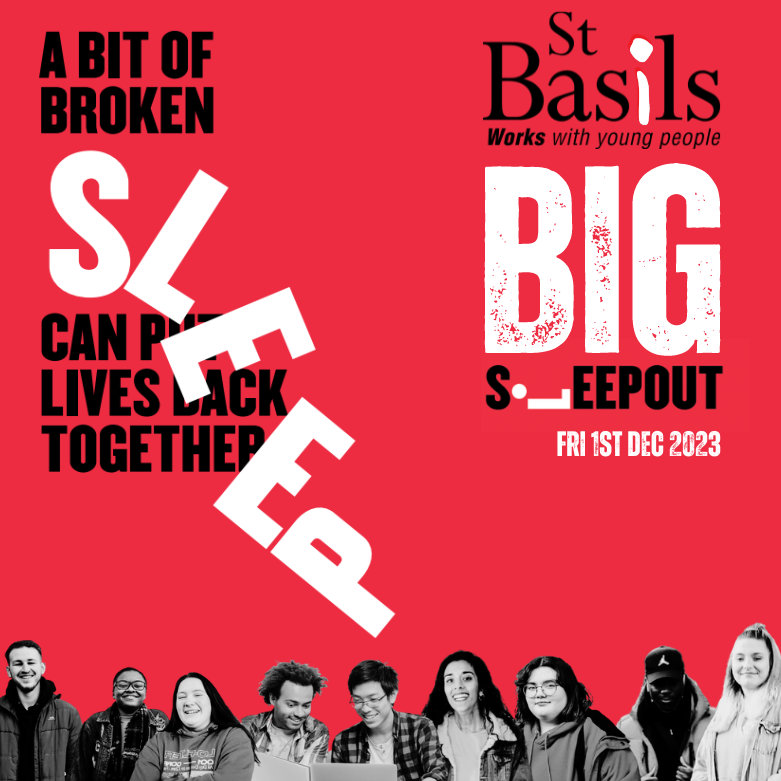 Homelessness shouldn't be part of growing up
St Basils work with young people ages 16-25 who are homeless or at risk of homelessness, to enable them to find and keep a home, grow their confidence, develop their skills, increase opportunities, and prevent homelessness.
Abbie Vlahakis, CEO of Millennium point, said: "We are pleased to offer our venue, for the third year, to support the brilliant work St Basils does. Their commitment to improving the lives of young people aligns with our own charitable mission here at Millennium Point. We urge as many people and businesses as possible to sign up and join us at the sleepout. Together we can raise funds so St Basils can continue to provide life changing support to young people in dire need throughout our community".
Challenge yourself and make a difference
The Big Sleepout sees hundreds of people from companies, families and groups taking part by challenging themselves, raising money and having fun; particularly in the much coveted 'creative shelter competition'.
Can't make it to Millennium Point, you can still make a difference
St Basils will also be running 'The Big Sleepout from Home' at the same time. So, if you can't make it to Millennium Point, you can still get involved in your back garden, office, community hall or 'sofa surfing' at home.
You can find out more and apply for your Big Sleepout pack by emailing fundraising@stbasils.org.uk.
Supporters can also make one off donations here, it costs £9 a day to support a young person and keep them at a St Basils project.
Want to book an event space with Millennium Point?
The multi-award-winning Millennium Point has over 20 versatile event spaces to choose from and an experienced events team to help you with your event.  
For further information about the event, charity, or venue you can get in contact with our team.
Thinking About Hosting an Exhibition in Birmingham? Here's Why You Should Choose Millennium Point
Choosing the right location for your exhibition is paramount for its success. Nestled in the heart of Birmingham, Millennium Point is the ideal place for exhibitions where art, culture and innovation meet. That's why this blog will explore the benefits of hosting an exhibition at Millennium Point. Benefits include:
Transport routes
Whether you and your guests are travelling by train, bus, car or even plane, we're just minutes away from a multitude of transport options. This helps ensure as many people as possible can attend your exhibition no matter where they're travelling from.
Hotels and hospitality
As a result of our excellent location, we're positioned near several hotels, suitable for any budget. If you've got attendees travelling afar or you want to celebrate a successful exhibition in Birmingham, a hotel is a great option to help people make the most of your event.
Some great hotels include:
Our spaces:
We have a range of spaces perfect for your next exhibition, including:
Platform
Platform is perfect for larger exhibitions and is an open-plan semi-private event space on level 1. It also offers your very own built-in bar, presentation facilities and dedicated  AV equipment, essential to ensuring your event runs smoothly. 
The event space is also connected to our Auditorium by a central staircase giving you a great opportunity to create a truly exceptional experience. This space can also be fully tailored to your desired design. For example, you could choose layouts like:
Theatre

Classroom

Exhibition stands

Standing

Boardroom

Cabaret

Banquet 
Atrium
Atrium is an open-plan public space tailored to exhibitions, career fairs and vehicle and product displays and has even been used for TV sets. Being located on the ground floor helps you increase traction for your event, helping you boost sales and meet new clients or customers. 
You can also choose from three layout styles including:
Exhibitions

Standing 

Banquet 
Concourse
Concourse has a high footfall due to it being placed between the entrances of Birmingham City University and ThinkTank, giving your exhibition better visibility. The space also benefits from:
Having a dedicated registration area on level 4

Can hold up to 200 delegates 

High-speed Wi-Fi
Extensive event hosting experience 
At Millennium Point we have extensive experience in hosting a whole range of events, from parties, exhibitions and exhibits. Our array of knowledge will help you perfectly execute an unforgettable exhibition and our testimonials highlight just that.
"We hosted our event for almost 200. Everything was planned meticulously and the team at MP really went the extra mile to make sure we had a fantastic event. I can honestly say the service I received from the point of booking, through to the delivery of the event was seamless.  
I've had nothing but great feedback from my Intercity colleagues who all attended the event – our venue gave us the wow factor we really wanted to achieve.' 
So if you're looking to host an exhibition at Millennium Point, get in touch with us today.
If you're thinking about hosting an event, meeting or exhibition, we have a variety of spaces catered to different needs. Explore our events space matcherator to see which spaces could be perfect for you.
Celebrating the Season: Host Your Christmas Party at Millennium Point
As the festive season closes in, it's time to start thinking about booking your work Christmas party. At Millennium Point we have extensive experience in hosting events, making us an excellent venue to host your Christmas celebration. So what are you waiting for? Check out our party packages below.
The shared party package
For smaller businesses still looking for that big party experience, our shared party package could be a great option. You will share your experience with other businesses, giving you the opportunity to build relationships inside and outside of your company.
On arrival, you can take a selfie under our 39ft Christmas tree before enjoying a delicious 3-course dining experience (a minimum of 8 people a table is required). After dinner, you can enjoy a boogie on the dancefloor with our DJ playing plenty of festive hits. 
Our menu includes:
Starters:
Chicken liver parfait, plum chutney (GFor)

Wild mushroom crumble, tarragon & cheddar (V VGor)
Mains:
Traditional roast turkey, pigs in blankets, roast potatoes, seasonal veg & red wine jus (GFor)

24 Hour blade of beef bourguignon, whole grain mustard mash (GF)

Carrot Wellington With Spiced Marmalade (VG)

All mains served with seasonal greens
Desserts:
Christmas pudding, brandy sauce (GFor, VGor)

Chocolate ganache tart & raspberry sorbet (VG,GF)
The shared party package costs £44.95 per person plus VAT.
Exclusive party night 
Our Exclusive Party Package costs £49.95 and is great for bigger businesses. The package benefits from a three-course Christmas banqueting menu, stylish centrepieces, your own DJ and dancefloor, and a private fully licensed bar.   
Our menu includes:
Starters:
Chicken liver parfait, plum chutney (GFor)

Carrot & coriander soup, onion bhaji (VG, GF)

Camembert, Fig & Onion Tart (V)

Smoked salmon & crayfish terrine, capers & pea shoots

Wild mushroom crumble, tarragon & cheddar (V VGor)
Mains:
Traditional roast turkey, pigs in blankets, roast potatoes, seasonal veg & red wine jus (GFor)

24 Hour blade of beef bourguignon, whole grain mustard mash (GF)

Baked cod loin, crushed new potatoes, sauce vierge (GF)

Pan seared chicken breast, pommes anna, sauce forestiere (GF)

Slow roast pork belly, chorizo & butterbean cassoulet (GF)

Carrot Wellington With Spiced Marmalade (VG)
All mains are served with seasonal greens
Desserts:
Christmas pudding, brandy sauce (GFor, VGor)

Baked New York cheesecake, cherry compote (V)

Sticky toffee pudding, amaretto custard (V)

Treacle tart & clotted cream (V)

Chocolate ganache tart & raspberry sorbet (VG,GF)
For those looking to book this package, a minimum of 100 and a maximum of 200 attendees is required. 
Location
Millennium Point is located in the centre of Birmingham, placing you close to a variety of transport links. We're also near several hotels, such as:
The Clayton Hotel

The Holiday Inn

Hotel Indigo 
This allows staff members to book an affordable hotel, letting them party the night away without needing to worry about catching the bus or train home.
There are also lots of exceptional restaurants and bars throughout Birmingham that are perfect for those wanting to continue the party or for those looking for a great spot for breakfast the next day.
So if you're looking to host a Christmas party to remember take a look at our brochure to discover more.
"I cannot fault the level of service delivered by the Millennium Point events team. They provided excellent customer service from start to finish, were patient and genuine in their passion for ensuring that everything went as good as it could have."
Millennium Point has continued to champion staff wellbeing by completing the Thrive at Work: Workplace Wellbeing Silver Award.
The accreditation recognises the organisation's commitment to promoting the health and mental wellbeing of its team and follows last year's Bronze Award.
What is Thrive at Work?
Thrive at Work is the West Midlands Combined Authority's workplace wellbeing award programme. It helps workplaces around the Midlands to focus on health and wellbeing at work. Employers that gain accreditation to Thrive at Work are recognised as being committed to excellence in this field.
Putting Employees First
Following the award, Millennium Point will continue to champion the wellbeing of its team with initiatives throughout the year and is already working towards the Thrive at Work: Workplace Wellbeing Gold Award.
Vanessa Currie, Head of People, Learning, and Development said "We are proud to have completed the Silver Level of the Thrive at Work programme and to have received this recognition for our work. This award highlights the ongoing work of both our dedicated Thrive Team, and the wider team, who continue to make Millennium Point a fantastic place to work. It is very rewarding to see team members supporting the wellbeing of their colleagues."
Keep up to date with Millennium Point
At our multi-award-winning landmark building, there is always something going on! Keep up to date with our latest news in our blog section here
---
Find more interesting content from Millennium Point over at our news section, or follow us for daily updates on Facebook, Twitter, Instagram and LinkedIn with @MillenniumPoint. Millennium Point is a landmark public building and multi-award-winning events venue in the Eastside of Birmingham City centre. Profits from our commercial activity are invested by the Millennium Point Charitable Trust into projects, events and initiatives which support the growth of science, technology, engineering and maths (STEM) and education in the West Midlands. 
Applications for our charitable Trust STEM Grants programme are now open!
Our grants are available from £1,000 to £20,000 to individual applicants to support science, technology, engineering & maths (STEM) education in Birmingham and the wider region. Applications close at 5pm on Friday 8th December 2023, meaning you have got just under a month to apply. You can apply here.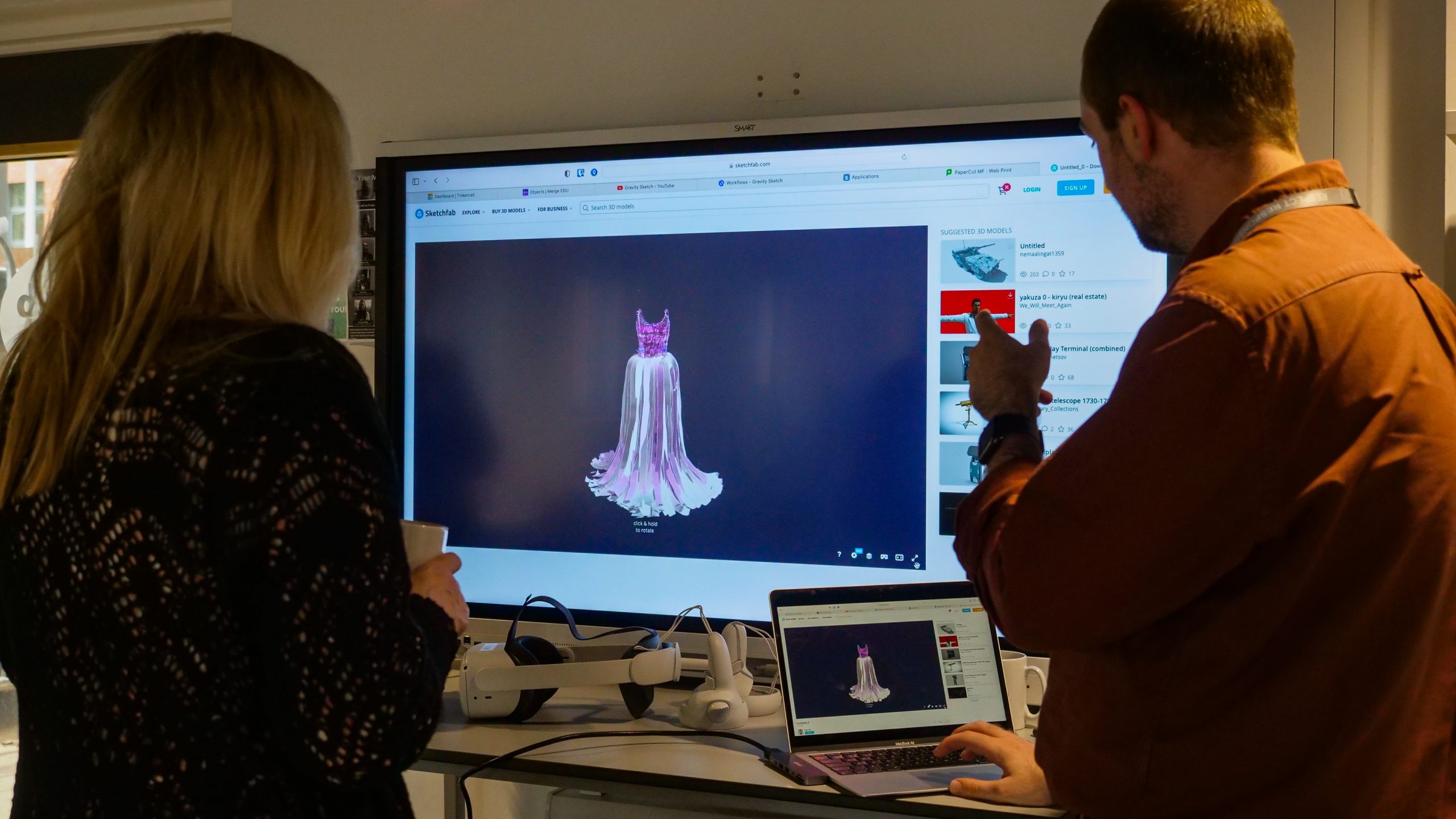 We want everyone to have the best chance of success. That's why we have put some useful tips below.
A good plan is half the work done
To get started, complete the form that can be easily downloaded from our website. Have a read through all the sections and start to complete them in as much detail as you can as this will help us when our team begin to shortlist applications.
Clearly plan what the aims of the project and how those aims will be achieved. Don't forget to include details on how the success of the project will be measured. This is where using 'SMART' objectives will be useful.
Be specific
How can it be measured?
Is your goal attainable?
Is your project relevant?
Can you achieve your project in the timeframe?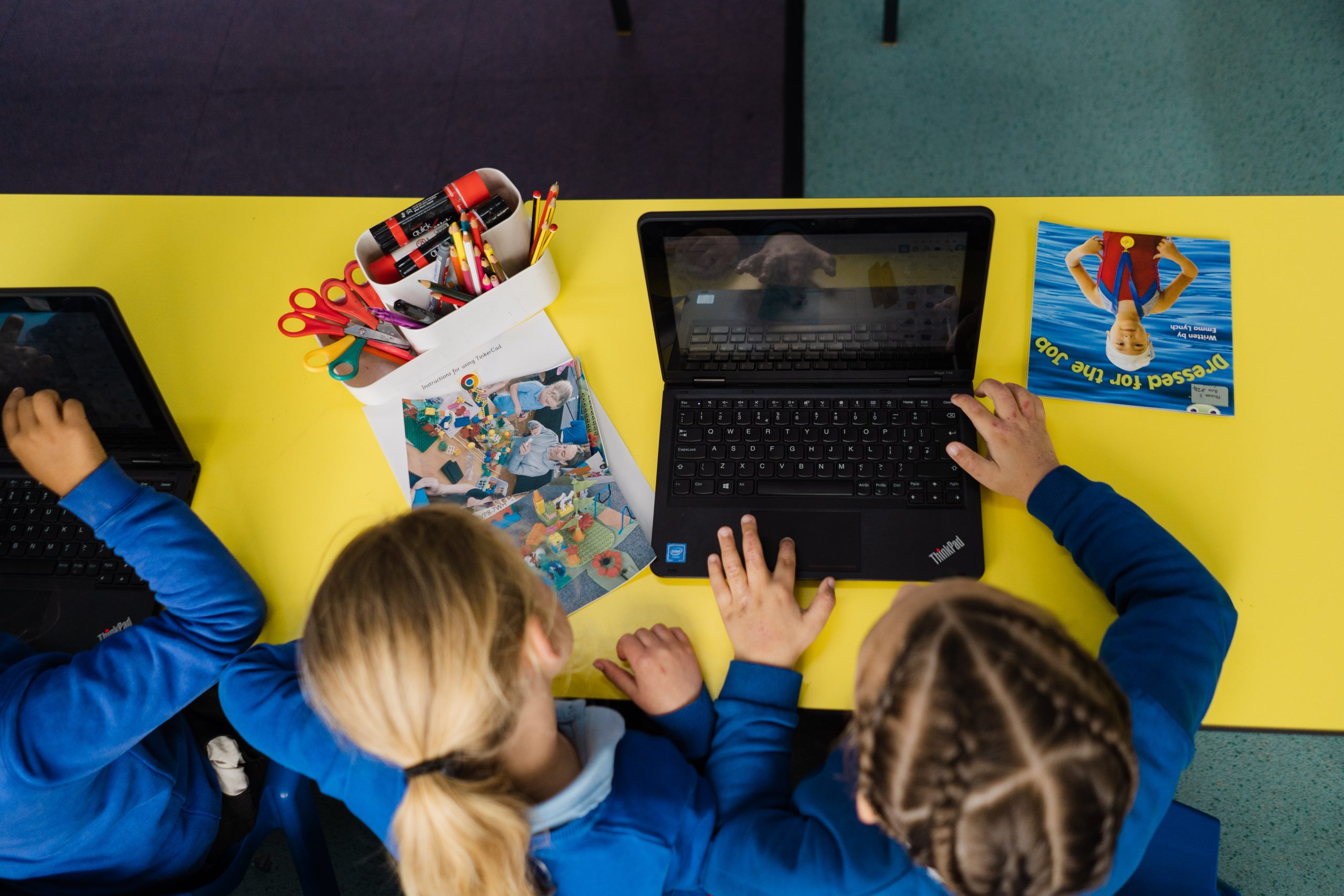 Make sure your application is detailed with what activities will take place, when, and where they will be carries out will also help chances of being successful. Have a look through your budget plan and ensure it contained the correct pricing and quantities for everything you need to achieve your project.
When talking about your project look at the link between the project and the selected category choice. Make sure the connection is clear to show why you're doing the project and how it will benefit your chosen group. Also plan about the duration of the project, will it be throughout the year, or could the project be done in a day? Can the project be repeated with the resources bought, or is it a one-off project?
For extra help the guidance and FAQ pages will help you with your application, you can always contact our friendly Trust team too STEMgrants@millenniumpoint.org.uk.
Submitting your application or grants
Have a read through your final application, ensure that it's clear, precise and explains all about the exciting project you have planned.
After you have decided you're happy with your application, submit it to us by email – STEMgrants@millenniumpoint.org.uk. Make sure you send it in before the 5pm on 8th December 2023.
What happens next?
Once it's sent over, out fantastic Trust team will send you an email acknowledging receipt, you won't hear from us again until a decision has been made. All applications will be read through by the Grants team and then moderated by a separate panel. It will finally be presented to our Trustees who will make the final decision on the successful applicants. At this stage you don't have to do anything but wait for the good news!
Our grants help make STEM happen!
Over the past five years, the Millennium Point Charitable Trust has awarded over £2 million to charities, not-for-profits, community groups and schools to further STEM education. Millennium Point Charitable Trust has previously seen the rewarding outcome of past projects such as designing the perfect community at Lyng Primary School and Sandwell College going 3D.
Last year Millennium Point Trust saw 100 applications from not-for-profit organisations in aim of receiving a share of the grant money.
Remote Witness follows Steve, a socially outcast withdrawn hacker. He spends his evenings eating takeout food while at his computer spying on people. One night, his morals are tested when the woman he is snooping on is in danger.
Directed by Richard Broomfield, we caught up with him, he told us more about the day filming in Express at Millennium Point.
What was the inspiration behind the story?
'I have always been interested in stories which explore moral dilemmas, I wanted to create a film which showed how different characters would react in these situations. Whilst also looking at the dangers of toxic masculinity, something which is becoming much more of a  prevalent issue.'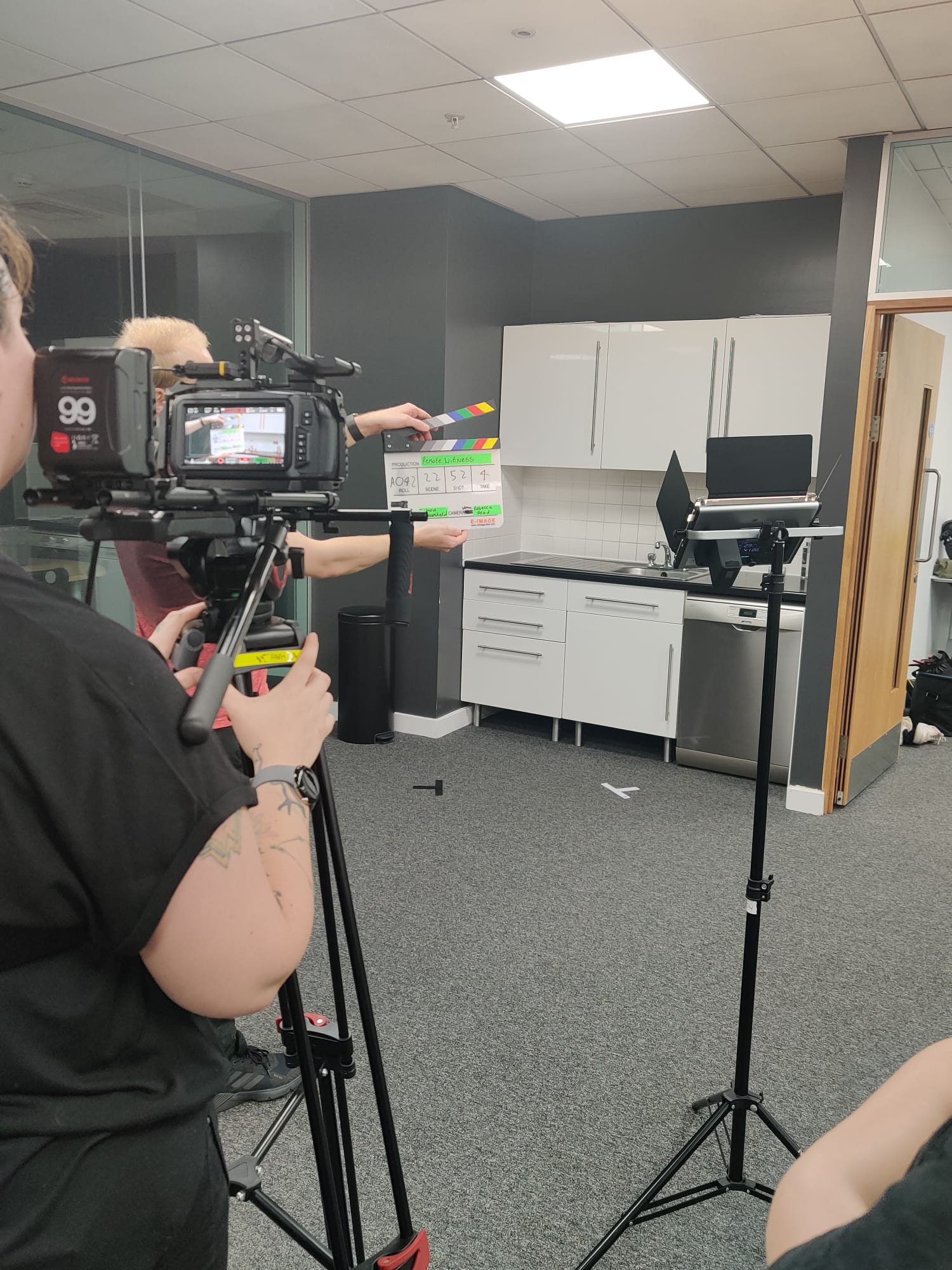 Sounds intense! Any favourite moments while filming?
'A real highlight for me was a particular scene that was incredibly challenging scene to film. The actors did an amazing job working with such a difficult subject. We also had a fantastic cast and crew, each brought great humour and positive energy to the set'.
A fantastic team can make all the difference, but were there any challenges?
'Remote witness was a completely self-funded project finding money to make the film was a big challenge. As with most independent projects, it can be difficult to create something without the resources of a studio or production company'.
Why did you choose Millennium Point to film in?
'We were struggling to find an office location which would be affordable and willing to accommodate a small indie production. We contacted Film Birmingham who gave us the details for the events team at Millennium Point. The team were really helpful and accommodating when we came to view the space, we had a tight budget and they helped us keep to that. The Express room was large enough to fit in all the equipment/ crew and props needed; we managed to get some great shots'.
What advice would you give to young budding directors or film makers?
'Immerse yourself in as much content as you can, TV, film, books, and games they're all important in understanding how stories and characters work. Get out and network as much as possible, there are lots of events and festivals where you can meet, discuss and collaborate with other creatives. Don't be afraid to reach out to people for advice or help most filmmakers are happy to help'.
Where can people watch Remote Witness?
'Remote Witness will be entered into the 2024-2025 film festival circuit; we are hoping to have a small premiere for the film this winter/ I am incredibly excited to see people's reaction to the film!'.
You can keep up with Richard Broomfield's work on his Instagram for latest updates here.
Another one of his Films 'Conversion' will be screening here on 20th November as part of Birmingham Film Festival.
Need a filming location? Millennium Point can help with that
We may be known as home to Birmingham Film Festival and a great destination to have a film showing. But did you know our building can also be used as the backdrop to your next film?
From zombie hoards to fighting crime, we have had a fair few cinematic moments happen in our building. Get in touch with our friendly team today to discuss options for your filming needs.
If you're looking for a place to host an event, look no further than Millennium Point. We offer a diverse selection of spaces perfect for almost any type of gathering. That's why we've put together a few tips to help you host an unforgettable event.
Choose the right space
One of the most important aspects of hosting a phenomenal event is to find the right space. When doing this you need to consider your necessities and nice to haves. For example your necessities could include:
Presentation facilities 

High speed Wi-Fi

Audio facilities 
Nice to haves could include:
Catering options 

Having the event ran and planned by another company

Having an on-site technician to help with any audio and presentation issues
Here at Millennium Point, our facilities can accommodate a variety of occasions, such as expeditions, parties and performances making it a versatile venue that's ideal for creating your dream event.
Customise your guests experiences 
Adding customisations to your event, no matter how small, can make guests feel valued and excited about attending. For example, personalising invitations and table places can make attendees feel as though a lot of thought has been put into the planning of the event. 
At Millennium Point, we're here to help you through every part of your journey ensuring all your queries are addressed to guarantee a seamless experience. 
Consider the location
Location can make or break an event. If you hold it in a place that's difficult to get to you may see a drop in the number of guests attending. For example, if you're hosting a social gathering for employees and clients that involves alcoholic beverages, you'll want to consider somewhere with a variety of great transport links. This will give guests the opportunity to take alternative transport so that they can join everyone else in the celebrations.
That's why Millennium Point is the perfect place to host your next unforgettable event! We're in the centre of Birmingham, putting you close to bus, train and motorway links, amazing restaurants and bars and affordable hotels, helping you hold the best event possible.
Invest in quality catering
Depending on the duration of your event, you may want to consider choosing a catered option. Providing high quality food and drink can be a talking point, for a lot of attendees, helping you boost word of mouth conversations about your business and your brand reputation. While food and drink isn't the main thing you want your guests to be discussing (unless you're hosting an event relating to the hospitality industry), it is a great opportunity to encourage conversations.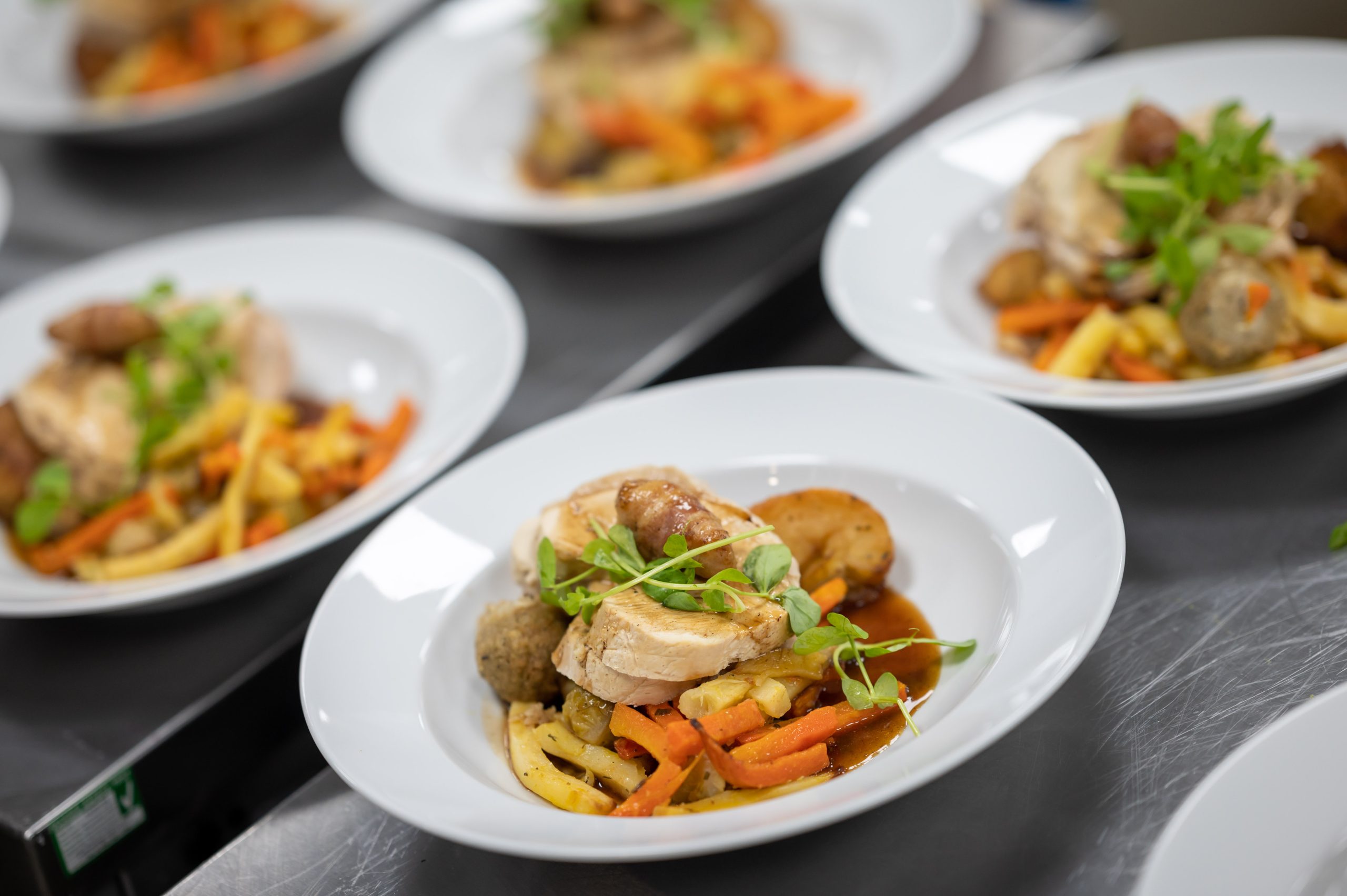 At Millennium Point we offer sustainable catering options that can take your event to the next level. Whether you want to keep it simple by providing teas, coffees and biscuits in your meetings or you want to step it up with a fine dining experience we've got you covered. 
Utilise lighting
Lighting is a great way to set the tone of your event. For example, you'll want to use bright lighting if you're holding a formal corporate event or meeting, as this promotes focus and enhances communication. 
But if you're wanting to hold a more intimate and less formal event, designed to break down corporate barriers and encourage more personal relationships to be built, you'll want to use warmer and dimmer lighting.  
Millennium Point's event spaces  
So if you're looking to host an exceptional event, take a look at our array of spaces:
Atrium
Atrium is a large open-planned space on the ground floor of Millennium Point that's perfect for exhibitions and banquets. It also benefits from high speed Wi-Fi and catering options and has even been utilised as a film set for major TV programmes.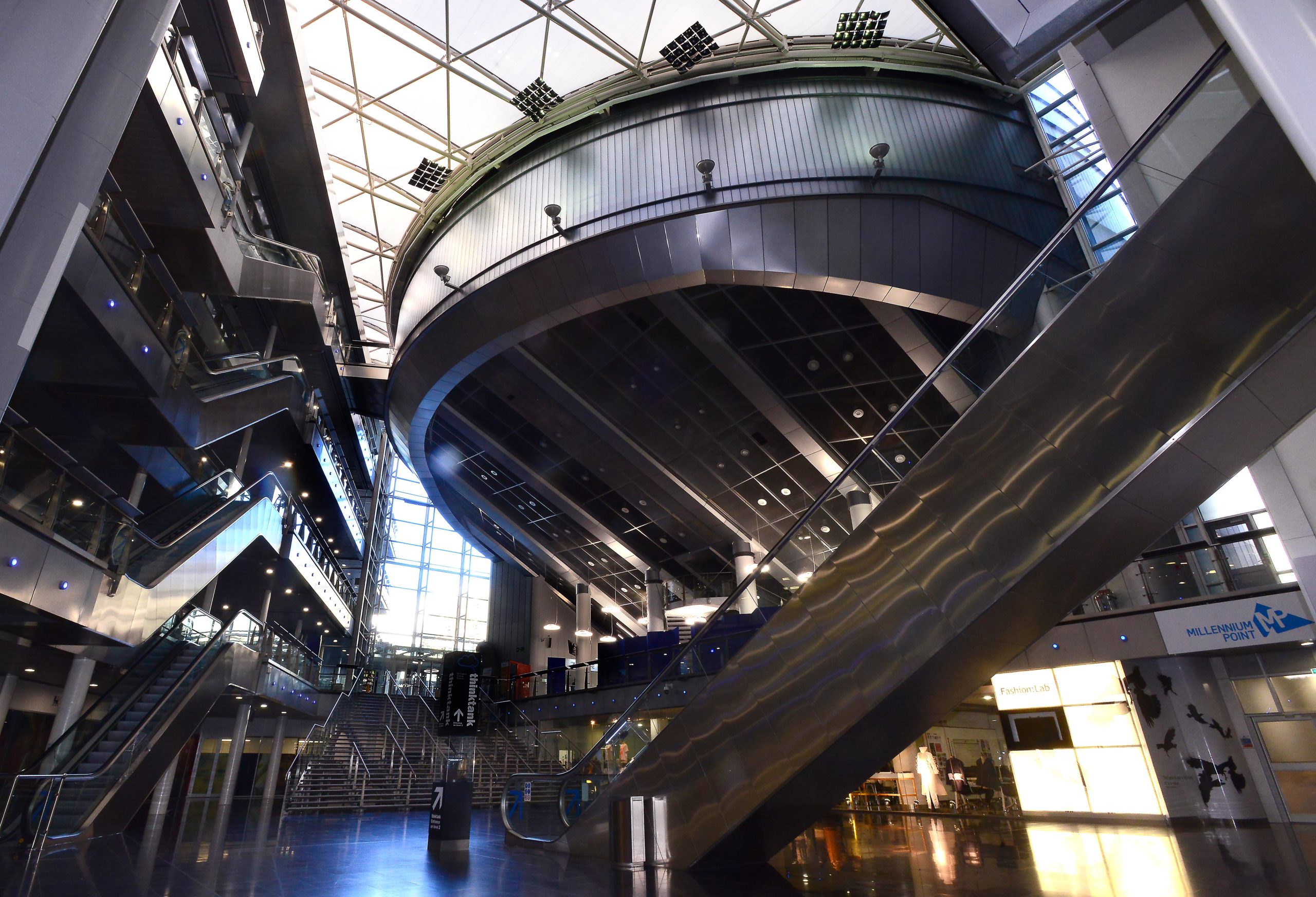 Auditorium 
The Auditorium was previously known as the very first IMAX in Birmingham. The space features a 30m² stage underneath a giant 14m x 8m screen and has everything a business needs to entertain an audience.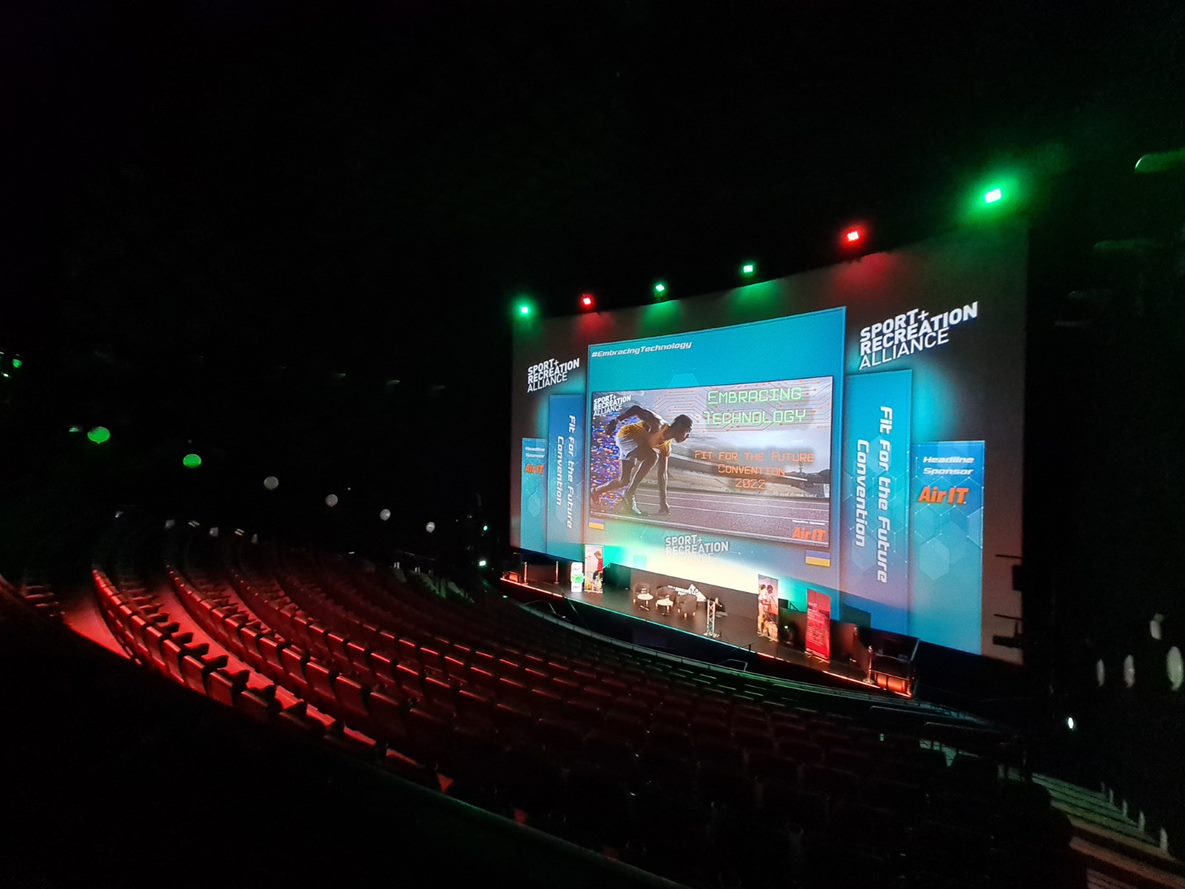 The space also features:
354 tiered seats with clear sight lines

Hybrid event and live streaming options

Reliable AV technology and an onsite technician

An option registration area on level 4
Concourse 
Concourse is placed between the entrance of Birmingham City University and Thinktank giving you more footfall, helping you attract more people. This is great if you're hosting an event that's open to everyone, such as an exhibition, performance or reception.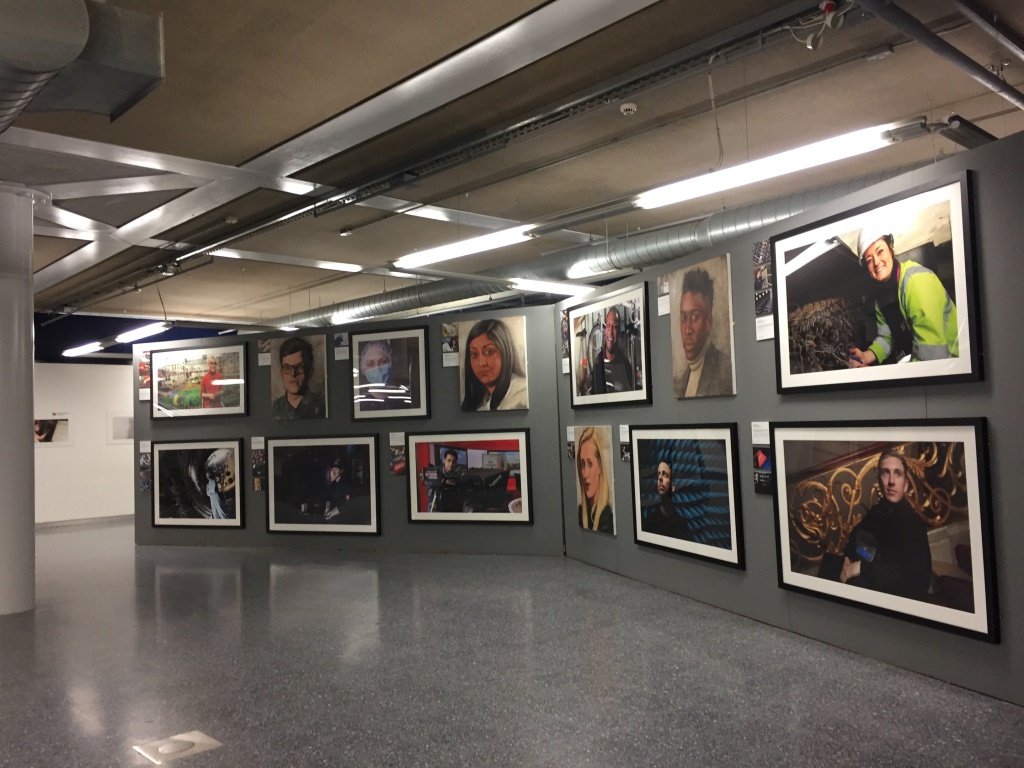 The space also benefits from:
250m² event space with an onsite AV technician support

A dedicated registration area on level 4

High-speed Wi-Fi
Connect 1-3
Our rooms Connect 1,2 and 3 allow you to create an ideal space for you with their retractable walls. Whether you want to use one large boardroom or 3 small meeting rooms, Connect gives you the opportunity to really tailor your event space.  
The room also has:
Space for up to 60 delegates 

Wireless presentation facilities 

Integrated projection and playback

High speed Wi-Fi

Tea and coffee facilities 
Ingress
Ingress is a small outdoor space that's great for intimate gatherings such as product launches, exhibits, parties and food festivals.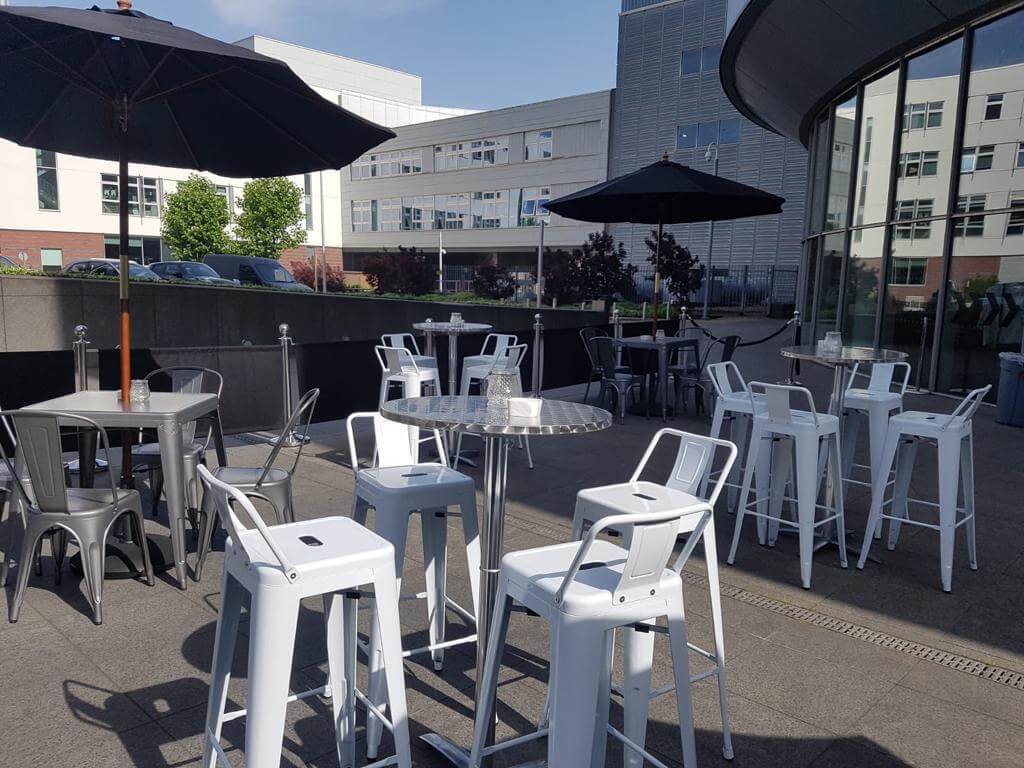 The space also boasts:
A discreet outdoor area 

External power supply 

It's adjacent to our platform space 

A private car park
Intercity
This has excellent presentation facilities and high-speed Wi-Fi that's perfect for holding board meetings, training and workshops. Intercity also has:
Space for up to 40 delegates

Natural daylight

Tea and coffee facilities 
Platform 
Platform is located on the first level of Millennium Point and is an open plan, semi-private space. The area also benefits from:
A built in bar 

High-speed Wi-Fi

It's connected to the 354 seated Auditorium

Can be incorporated with outdoor space 

PA system and presentation facilities 
Promenade  
Promenade is an outside space great for small and intimate functions. This could include things like product launches, brand activation or even a dramatic entrance to your event!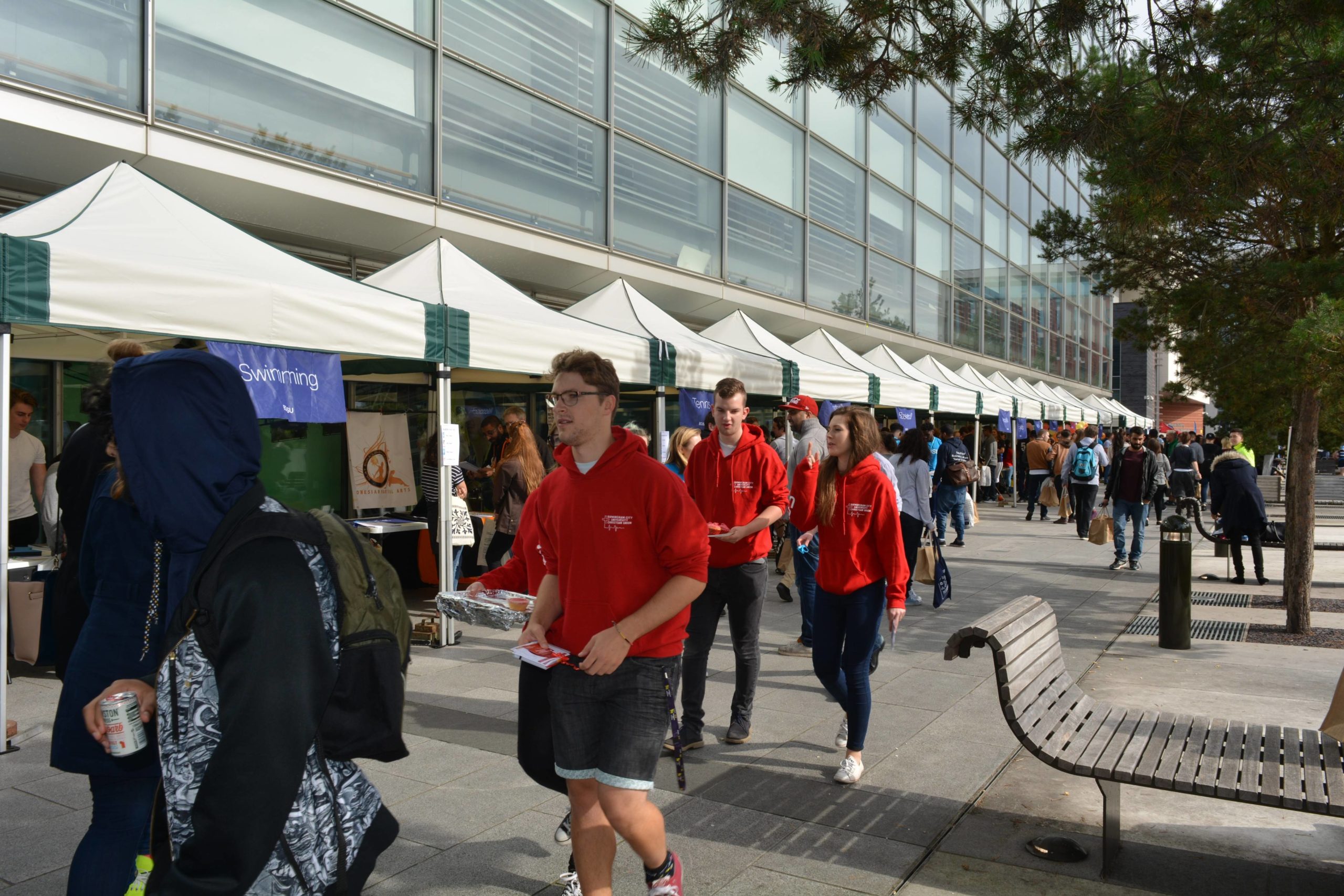 The space provides a:
Discreet outdoor space 

External power supply

It's adjacent to our platform space
So if you're looking to host an incredible event, get in touch with Millennium Point to see how we can help you.
Looking for a memorable and enchanting experience for your children this Christmas season? Then look no further! Millennium Point is hosting a special screening of the beloved festive film, The Polar Express!
Families will be able to enjoy hot chocolate, gifts, and a special visit from the man himself, Santa. Christmas jumpers and hats are encouraged for this wonderful festive event!
Tickets cost £20 for children, £10 for adults (plus fees) and takes place on Sunday 3rd December, this event is sure to be popular, so grab your train tickets and jump aboard the Polar Express here.
'Why, to the North Pole, of course! This is the Polar Express!'
This magical movie follows a young boy's adventure of a lifetime when a mysterious train appears outside his home on Christmas eve. As he hurdles towards the North Pole and a meeting with Santa, he discovers what Christmas is all about.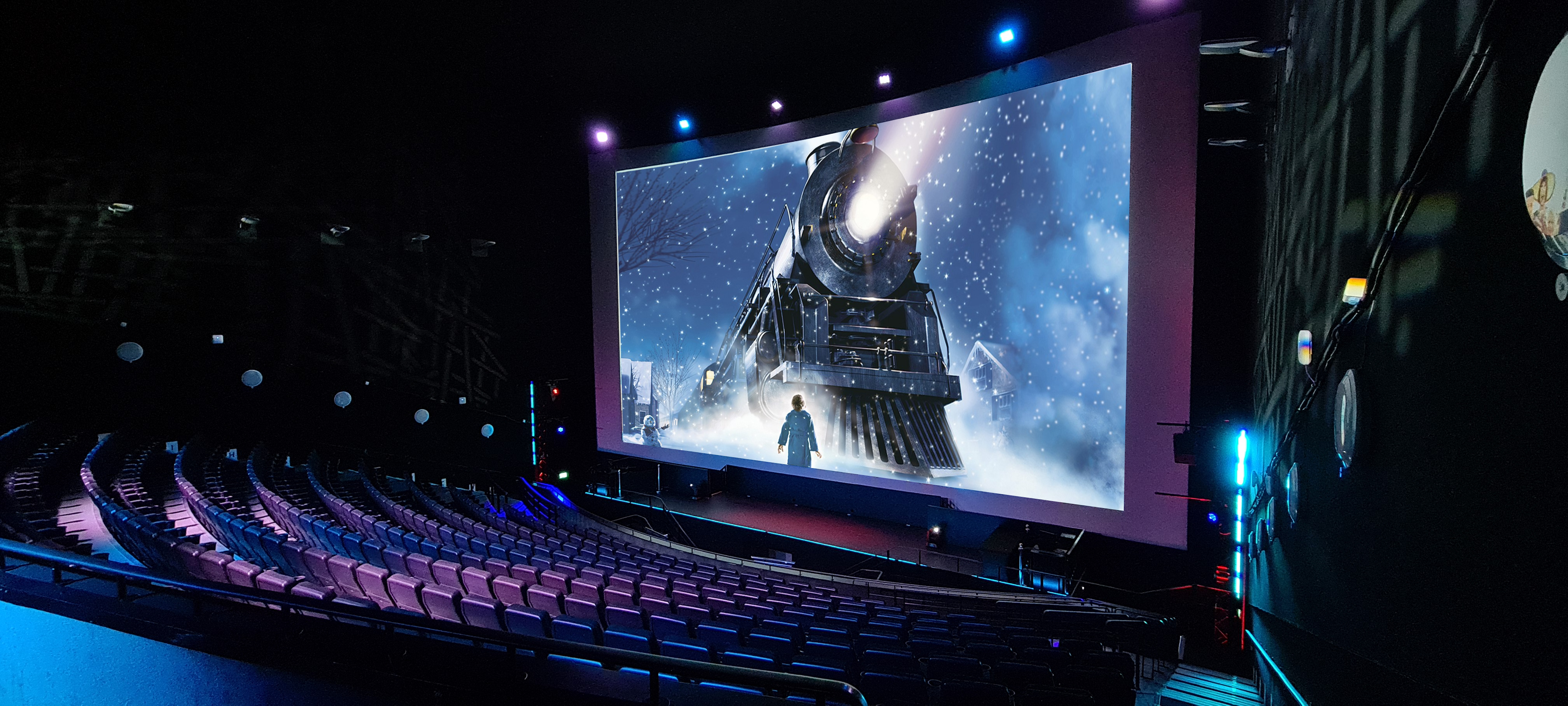 Shown on Birmingham's biggest screen, families will get much more than just a screening
Millennium Point has everything you need to create an enchanting and unforgettable experience for your family. Join us for a magical afternoon with a screening of The Polar Express, a visit from Santa Claus, delicious hot chocolate, and even presents for your little ones. And the fun doesn't end there – we'll keep the excitement going with a festive disco after the film. Believe in magic again and give your family a Christmas to remember this year.
Take a photo by Millennium Point's spectacular 39ft Christmas Tree
The tree, put together by Christmas experts The Christmas Decorators, takes a team of 5 installers and a team of 7 decorators to prepare the branches and baubles. The Christmas tree takes around 10 hours to complete. With good reason too as there is over 23,000 lights and 1,500 baubles to set up.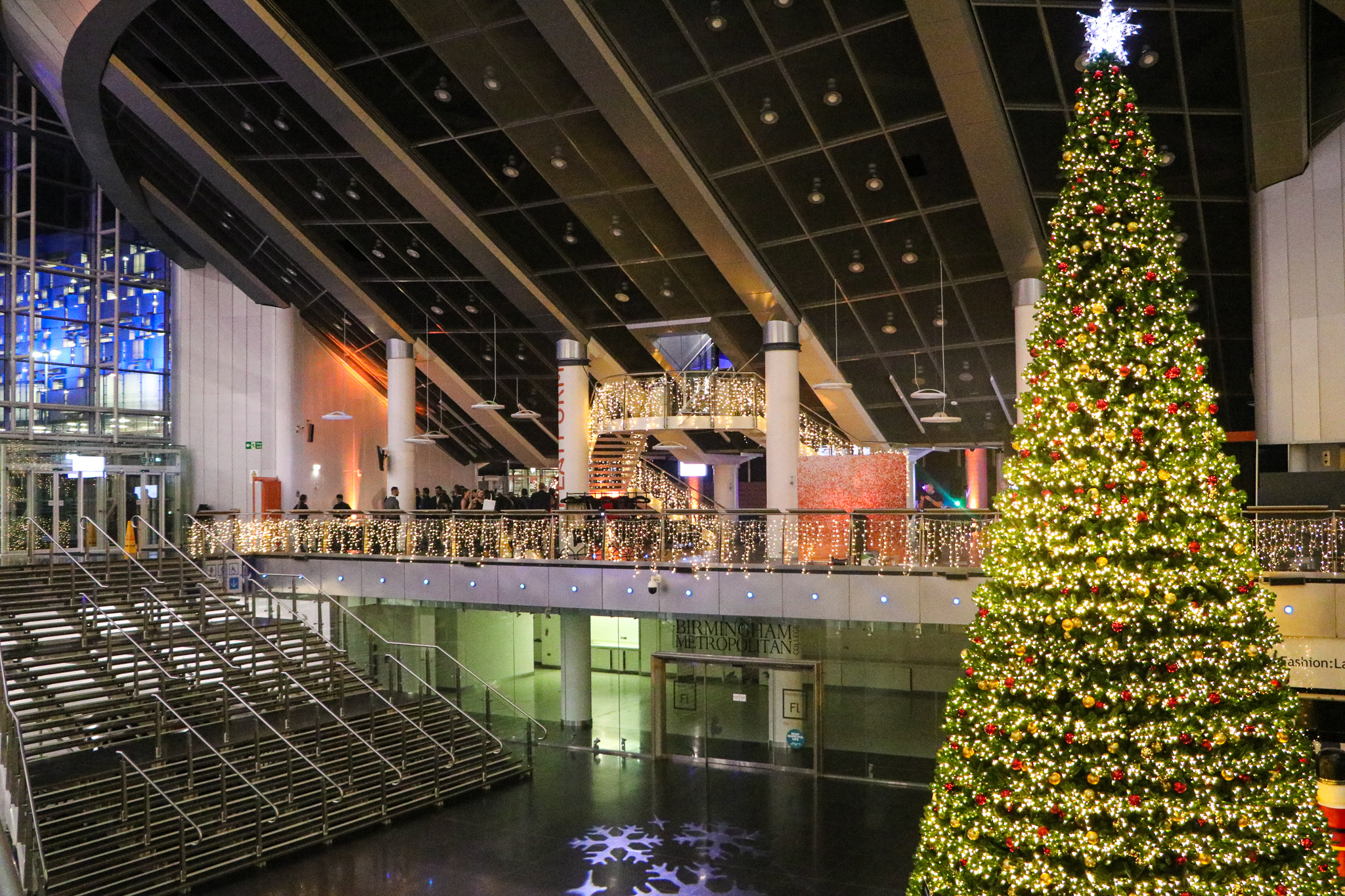 Where do you even get a 39ft tree from you ask? We'll let you in on a secret, it's not actually a real tree! The Christmas tree is made up of a metal frame with each individual branch attached separately each with their own power source.
As far as we know we have the biggest indoor tree in Birmingham at 12 metres tall. The tree is accompanied by two nutcrackers, giving visitors plenty of opportunities to snap a festive selfie.
At Millennium Point, there's always something going on!
This festive season, Millennium Point has created a jam-packed event programme that will delight even the Grinch himself, but let's not hope he doesn't try to steal the tree!
Guests can enjoy four delicious cocktails and a special screening of Elf the big screen on 10th December. Expect in-jokes, cheeky banter and movie trivia all hosted by Tony and his team of elves at The Wine and Events Company.
Or if dancing is more your thing, why not join us on the dancefloor at our Festive Silent Disco! Back by popular demand, our Silent Disco night will be a night to remember! Millennium Point have teamed up with Silent Noize so you can experience three DJs battle it out to give you the best music throughout the night! Plus, there will be all your favourite Christmas songs too.
Hosting a business event is a great way to build relationships with your staff and clients. It's the perfect opportunity for networking, building relationships and discussing important topics and projects. 
Here at Millennium Point, we've had a lot of experience in hosting various types of events, which is why we've put together a list of dos and don'ts to help you host the most effective business event. 
Do
Consider the location of event spaces
One of the most important things to do when planning a business event is to consider where it's situated. For example, the ideal venue would be near multiple transport links and have adequate parking. If you choose to hold an event in a poor location it can discourage people from attending.   
With the increase in hybrid working, it's essential that you hold your business event at an easy place for guests to get to. While London is often the first place people think of to hold a corporate event, it can be quite expensive when it comes to both booking the venue and travel costs for those attending. 
So if you're looking for a more affordable event space, with excellent surroundings that give you the opportunity to interact with guests after the event has finished, Birmingham is the place to go. 
At Millennium Point we're in a prime location in the centre of Birmingham. We're close to motorway and bus routes as well as three main train stations, making it easy for you and your attendees to make it to the event.
We're also close to lots of hotels that are perfect for varying budgets, making it simple for those travelling further to enjoy the event and make their experience as great as possible. 
Create a list of goals you want the event to achieve
It's essential that you make note of what you want to achieve from this event. This can help you create an agenda or event plan that aligns well with the goals you want to meet. 
These could include things like:
Networking more

Improving brand awareness

Building on existing colleague relationships

Boosting sales 
This will also make it easier for you to decide who needs to attend, the dress code and the type of venue you need.
Create a checklist
Creating a checklist can help you keep on top of everything you need to complete before, during and after the event to make it run as smoothly as possible. For example, your checklist could include things like:
Define a budget 

Confirm any guest speakers and guests 

Send out invitations to guests 

Set up audio and presentation features 

Assemble a team to help you set up the event 

Arrange catering
It's also a good idea to make note of any emergency contacts or details required if you have any technical issues like poor audio or the presenting facilities failing. 
Don't
Skip viewing the venue 
Viewing the venue before making your final decision can help you really understand if it's the right fit for your event. For example, it can help you see if the venue is big enough to hold your desired amount of attendees and if it has the right facilities, such as presenting and audio abilities. 
This also allows you to ask any questions in person making it easy for you to understand how the venue works and what they can offer you. This gives you the opportunity to make any necessary negotiations with the events space. 
Invite attendees at too late notice
You want to avoid inviting your attendees too late as this will prevent you from getting a good turnout. You may think that sending out invitations months early is too far ahead of time but it allows guests to plan around both their work and home plans, making it more likely for people to be able to attend. 
It's also a good idea to send out reminders on the run up to the event, such as '2 weeks to go!' or '1 week to go!' with information on transport links, parking and hotels to make it really easy for people to attend the event. 
Be afraid of making your event a little less formal
We all know that some corporate business events can be extremely formal, and there's nothing wrong with that. But it's also okay to make your event friendly. This gives people the opportunity to make real connections without the pressure of needing to maintain an overly professional persona.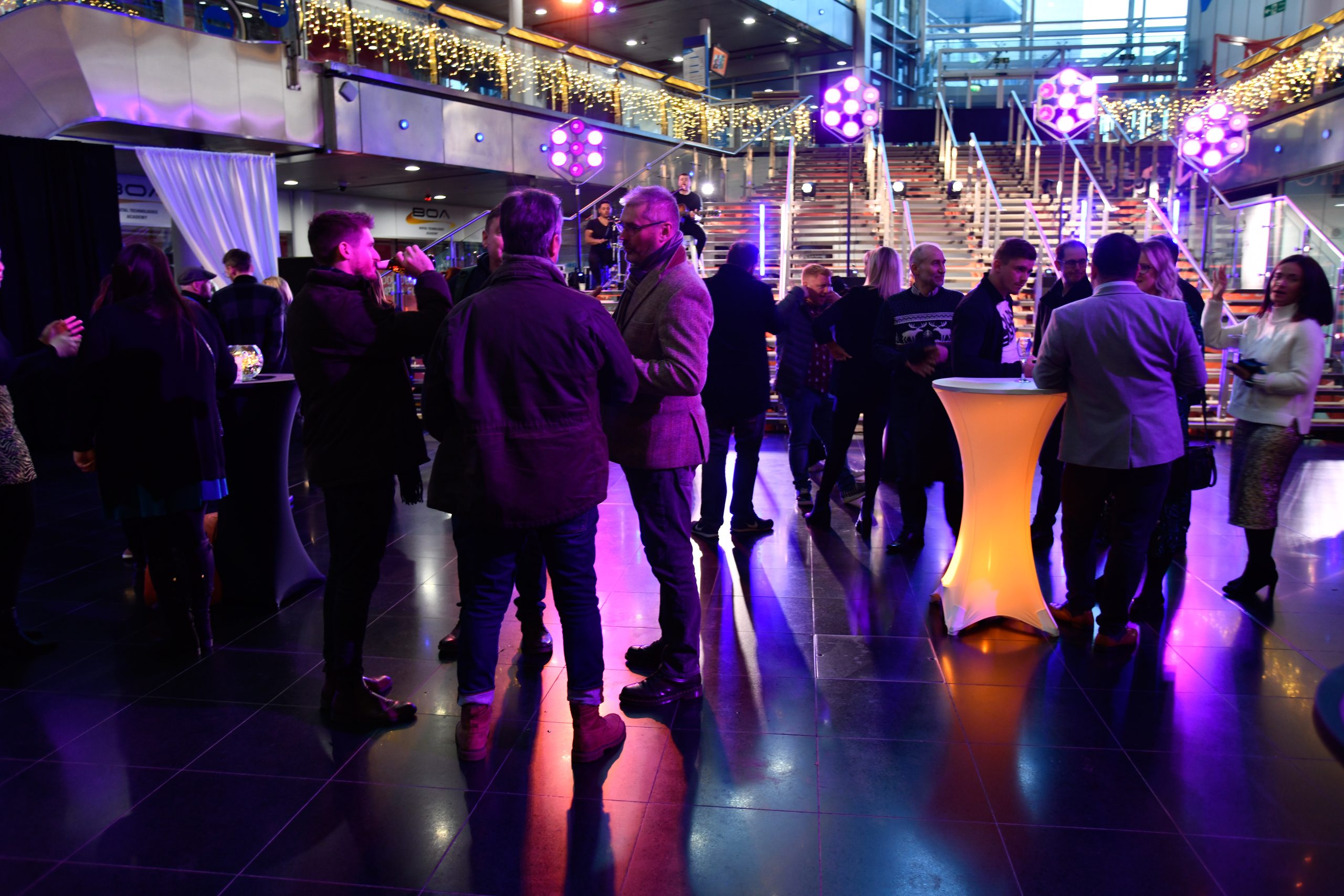 It can also help employees and clients see a more personal side to you, which is becoming more and more impactful when it comes to winning and retaining new business.
How Millennium Point can help you host your next corporate event
Here at Millennium Point, we have an array of venues perfect for your next corporate event.
Our spaces benefit from:
Being fully flexible

– Many of our spaces are suitable for almost any event. Some of our spaces are purposely built for meetings and another has a giant screen auditorium with a stage. 

Implementing outstanding services and add-ons

– This can include bespoke catering and hybrid and virtual packages.

Being right in the heart of Birmingham

– This places you near transport links, restaurants and bars, hotels and a variety of shops.  
To learn more about how our event spaces could be perfect for your next corporate business event, get in touch with Millennium Point today.