Applications are open for our life changing Scholarship programme. The programme, now in its ninth year, offers one lucky undergraduate complete funding for their degree, from a choice of over 20 courses at the faculty of Computing, Engineering and the Built Environment at Birmingham City University.
With many courses to choose from, we understand there's a lot to take in, below we have broken these down to give you an insight into what's available and what career paths you can take with each subject.
Engineering
A degree in engineering welcomes you to an ever evolving and diverse industry. This exciting opportunity offers lots of career paths where you can innovate and shape the world we live in.
Engineering courses available:
Automotive Engineering
Civil Engineering
Electronic Engineering
Manufacturing Engineering
Mechanical Engineering
Digital Technology
The digital industry is forever evolving, offering lots of opportunities within the film industry, gaming, music and visual effects. If you're creative and like being at the centre of digital innovation, a career in digital technology is for you.
Digital Technology courses available:
Digital Media Computing
Digital Film Production
Visual Effects
Music Technology
Sound Engineering and Production
Computing
Computing is at the centre of most industries in some shape or form. With this brings multiple opportunities across a number of computing specialisms, ranging from computer science to digital forensics.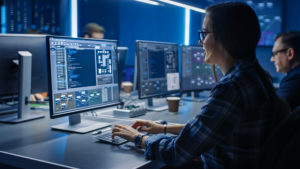 Computing courses available:
Business Information Technology
Computer Games Technology
Computer Networks and Security
Computer Science
Digital Forensics
Computing and Information Technology
Cyber Security
Computer Science with Artificial Intelligence
Built Environment
Birmingham has seen some exciting developments over recent years, with plenty more in the pipeline. Want to be part of future planning and developments that innovate and enhance cities across the UK? Then a career in Built Environment is just for you.
Built Environment courses available:
Architectural Technology
Building Surveying
Construction Management
Quantity Surveying
Real Estate
Begin your journey by applying for a Scholarship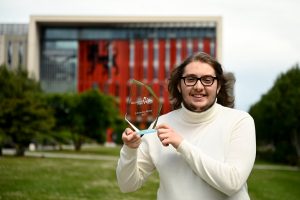 Applications are straight forward and can be done by visiting our dedicated application page here. In order to apply you must live in the West Midlands Combined Authority (WMCA) and be 18 years of age by, and looking to start an undergraduate degree in September 2023. Applications close on Friday 17th March 2023.
Our team are here to help every step of the way
We want everyone to have the best chance of success when applying for our Scholarship scheme, and realise 'bigging yourself up' can be a little daunting. That's why we have created a helpful guide to aid you through your application.
You can always contact our friendly Trust team for any other enquiries you may have.
Applications are now open for the life changing scholarship. In partnership with Birmingham City University, each year Millennium Point Trust fund an undergraduate degree at BCU.
There are over 20 courses to choose from in industries for Built Environment, Computing, Digital Technology and Engineering. Applications are now open, and the deadline is 5pm Friday 11th March 2022, this is a two-stage application process where successful applications will be invited to an assessment day on Tuesday 10th May 2022.
Apply on our website today!
Courses in Built Environment
There are several courses to choose from within Built Environment, have a look through and see everything you can achieve with Built Environment!
What has Built Environment done for Birmingham?
Birmingham City University recently filed Built Environment academics, Nicki Schiessel Harvey and Dr Mohammad Mayouf discussing how urban planning and development decisions impact cities across the UK – using Birmingham as a case study.
Applying is easy and simple
The competition is open to applicants aged 17 and over within the West Midlands Combined Authority, who are looking to start a qualifying degree in September 2022.
Read the application from carefully and start to answer each question. Think about why you want to study your chosen degree and what you want to do in the future. Also discuss any personal attributes and skills that could help you be the next winner of the Scholarship.
It's a two-stage application, with the final stage being an assessment day. If you make it to the final, you will be invited to participate in developmental workshops that will focus on supporting our personal development and professionalism in both interview and presentation skills.
Need help with anything?
We want everyone to have the best chance of success when applying for our Scholarship scheme, and sometimes bigging yourself up can be a little daunting. That's why we have created a helpful guide to aid you through your application. Keep an eye out on our social media for any new blogs, videos, or resources that can help further.
You can always contact our friendly Trust team for any other enquiries you may have.
Want to start your career in Built Environment, apply for our Scholarship today!
Applications are now open with the deadline on Friday 11th March 2022, apply now and see what you can achieve!
---
Find more interesting content from Millennium Point over at our news section, or follow us for daily updates on Facebook, Twitter, Instagram and LinkedIn with @MillenniumPoint. Millennium Point is a landmark public building and multi-award-winning events venue in the Eastside of Birmingham City centre. Profits from our commercial activity are invested by the Millennium Point Charitable Trust into projects, events and initiatives which support the growth of science, technology, engineering and maths (STEM) and education in the West Midlands.