Applications are open for our life changing Scholarship programme. The programme, now in its ninth year, offers one lucky undergraduate complete funding for their degree, from a choice of over 20 courses at the faculty of Computing, Engineering and the Built Environment at Birmingham City University.
With many courses to choose from, we understand there's a lot to take in, below we have broken these down to give you an insight into what's available and what career paths you can take with each subject.
Engineering
A degree in engineering welcomes you to an ever evolving and diverse industry. This exciting opportunity offers lots of career paths where you can innovate and shape the world we live in.
Engineering courses available:
Automotive Engineering
Civil Engineering
Electronic Engineering
Manufacturing Engineering
Mechanical Engineering
Digital Technology
The digital industry is forever evolving, offering lots of opportunities within the film industry, gaming, music and visual effects. If you're creative and like being at the centre of digital innovation, a career in digital technology is for you.
Digital Technology courses available:
Digital Media Computing
Digital Film Production
Visual Effects
Music Technology
Sound Engineering and Production
Computing
Computing is at the centre of most industries in some shape or form. With this brings multiple opportunities across a number of computing specialisms, ranging from computer science to digital forensics.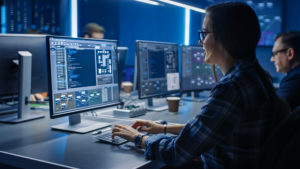 Computing courses available:
Business Information Technology
Computer Games Technology
Computer Networks and Security
Computer Science
Digital Forensics
Computing and Information Technology
Cyber Security
Computer Science with Artificial Intelligence
Built Environment
Birmingham has seen some exciting developments over recent years, with plenty more in the pipeline. Want to be part of future planning and developments that innovate and enhance cities across the UK? Then a career in Built Environment is just for you.
Built Environment courses available:
Architectural Technology
Building Surveying
Construction Management
Quantity Surveying
Real Estate
Begin your journey by applying for a Scholarship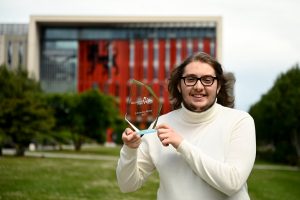 Applications are straight forward and can be done by visiting our dedicated application page here. In order to apply you must live in the West Midlands Combined Authority (WMCA) and be 18 years of age by, and looking to start an undergraduate degree in September 2023. Applications close on Friday 17th March 2023.
Our team are here to help every step of the way
We want everyone to have the best chance of success when applying for our Scholarship scheme, and realise 'bigging yourself up' can be a little daunting. That's why we have created a helpful guide to aid you through your application.
You can always contact our friendly Trust team for any other enquiries you may have.
Grant funding is a great opportunity for businesses and organisations to start a project that they would struggle to fund with their own money. 
Grants can be given for different types of projects including education and environment led work. At Millennium Point we offer grant funding for STEM-related projects to help encourage children to pursue a career within the industry.
So what is grant funding and how could it help you?
What is grant funding?
Grant funding helps encourage companies to take risks and drive growth, through giving them the opportunity to invest in projects that may have been too risky or expensive for them to invest in themselves. 
For example, £15.5 million of the Levelling Up Fund is going to be used to restore Moseley Road Baths heritage funding. The fund will also help make it more accessible and prevent further decline. 
The baths originally opened in 1907 and have been a part of the Balsall Heath community for 115 years. This highlights the huge positive impacts grant funding can have on both organisations and buildings, as well as communities. 
To learn more about the Levelling Up Funding going into the Moseley Road Baths, visit the government website.
How does grant funding work?
Grant funding works differently depending on the funding body's application progress. For example their could be various stages such as:
Expression of interest

Multi-stage application forms

Interviews
How to find the right grant funding opportunity
Applying to grants can be extremely time consuming, even when the grant may not be offering a large sum of money.
Due to this and the fact that grant funding opportunities can have low success rates, you want to make sure that you read grant guidelines carefully and understand what they're offering so that you don't waste your time.
What should you look out for?
When applying for grant funding opportunities, you should look out for:
Eligibility criteria

– Such as location, organisation size or project aim.

Any exclusions

– These could be based on location or annual income.

The objectives the grant aims to achieve

– This could be objectives like funding opportunities to further education or buying equipment to improve people's lives.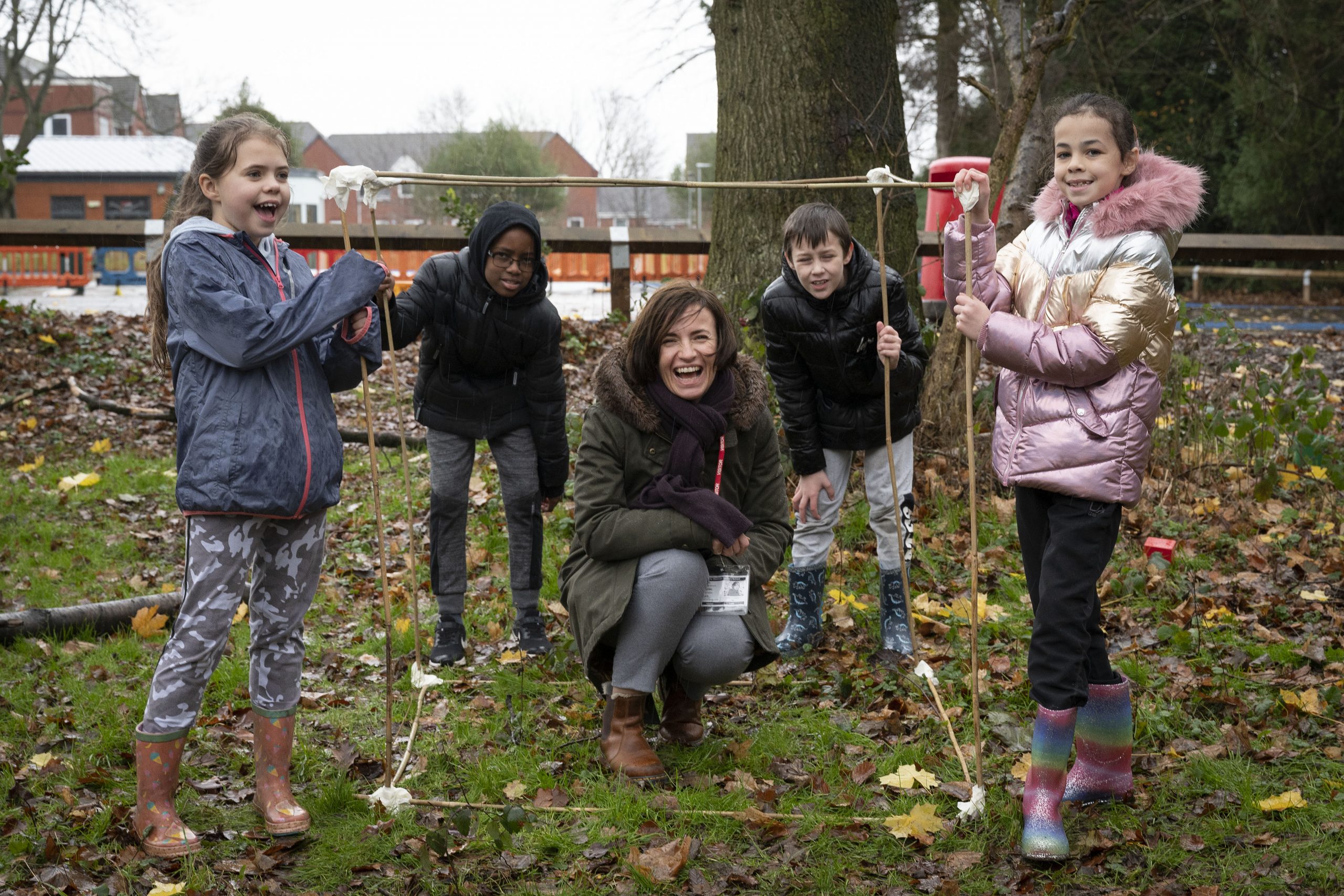 Examples of criteria you may need to meet
Grants may require you to meet a number of criteria, such as:
Where you're located.

Your annual business income.

The type of organisation you are.

The total cost of your proposed project.

The size of the grant you need.

The length of time your organisation has been running for.
Further research
When looking at grant funding opportunities, it's important to further research the grant and the funding body offering it, so that you fully understand what you're applying for and whether it meets your needs.
You can do this by:
Visiting their website and looking at previous projects.

Looking at their website to see if they have published any annual reports of previous projects.

Call or email the funding body to ask any questions and find out more information.
Grant funding opportunities at Millennium Point
Every year the Millennium Point Charitable Trust provides funding to not-for-profit organisations, schools and colleges across the West Midlands combined area.
 Applicants can apply for up to £20,000 to fund their STEM-related projects, depending on whether they meet eligibility criteria.
Over the last 5 years, The Millennium Point Charitable Trust has awarded over £2,100,706 to help fund STEM-related projects. 
Visit our website today to learn more about our grant opportunities.
How has Millennium Point supported groups through their grant funding opportunities?
Millennium Point has supported a multitude of businesses in funding their STEM-related projects, helping to improve STEM teaching for children of all ages, across the West Midlands combined area. 
Below are 3 examples of not-for-profit organisations and schools Millennium Point have supported through their grant.
Birmingham Botanical Gardens 
The Millennium Point Charitable Trust's grant opportunities allowed the Botanical Gardens to introduce their sensational science sessions that give children the opportunity to undertake science experiments they may not be able to do at school. 
This has helped to get children further involved in science and the Botanical gardens as well, helping to improve the standard of teaching within the STEM curriculum.
To learn more about how Millennium Point supported the Botanical Gardens, visit our Youtube channel today.
Ark Trindal Primary
The grant from Millennium Point's Charitable Trust allowed Ark Trindal to bring the science curriculum to life with an outdoor teaching space, which included a science garden with a renewable energy area. This has helped the school make teaching science more fun and hands-on, enabling children to learn through sight and touch. 
Ark Trindal Primary found the grant really quick and simple to apply for and has helped the school out massively in terms of teaching and engaging students in the science curriculum.
To learn more about Ark Trindal's project and how Millennium Point supported them, watch our short video today.
King Solomon School: Breaking barriers
The grant Millennium Point provided for King Solomon School enabled them to create their project, 'breaking the barriers of STEM'. 
The project included building a sensory garden and utilising an old car park that was a part of their playground and turning it into a safe, quiet and peaceful area where children can engage with outdoor learning.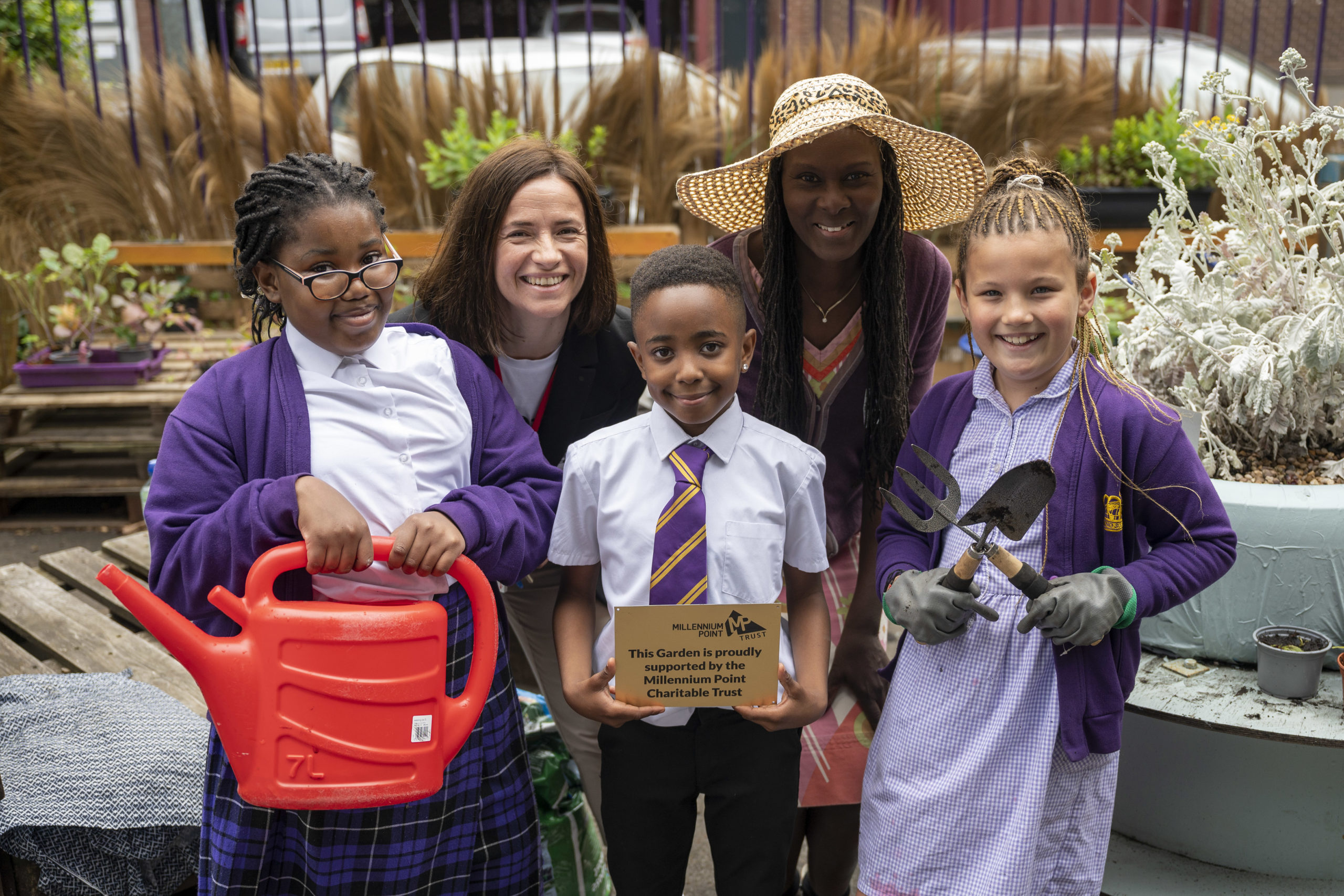 The grant has allowed the school to develop areas for children to engage in science lessons in a physical way, while bringing the community of parents and grandparents together through them donating plants to the schools sensory garden.
To learn more about King Solomon School's breaking the barriers of STEM project, visit our YouTube channel today.
You can learn more about other organisations Millennium Point's grant funding has supported on our website.
Get in touch with Millennium Point today!
Here at Millennium Point we want to support as many people and children as possible and encourage them to pursue further education and careers within the STEM industries, highlighting why we started our grant funding opportunities.
To discover more about whether Millennium Point's Charitable Trust grant can help you, get in touch today!
Bursaries and scholarships are both great ways to support students financially while they're at university, however bursaries and scholarships are often confused as being the same thing.
Both scholarships and bursaries are given out to help students financially without the need for them to pay them back.
This blog will explore the difference between a scholarship and a bursary and how you can make the most of them.
What's a scholarship? 
Scholarships usually come from independent third parties and universities to help students accelerate their education by offering financial aid. They often place focus on academic excellence. 
Eligibility may include: 
Academic achievements.

Personal circumstances, such as where you live or religious background.

Musical achievements.

Sporting achievements.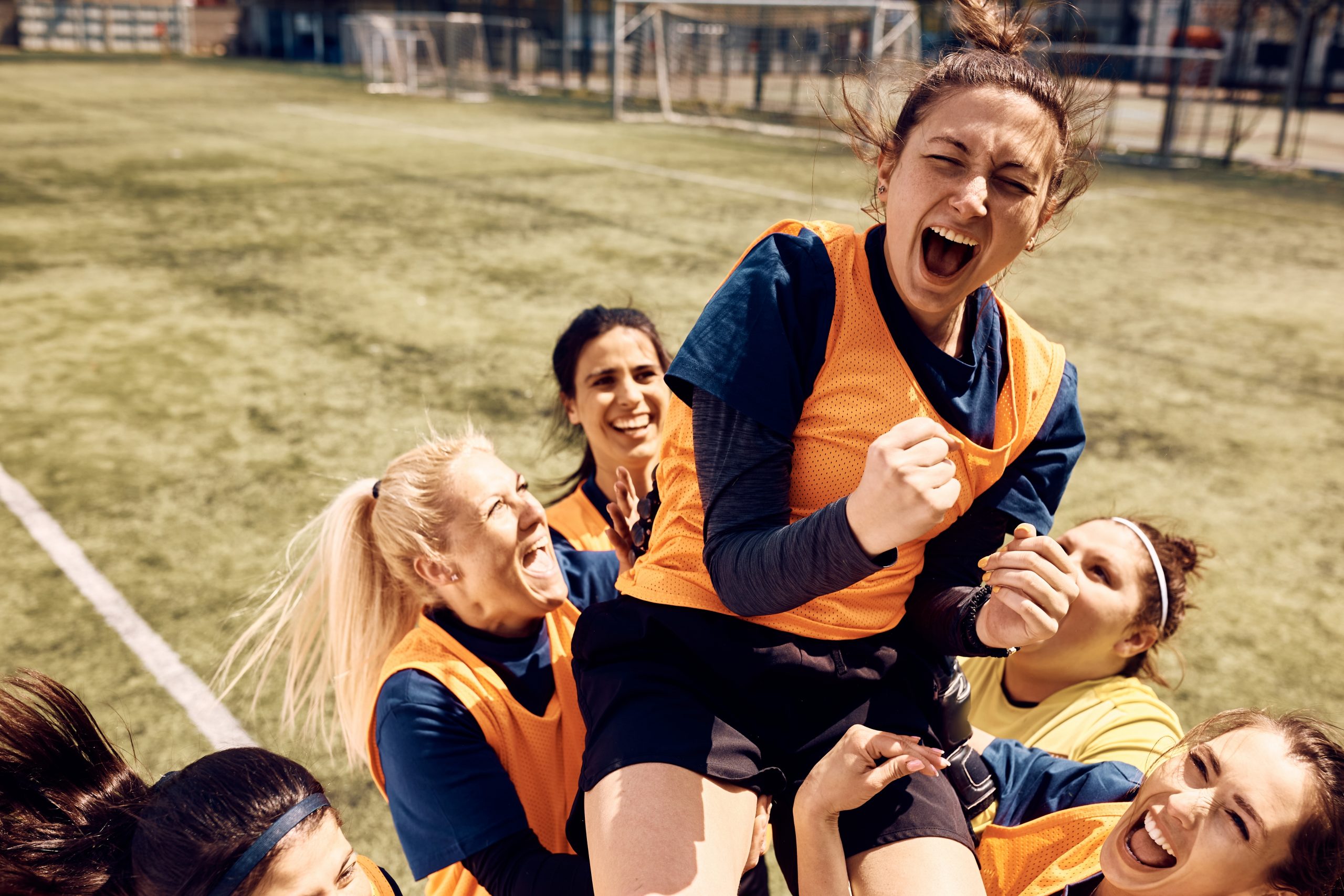 What's a bursary? 
Bursaries are usually offered to those with financial needs to help cover education costs or one off payments to help with living costs.
Criteria students need to meet to receive a bursary:
They are a home or EU student.

Their income is less than £25,000.

They're household income is between £25,001 – £42,611. 

They have a disability or long term health condition where

Disability Living Allowance (DLA) isn't available.

 

They're working or studying away from their university.

They have previously been in care.

They're a carer for an adult or child.

They're living in a hostel or student accommodation.
Despite this criteria, some bursaries may not be available to:
Part time students.

Postgraduate students.

NHS sponsored or funded students.

Students on placement years, years abroad or sandwich years.

Students who are paying reduced tuition fees.
Tips on applying for a scholarship or bursary
Applying for a scholarship or bursary can be very stressful, as you want to get everything right. But with these 7 tips, you'll find applying for a scholarship or bursary easier than ever.
Consider your chances 
When applying for a scholarship or bursary it's important to consider your chances. For example, if your parents earn a high income you're unlikely to receive a bursary. However you may be eligible for scholarships relating to academic or musical achievements. 
You should also look at the value of the award and how many are available, to help you understand how likely you are to receive it. 
Check if you need to apply and whether there's a deadline
Scholarships often require you to fill out an application to see whether you're eligible and a good fit for the award. However bursaries tend to be automatically awarded as a result of personal circumstances or grade achievements.
If you need to fill out an application for an award, then you're likely to need to have a place confirmed at a university. Due to this you should keep an eye on application deadlines to ensure you apply on time and give yourself the best possible chance.
Look at key dates and when you may be successful
When you're applying to a scholarship you should look at the eligibility, how to apply and when you're meant to hear if you're successful. 
In terms of bursaries depending on income or personal circumstances, you're likely to know whether you're eligible for a bursary when you get your student finance assessment. 
Share your information with student finance
When you apply for your student loan you should tick the box that allows student finance to share your information with universities. This allows them to judge whether you're eligible for any scholarships or bursaries. 
Look out for other opportunities
You can keep an eye out for any new scholarships or bursaries when you visit university open days or interviews. Clearing is also a great time to look out for scholarships or bursaries as some universities may make increases to fill application places. 
Take pride in your application
When completing an application it's important that you take the time and effort to fill it out properly. You should check for any errors and ensure you answer all questions honestly and accurately. 
Furthermore, if you're having difficulty answering or understanding any questions in the application, there's no harm in contacting the university or provider for help.
Be realistic
When applying or thinking about applying for a bursary or grant you should consider whether you want to attend a university because you like it or because you like the award they offer. If it's the latter, it isn't wise to attend a university you're not interested in and you should consider other options.
Types of scholarship or bursary
Scholarships are usually awarded for merit based and talent based achievements, whereas bursaries are usually awarded on a need basis.
Types of scholarships
Musical scholarships

Sport scholarships

Personal circumstance scholarships

Vocational scholarships (offered by businesses)
Types of bursary
Bursaries based on grade achievements 

Personal circumstance bursaries, such as those with difficult backgrounds or live in a low income household.
Benefits
Scholarships tend to offer an automatic reduction or cover entire tuition fees and can also offer discounts alongside annual, term-wise or one-off payments for living costs. 
Whereas bursaries offer money to cover education costs or one off payments to help with living costs.
Despite scholarships and bursaries offering awards for different reasons they have a number of similar benefits, such as:
Reduced financial burden.

Ability to focus on education without worrying about income.

They show that you're hard working and determined.

They highlight that you're accomplished and make your CV stand out.
Millennium Point's scholarship
Millennium Point Trust has partnered with Birmingham City University to offer a scholarship where one undergraduate degree is paid for each year. 
With over 20 courses included in the scholarship there's lots to choose from. However the application deadline closes on the 17th March 2023. To apply for the scholarship, visit our website today.
How to apply
You're eligible to apply to the scholarship if you're 18 and planning on starting university by September 2023. You must be within the West Midlands Combined Authority and looking to start a degree included within the scholarship list.
Eligible degree courses include:
Engineering
Automotive Engineering

Civil Engineering

Electronic Engineering

Manufacturing Engineering

Mechanical Engineering
Built environment
Architectural Technology

Building Surveying

Construction Management

Quantity Surveying

Real Estate
Digital Technology
Digital Media Computing

Digital Film Production

Visual Effects

Music Technology

Sound Engineering and Production
Computing
Business Information Technology

Computer Games Technology

Computer Networks and Security

Computer Science

Digital Forensics

Computing and Information Technology

Cyber Security

Computer Science with Artificial Intelligence
The application has two stages with the second stage being an assessment day where you'll participate in developmental workshops. 
For further advice on applying for a scholarship, read our helpful guide here.