We're delighted to announce that we are now members of Tech She Can, which seeks to attract more women and girls into technology roles.
Our membership forms part of our wider strategy to support STEM in the region – visit our charity page to find out what else we're up to.
Who is Tech She Can?
Tech She Can's mission is to make sure that everyone can participate in developing technology, and for women to play an equal role in how our world works, looks, thinks, and feels. Started in 2018 Tech She Can is a programme of free learning materials, for use by teachers or parents, to inspire both boys and girls about a future career in technology.
Since 2018 Tech She Can's membership has grown ten-fold to over 200 member organisations, all ready to collaborate, celebrate and inspire the next generation.
Find out more on their mission on their website and see how you can support.
Why did Millennium Point want to get involved?
Our vision to inspire the next generation who will shape technology, industry, and the world of tomorrow aligns with the mission of Tech She Can. As it stands only 19% of tech workforce are women. Only through making digital and tech more accessible and inclusive can we unlock the try potential of the future workforce.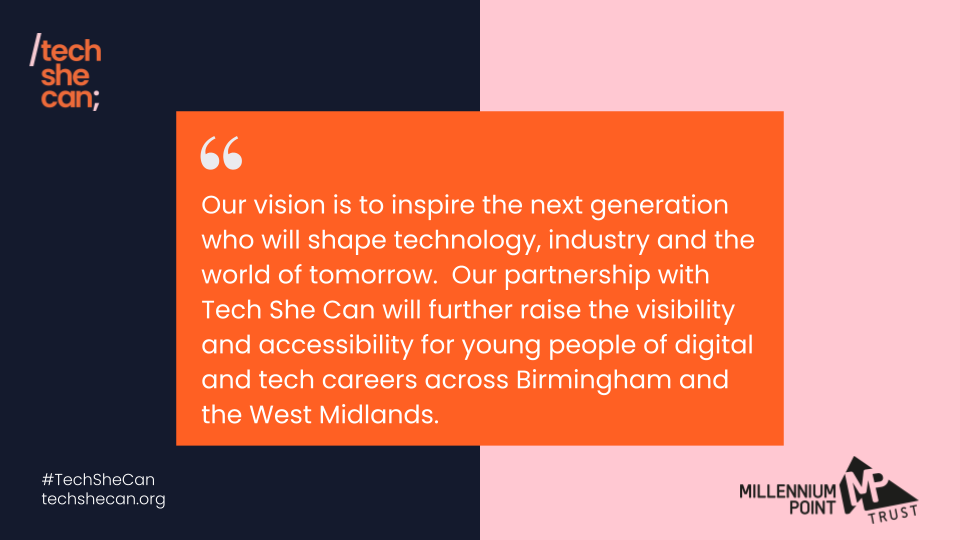 Joining up with Tech She Can will further raise the visibility and accessibility of digital and tech careers with women and girls across Birmingham and the West Midlands.
We're always on the lookout to work with STEM businesses and initiatives
Our portfolio of support for STEM education includes a wealth of projects, from organising activity days for schools to funding for scholarships at Birmingham City University.  Discover more on our website to keep up to date on all the amazing things we're up to.
We love to work with like-minded businesses and individuals to help promote STEM in Birmingham and greater West Midlands. If you think there is a way we can work together, we can't wait to hear from you! Let's talk.
---
Find more interesting content from Millennium Point over at our news section, or follow us for daily updates on Facebook, Twitter, Instagram and LinkedIn with @MillenniumPoint. Millennium Point is a landmark public building and multi-award-winning events venue in the Eastside of Birmingham City centre. Profits from our commercial activity are invested by the Millennium Point Charitable Trust into projects, events and initiatives which support the growth of science, technology, engineering and maths (STEM) and education in the West Midlands.