Don't miss out on an introduction into the world of NFTs and explore the opportunities of a digital future in this exciting event taking place at Millennium Point this Saturday.
A Digital Future With NFT Talks takes place at Millennium Point on Saturday 11th December 2021, 5pm-11pm. This is the perfect event for anyone that is interested in the NFT space, that wants to learn more and connect to the NFT community.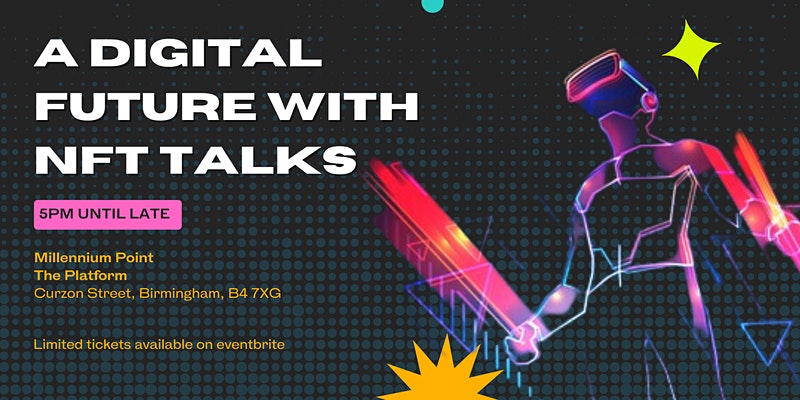 Who are NFT Talks?
NFT-Talks is an educational brand created for the NFT space. They believe that NFTs (Non-fungible tokens) are the future and want to play their part in creating awareness to help build the NFT community.
NFT-Talks aim to deliver digestive content about the NFT space for anyone with little to no experience to consume.
What is an NFT?
Non-fungible tokens (NFT) is at the forefront of cutting edge technology and has been the highlight of the year disrupting the Art, Sports & Entertainment, Music, Gaming and Fashion industries so far.
A Non-fungible token is a cryptographic token called ERC-721. This token represents proof of ownership to any digital asset it has been linked to, which is then recorded onto a blockchain.
What to expect on the evening of the event?
The first hour of the event will kick off with a live "NFT Talks" podcast with an anonymous digital artist from the UK "KidEight".
Taking place after the podcast, listen to a panel of industry leaders and creatives, who will be talking about the future of the NFTs in Art, Music, Digital Fashion & Collectibles followed by a Q&A session.
The event will also include a VR/Metaverse demo, live Art and Music performance, before ending the evening with a chance to network with like-minded individuals and talk about the NFT space.
Limited tickets available so don't miss out!
Don't miss out on the exciting world of NFTs and book your place now by clicking below. Tickets are priced at £11.37 (including fees) each.
---
Find more interesting content from Millennium Point over at our news section, or follow us for daily updates on Facebook, Twitter, Instagram and LinkedIn with @MillenniumPoint. Millennium Point is a landmark public building and multi-award-winning events venue in the Eastside of Birmingham City centre. Profits from our commercial activity are invested by the Millennium Point Charitable Trust into projects, events and initiatives which support the growth of science, technology, engineering and maths (STEM) and education in the West Midlands.