The Bee Happy Campaign, how two children are raising money for NSPCC and Childline
Published 04/04/2022
3 minutes
At the reception desk in our landmark building, stands a nicely decorated bucket. The contents, just empty pens, but what happens to those pens is raising money that will then be donated to NSPCC and Childline.
By dropping off your empty pens, they can then be recycled for money, which can then go towards the fantastic work the charities do. The Bee Happy Campaign was started by two children, they are leading the way to sustainability and charity giving, and they started it all from their home.
The pen collection bucket is sat on reception at Millennium Point, if you have any empty pens don't forget to bring them in and help make a change.
About 'The Children's BEE Happy Campaign'
Bazzie and Joshua, aged 7 & 5, won Morrisons Sheldon's Little Sunshine award in 2020. But they didn't stop there, they are now launching a campaign to collect and recycle pens and writing materials. The inspiring duo wanted to avoid them going into landfill and help the planet by periodically collecting them up from schools, businesses, and community. The pens are then collected and taken to Mel who is Morrison's Community Champion who will then recycle them, and the money raised from doing this will go to NSPCC and Childline.
Every bucket will have Childline's helpline number and designed by Bazzie and Joshua with facts about what animals have taught humans and what we can do to be kind to our planet.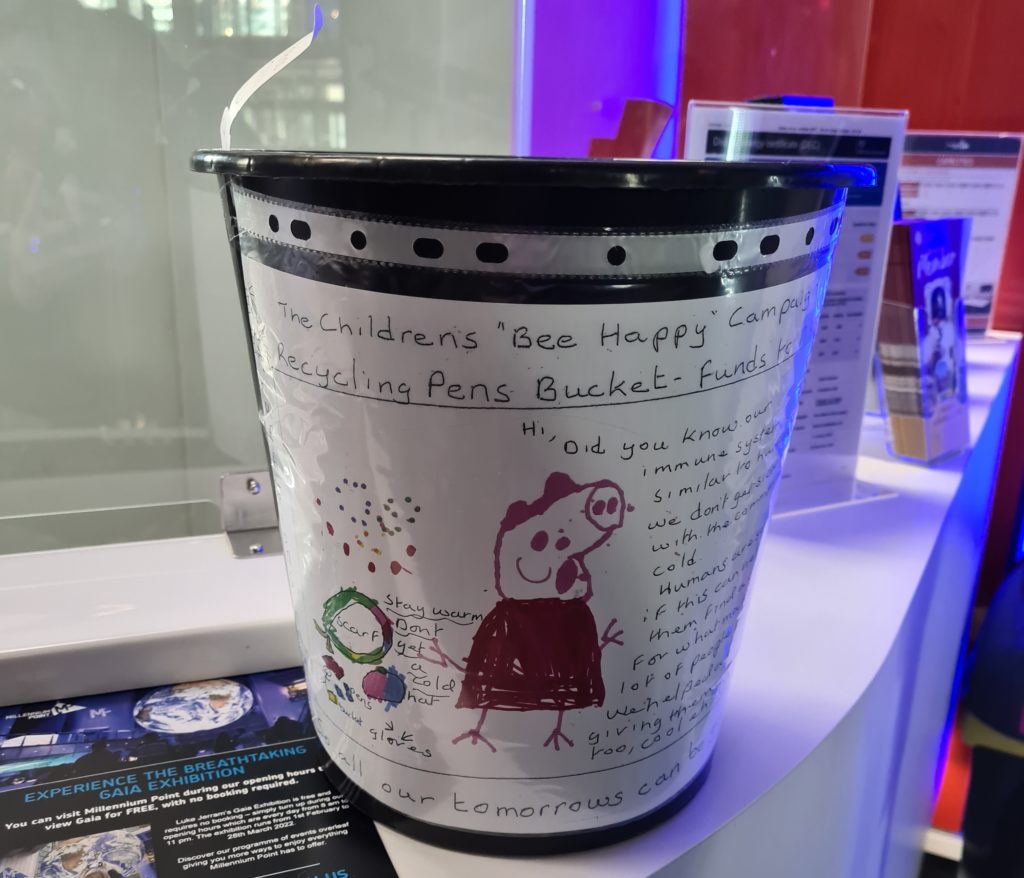 They aim between January and June 2022 to get 102 buckets out collecting pens. The reason behind the number is in memory of Captain Tom who inspired them to start fundraising.
The boys campaign statement says 'We hope you can support us by putting your pens in the buckets we put out, having a bucket or two off us or sponsoring us to get 102 buckets permanent homes in our communities and spreading the word together we can help our planet and vulnerable children too.
'Our dot-to-dot smiley face will be on every bucket as it's become our symbol of encouraging everyone to work together and join up the dots that way, we believe everyone can all 'Bee Happy' now and in the future'.
As an award-winning-charity, Millennium Point were happy to get involved
After hearing about why Bazzie and Joshua were collecting pens, we were eager to start collecting pens for them. Last month, we got to meet Bazzie, and after talking about the importance of recycling and helping charity, we were then left with the very hard decision of picking which designed bucket that would take residency in our reception area.
In fact, we even took two buckets, one for reception, the other now sits in Millennium Point's office… we better start collecting!
Keep an eye out for the collection bucket on your next visit to Millennium Point, don't forget to bring your empty pens too, together we can become more sustainable, while giving to charity in the process.
Want to learn more about Millennium Point?
Keep up to date the latest on our work through our blogs and charity section on our website.
---
Find more interesting content from Millennium Point over at our news section, or follow us for daily updates on Facebook, Twitter, Instagram and LinkedIn with @MillenniumPoint. Millennium Point is a landmark public building and multi-award-winning events venue in the Eastside of Birmingham City centre. Profits from our commercial activity are invested by the Millennium Point Charitable Trust into projects, events and initiatives which support the growth of science, technology, engineering and maths (STEM) and education in the West Midlands.