St Basils are back planning the oldest and biggest sleepout in the UK in Birmingham. On Friday 3rd December, the event is now being held at a new venue, the versatile event space Millennium Point. Previously held at Birmingham Cathedral, the organisers are hoping to fill it to capacity this year. The event will be held from 6pm till 6am and £10 to take part.
Due to last year and the pandemic, 2020's sleepout was cancelled. Usually, the event raises over £100,000 so the organisers are hoping that this year's is the bigger than ever. The aim is to appeal not only to the adventurous nature of people. But also, to their willingness to support young people with additional challenges of homelessness through these difficult times.
You can register for the event here.
Helping the future engineers, doctors, and computer scientists of tomorrow
Supporting young people improves the chances they have for their future. Helping provide a safe space, education and resources allows them to build better foundations for later life. As a strong supporter for education for STEM, Millennium Point were thrilled to be involved.
Abigail Vlahakis, the CEO of Millennium Point said "It is a pleasure to support the important work St Basils achieves every year in tackling youth homelessness. Young people, many of whom have not engaged in education, training, or employment, are feeling abandoned by our society. However, with a little support, these very same young people could be the engineers, doctors and computer scientists of tomorrow which drive our local economy forward. Millennium Point is determined to raise awareness for this issue and proud to be working alongside the brilliant and passionate team at St Basil's to end youth homelessness."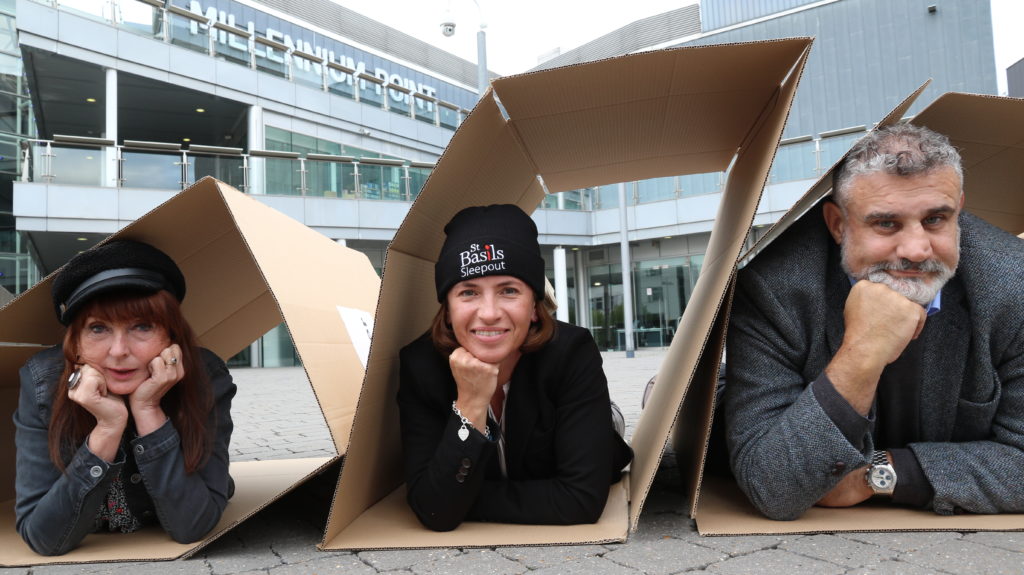 (L: Jean Templeton – CEO of St Basils, M: Abbie Vlahakis – CEO, Millennium Point, R: Professor Paul Cadman, St Basils Board Member)
Homelessness shouldn't be part of growing up
St Basils work with young people ages 16-25 who are homeless or at risk of homelessness, to enable them to find and keep a home, grow their confidence, develop their skills, increase opportunities, and prevent homelessness.
Jean Templeton, CEO of St Basils said "St Basils aims to help prevent youth homelessness in the West Midlands, advising and assisting over 4000 young people at risk of homelessness each year, housing over 1000 and supporting some 750 young people at any one time. We don't believe that homelessness should be part of growing up for any young person and the money raised from this event will go towards ensuring young people feel cared about and have a safe, decent and affordable home and trusted, skilled support to enable them to develop their skills and confidence and move on with their lives.'
Challenge yourself and make a difference
The Big Sleepout sees hundreds of people from companies, families and groups taking part by challenging themselves, raising money and having fun; particularly in the much coveted 'creative shelter competition' with carboard provided yet again by long-time supporters Schumacher packaging.
Barrie Hodge, Head of Fundraising and Communications at St Basils said "We get regulars and people who are doing it for the first time, all helping each other on the night, and it makes for a great atmosphere. The creativity that some people put into the creative shelter challenge is truly amazing and we recognise that with prizes on the night. But despite the fun people have at the Big Sleepout we never lose sight of why we are doing it in the first place. All money raised will help services tailored to support young residents to build confidence and gain skills, and training and employment to ensure they can break the cycle of exclusion and homelessness. We need the support of our local communities and businesses to ensure we can create a brighter future for Birmingham's young people"
Can't make it to Millennium Point, you can still make a difference
St Basils will also be running 'The Big Sleepout from Home' at the same time. So, if you can't make it to Millennium Point, you can still get involved in your back garden, office, community hall or 'sofa surfing' at home.
You can find out more and apply for your Big Sleepout pack by emailing fundraising@stbasils.org.uk.
Supporters can also make one off donations here, it costs £5 a day to support a young person and keep them at a St Basils project.
Want to book an event space with Millennium Point?
The multi-award winning Millennium Point has 17 versatile event spaces to choose from and an excellent events team to help you with your event.  
For further information about the event, charity, or venue you can get in contact with our team.
---
Find more interesting content from Millennium Point over at our news section, or follow us for daily updates on Facebook, Twitter, Instagram and LinkedIn with @MillenniumPoint. Millennium Point is a landmark public building and multi-award-winning events venue in the Eastside of Birmingham City centre. Profits from our commercial activity are invested by the Millennium Point Charitable Trust into projects, events and initiatives which support the growth of science, technology, engineering and maths (STEM) and education in the West Midlands.