There are some professions out there that may not spring to mind when you think of STEM (science, tech, engineering and maths), most people think of scientists in lab but there's so much more to these four subjects and the careers those who study them find themselves in.
We caught up with Marcus Jenkins, a musician, record producer and sound engineer at 2000 trees festival. Marcus runs the Neu stage at the festival which involves overseeing all elements of running the stage from; Sound Engineering, Lighting, Backline, and Stage Management and where he coordinates his sound engineering students from the University of Gloucestershire. The festival was crowned 'Best Medium-Sized Festival' at the Festival Awards 2018 and  headlined by Frank Turner, You Me at Six & Deaf Havana.
---
Q: How did the link between you, the students and 2000 trees come about?
A: The University of Gloucestershire has a great relationship with the festival. I can't exactly remember how it all started, but I recall meetings with Andy & James (2 of the organisers of 2000 trees) back in 2011 discussing the potential for our students working on The Greenhouse stage. The Greenhouse became The Croft and then, with the site re-jig a few years ago, became the Neu Stage.
Q: Any recommendations for artists over the weekend?
I'll be faithful to the Gloucestershire locals: Floorboards, Watercolours, All Ears Avow, and of course, Jim Lockey & The Solemn Sun.
Q: When working as a sound engineer, do you get to enjoy the music, or do you have to be constantly switched on?
A: I'd like to think that the very nature of being a Sound Engineer means you are always switched on to what and who you are working with. There are some artists that might not suit your personal taste, but you can always get into the mix and provide a good service to the act and to the audience. If an act suits your musical taste, then mixing becomes a great pleasure.
Q: You must be busy all weekend with your job, do you get any downtime to go and see any acts?
A: There's very little downtime when working on a stage which tends to be the nature of the work. However, as coordinator for the students volunteering on the stage, if anyone wanted to go watch one of their favourite acts on another stage then I will accommodate their request and rotate the team to make sure the work in our venue is covered.
Q: As you work as freelance sound engineer what other kind of events have you worked on?
A: I've worked for over 10 years as a freelance live sound engineer for a variety of different events from; music festivals, venues, touring bands, comedy, corporate, and conference work.
Q: Have you always wanted to work in the music industry?
A: Yes – from the age of about 18. Prior to that I didn't really know what I wanted to do.
Q: At what age did you start getting involved in music, and to build on that; the technical side of things?
A: I started going to gigs from the age of 14 (sneaking into venues with age restrictions). Playing in bands around 16 and getting hands-on with tech from 18.
Q: What's your most memorable experience working in Live music?
A: Touring with Crooks UK on their debut album EU/UK tour (w/ Boston Manor). The tour had to cease after a few shows due to ill health but the gigs we did were insane.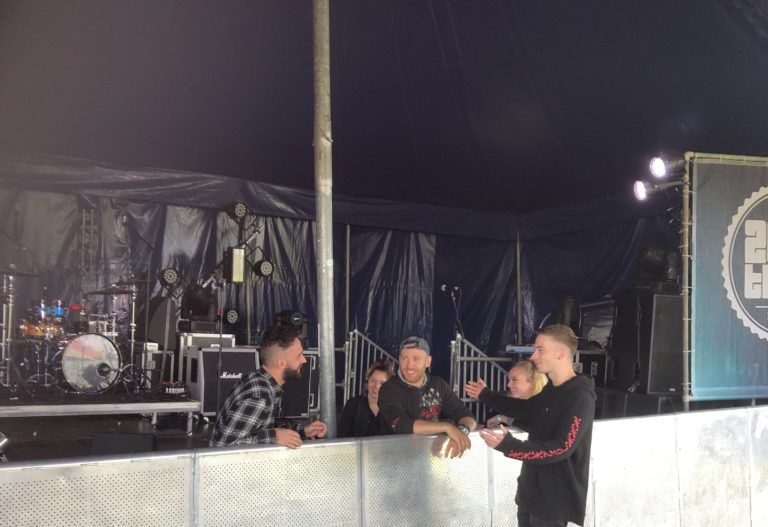 Q: What do you enjoy most about your job?
A: Live music, either at a festival or in concert, generates a certain energy. There's nothing like getting the mix spot on and feeling the crew, room acoustic, and artist working together to deliver an excellent experience for the audience.
Q: So where and what did you study?
A: I studied a B-TEC at City of Bath College from 2004-2006 in Music Practice. This drove me to undertake a BA(Hons) at the University of Gloucestershire in Popular Music from 2007-2010.
Q: How did you find the course?
A: Really enjoyed the B-TEC as it got me started on my journey. I found my BA course unique as I was able to experiment with what I enjoyed most and networked along the way. I wouldn't be where I am today if it wasn't for both experiences.
Q: Do you think it's important that more young people get involved in STEM subjects?
A: Absolutely! There's so much that can be learned by being exposed to right circumstances and experiences. Whether you are a practical or vocational learner, or reflector or theorist, there will be the right course out there for you in STEM should you want to learn more!
Q: You also work for University of Gloucestershire assisting students in the media school, how is that?
A: It's amazing. I am lucky to be surrounded by inspirational students, where projects in the music studio or computer lab vary from day-to-day and I get to enjoy fantastic experiences like supporting my students working at great festivals like 2000 trees.
Q: Are the students solely focused on the technical side of things or is there a link between performance and engineering?
A: Our students in the Media School study either BA or MA degrees. So whilst technology links almost all things music, understanding and knowledge of tech isn't essential before you start the course. We have fantastic facilities and support technicians, along with great lecturers that deliver all the right information and content for students to carry out their studies.
Q: What are the opportunities like for students once the graduate to work in the music industry and STEM?
A: From my experience in education, you get out what you put in. Music education and STEM subjects are no different. If you are committed and invest your time in your studies (and that includes time outside the classroom) then you will be able to find work.
Find out more about Marcus here and the Music courses at the University of Gloucestershire: Creative Music Technology, Music Business and Popular Music.
2000 Trees festival won the awards for 'Best Medium-Sized Festival' at the Festival Awards 2018 and tickets for 2020 are available at a discounted rate now – https://www.twothousandtreesfestival.co.uk/tickets/
---
Millennium Point is a landmark building in Eastside of Birmingham City centre. Owned by the Millennium Point Charitable Trust who supports science, technology, engineering and maths (STEM) and education in the West Midlands, Millennium Point is home to award-winning events and conference spaces, including a 350-seat auditorium with Birmingham's biggest screen, as well as tenants such as Thinktank Science Museum and Birmingham City University. For more information about the organisation get in touch.