Cocktails and Dirty Dancing hits the big screen at Millennium Point
Published 04/06/2021
3 minutes Read
Have the 'Time of your Life' this Summer by joining us for 'Dirty Dancing with Cocktails' at Millennium Point.
Get ready to drink cocktails and have a good sing along as we team up with the innovative event specialists, The Wine Events Company to bring you the eighties classic Dirty Dancing on the big screen. This event takes place on Saturday 17th July at 7.30pm (doors open at 6:30pm) and you won't want to miss it!
About the film
Baby (Jennifer Grey) is disappointed when her summer plans deposit her at a sleepy resort in the Catskills with her parents. Her luck turns around, however, when the resort's dance instructor, Johnny (Patrick Swayze), enlists Baby as his new partner, and the two fall in love. Baby's father forbids her from seeing Johnny, but she's determined to help him perform the last big dance of the summer.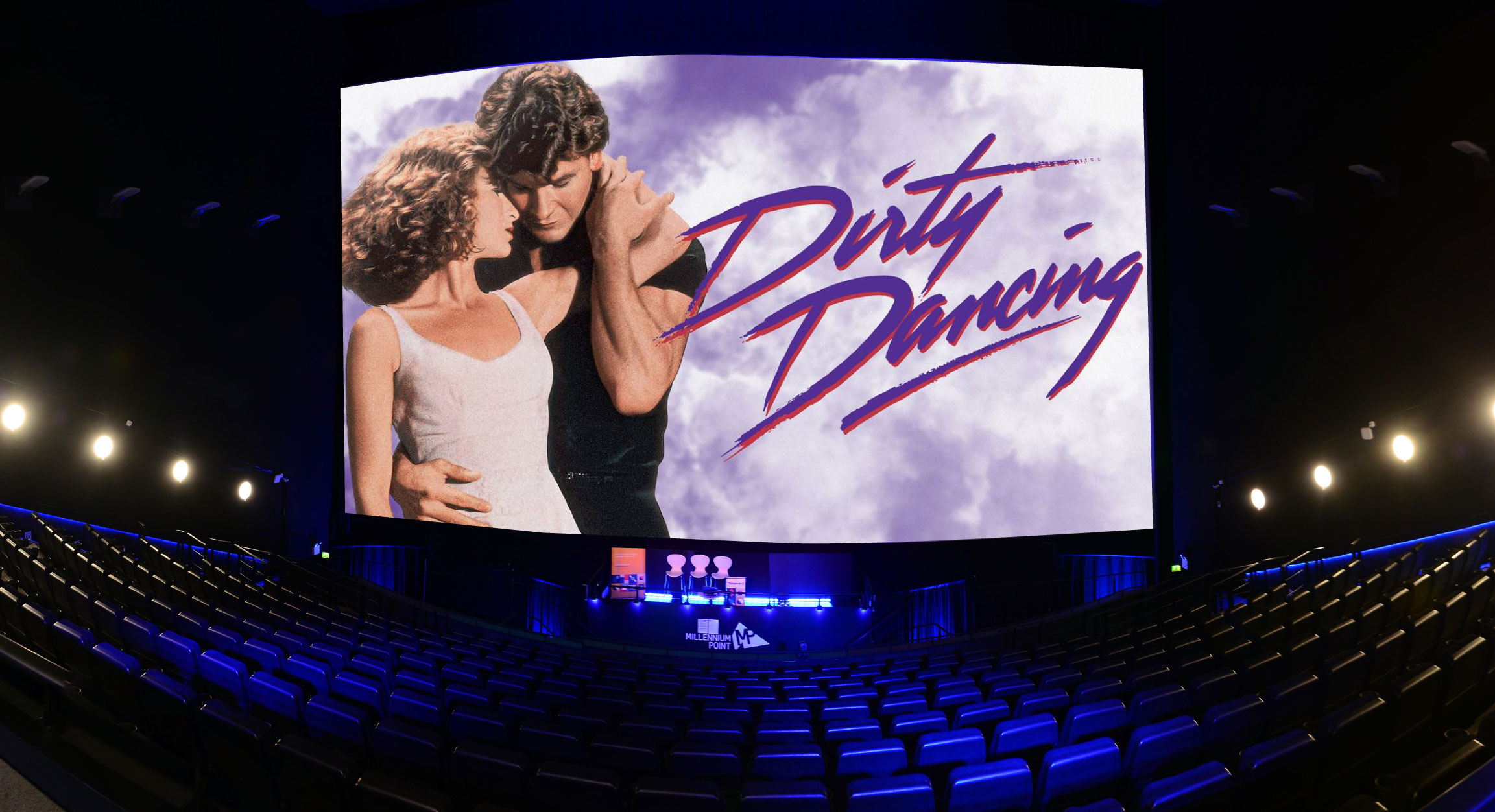 Featuring: Patrick Swayze, Jennifer Grey, Jerry Orbach, Cynthia Rhodes, Jack Weston and many more.
Certificate: 15 | Running Time: 1 hour 40 minutes
Experience more than just a film screening
Enjoy a unique experience as Wine Events Company guru's Tony and Ryan provide movie trivia throughout the event and demonstrate how to make each of the four themed cocktails on our newly refurbished stage.
Ticket Pricing
Tickets are priced at £35.95 per person (plus Eventbrite fees), and include four tasty themed cocktails. Due to government guidelines, tickets are only available to buy in bundles of two, three or four. You can buy more than one block of tickets at a time however, you will only be able to pick seats as per the seating plan. Have the time of your lives and book tickets by clicking below.
Back to the Future with Wine recap
Last Friday attendees were wowed by our unique screening of Back to the Future with Wine. The eighties sci-fi classic was screened in our Auditorium with themed wines served throughout the event. We had some great feedback including one attendee that said "Having never seen Back To The Future properly before, I went into this showing with an open mind. Not only was the film incredible (especially on the huge screen), but the wines paired with the film went down an absolute treat!"
"Tony from The Wine Events Company was also hilarious – playing the characters of Marty McFly and Dr. Emmett Brown, giving the audience insights into specific scenes during the film and also some interesting background knowledge of the wines we were tasting throughout."
"A fantastic night out for anyone looking for something a little more than your regular cinema screening, that's for sure!"
Getting to Millennium Point
Millennium Point is in the Eastside of Birmingham City Centre just 5-minutes walk from Moor Street and 15-minutes from Grand Central and the tram. There is also limited parking on-site which means we're easy to find regardless of how you travel. For more information please click here.
Want to find out more about this event?
If you require further information on this event then please head over to our dedicated landing page by clicking here.
---
Find more interesting content from Millennium Point over at our news section, or follow us for daily updates on Facebook, Twitter, Instagram and LinkedIn with @MillenniumPoint. Millennium Point is a landmark public building and multi-award-winning events venue in the Eastside of Birmingham City centre. Profits from our commercial activity are invested by the Millennium Point Charitable Trust into projects, events and initiatives which support the growth of science, technology, engineering and maths (STEM) and education in the West Midlands.