Millennium Point's multi-award-winning venue has two outdoor spaces ideal for hosting a safe and socially distant outdoor networking event from as little as £260+VAT. Here are the reasons why you should choose Millennium Point for your outdoor networking event.
It has benefits in 2020 which indoor networking doesn't.
The networking landscape is changing with more businesses choosing fresh open-air spaces as the setting for their networking events, and that's not surprising considering the benefits. The obvious reason in 2020 for choosing an outdoor setting compared to indoor for your networking event is an easier implementation of social distancing measures. More open space means delegates feel less claustrophobic and can practice social distancing; fewer surfaces and natural airflow means less risk of contamination or lingering germs creating a safe environment which makes delegates more at ease.
Outside of social distancing measures, natural daylight and fresh air are proven to increase happiness and concertation levels which means more engagement among delegates when networking and an overall increase in satisfaction for your networking event.
Outdoor spaces at Millennium Point
Ingress is a semi-private outdoor space. It's adjacent to our level 1 space, Platform, which has power sockets, a fully licenced bar and restroom facilities. It's also adjacent to the Millennium Point privately owned car park which can be used for its intended purpose or breakout space. Ingress is available from £260+VAT.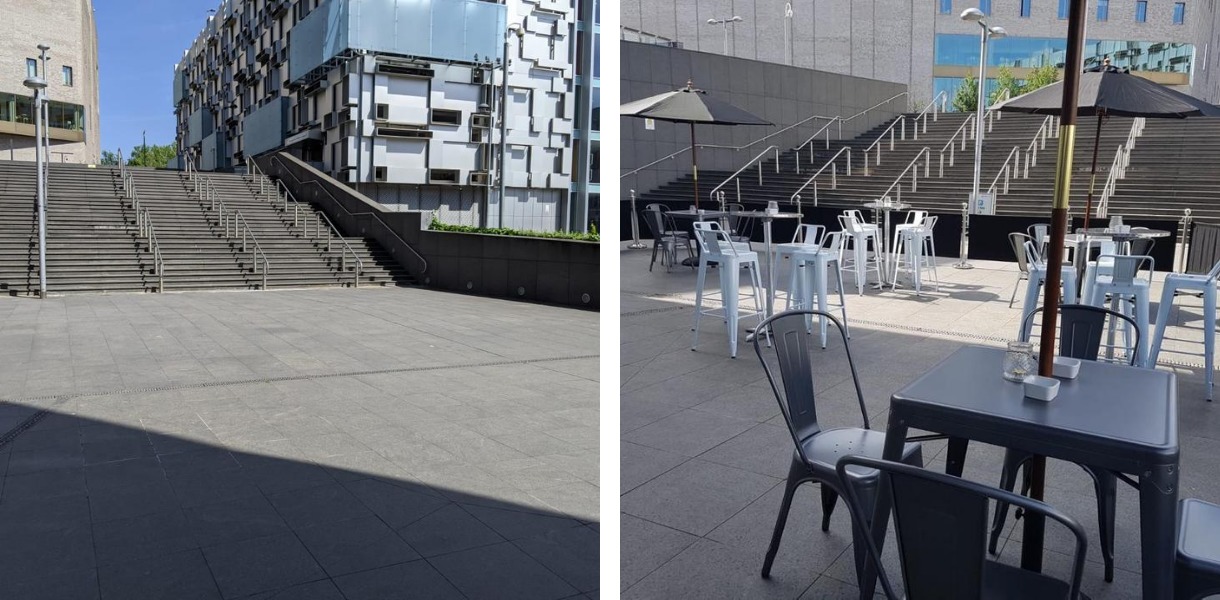 Promenade is our open public space which backs onto Eastside city park providing ample room ideal for more casual networking and parties. Our promenade benefits from naturally high footfall which means more opportunity to generate a captive audience. This space has access to power and is close to our ground floor Atrium and level 1 space, Platform. The promenade is available from £450+VAT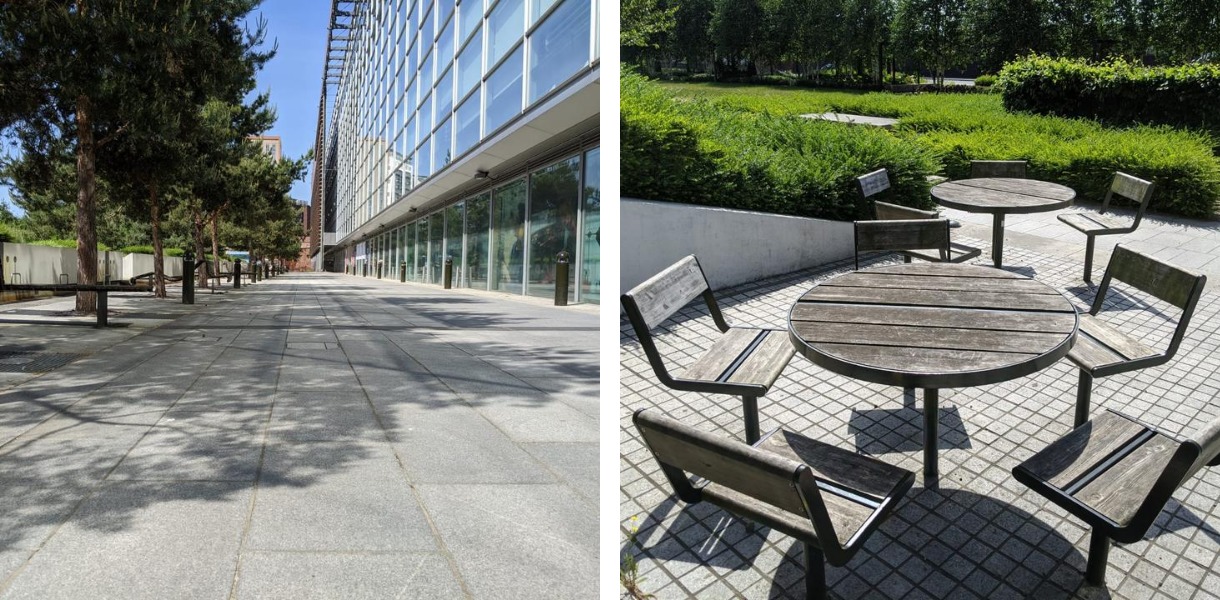 What packages are available?
We have a range of packages which can be customised to suit the look and feel of your outdoor networking event. We have introduced contact-free catering with food individually packaged and drinks in bottles or single-use plastic. All our packaging is biodegradable, which means safeguarding the environment as well as your delegates.
While we can't guarantee the weather, we can guarantee a high-level service, professional and flexible event management and high-tech audio-visual support. We will work with you to provide protection from bad weather. We have seating, coverings and lighting to suit the style and theme of your networking and barriers to monitor footfall and crowd-flow. We have an on-site bar but can also deliver pop-up bars and refreshment stations.
5 reasons to choose Millennium Point for your Outdoor Networking event:
Central location in Birmingham's Eastside, that's easy to get to regardless of how you travel. Our landmark public building is 15 minutes from Birmingham New Street, Midland Metro and Bus services. Millennium Point is easily accessible from the M5, M6 and A38. We also have an onsite car park owned by Birmingham City Council.
Award-Winning Service delivered by a high-level professional events team with over 40 years hospitality experience combined. Our team is accredited by HBAA, MIA's Aim and we are a member of venues of excellence.
We're COVID secure. We recently received 'Safe, Clean and Legal' accreditation from Quality in tourism for our safety and social distancing measures which safeguard from Coronavirus without compromising your event. You can read our highly praised Client Protection Plan written in-line with the latest UK Government guidelines and Event industry advice by clicking this link:
We're affordable and flexible, building your event package around you, your aims and your budget. Similarly, we have introduced a temporary flexible booking policy to safeguard your booking from the impact of coronavirus locally and nationally. Read more by clicking this link:
You widen your CSR and support the local region just by booking with us. Commercial profits from our events business and landmark public building go towards our award-winning charitable trust who invest more than £5m back into the region through projects which support the growth of science, technology, engineering, maths (STEM) and education.

Our landmark building is easy to spot and easy to get to in Birmingham City Centre
Book your free guided tour now
Enquire now for your free no-strings guided tour. A member of our friendly events team will provide a contact-free guided tour of the space, or you can choose a guided virtual tour over the video communication platform of your choice.
Get in touch by calling 0121 202 2200, emailing events@millenniumpoint.org.uk or by using our quick enquiry form.
---
 Millennium Point is a landmark public building and multi-award-winning events venue in the Eastside of Birmingham City centre. Profits from our commercial activity are invested by the Millennium Point Charitable Trust into projects, events and initiatives which support the growth of science, technology, engineering and maths (STEM) and education in the West Midlands. Find more interesting content from Millennium Point over at our news section, or follow us for daily updates on Facebook, Twitter, Instagram and LinkedIn with @MillenniumPoint.