Funding the future: Millennium Point's STEM Scholarship funding in the West Midlands
Published 19/09/2023
3 minutes
Scholarships are a great way to offer people the opportunity to study a university degree that may not have the financial needs to do so. Unfortunately, nearly ¼ of students in the UK can't afford to go to university, making scholarships an excellent way to get people into further education and advance their careers. 
So how are we at Millennium Point supporting students in the West Midlands with our STEM Scholarship funding? 
What is a Scholarship?
A scholarship is a form of financial aid provided by independent third parties or universities to support students through their education.
What does our STEM Scholarship involve?
At Millennium Point our STEM Scholarship gives one student a year the opportunity to study a STEM degree at Birmingham City University, with students being able to study courses relating to:
Engineering

The Built environment 

Digital technology

Computing 
We have over 20 courses you can choose from that you can explore on our scholarships page.
To be successful within your application, you'll need to undergo two stages.These are your initial application and an assessment day.
If you make it to the final, you'll be invited to get involved in developmental workshops that will support your personal development and professionalism within interviews and presentation skills. 
Eligibility 
To be eligible for our STEM Scholarship you'll need to meet the following criteria:
You live in the West Midlands combined Authority area in the UK. International applications are not accepted 

You're 18 by September 2024 and are looking to start an undergraduate course at Birmingham City University in the faculty of Computing, Engineering and the Built Environment 

Your chosen course is listed on the website under

'what courses are included'

You will be available to participate in the second stage 
How to apply 
The online application form will be accessible in January 2024 and will include questions about who you are and why you think you should win a free degree at Birmingham City University. 
You can sign up for notifications at the bottom of the page or check back in January to see when the form goes live.   
Meet our latest Scholarship winner, Safa
Our latest winner Safa Bibi from Small Heath has started studying computer science at Birmingham City University as of September 2024. Safa became interested in the computing industry while at Secondary school and further developed it through watching speeches made by women in STEM.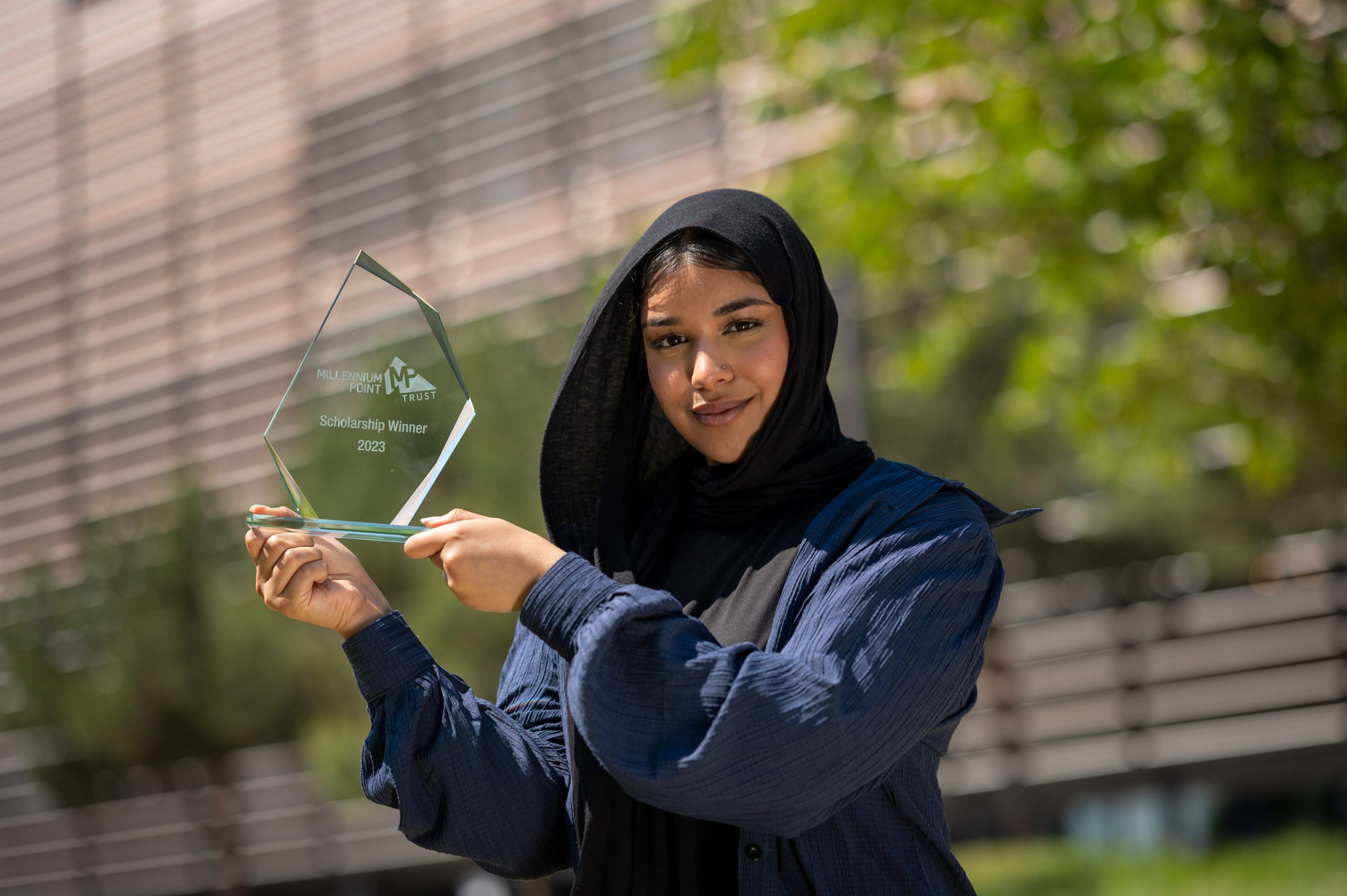 As a result of our scholarship, Safa is able to further pursue her passion for computing and she hopes to be an inspiration for others and encourage them to follow their passion regardless of their religion or race.   
So if you're looking to pursue a career in STEM, keep an eye out for our applications opening in January 2024.