Experience Earth like never before at Birmingham's landmark city centre venue with Luke Jerram's breath-taking Gaia. Millennium Point are delighted to be able to host the spectacular live art installation. Showing from 1st February to 28th March 2022 the unmissable sight will also be accompanied with a schedule bursting with exciting activities.
This 8-week installation of Luke Jerram's Gaia artwork is our latest initiative to help entertain, educate, and inspire local communities. 
An unimaginable view amongst the stars, all from the comfort of Earth
Luke Jerram is a British artist that creates sculptures, installations, and live art projects. Having more than 600 exhibitions in 44 countries, he is now known globally for his innovative arts practice and large-scale public artworks.
Luke Jerram's Gaia aims to create the Overview Effect, but for people standing on Earth. First coined by author Frank White it features the experience that astronauts feel in space. Feelings of awe, an understanding of the interconnection of all life, and a sense of responsibility for taking care of the environment.
Hoping that it engages and starts the conversation on what we can do to protect our fragile blue planet, the travelling artwork also acts as a mirror to major events in society. Throughout the current COVID-19 pandemic, and after lockdown there has been a renewed respect for nature. Viewers may also gain a new perspective from Gaia, that everyone is all interconnected and have a responsibility toward one another.
The 7m in diameter artwork is 1.8 million times smaller than the real Earth with each centimetre of the internally lit sculpture describing 18km of the Earth's surface. By standing 211m away from Gaia, the public will be able to see the Earth as it appears from the moon. Gaia will slowly revolve and be accompanied by a specially created composition by BAFTA award winning composer Dan Jones.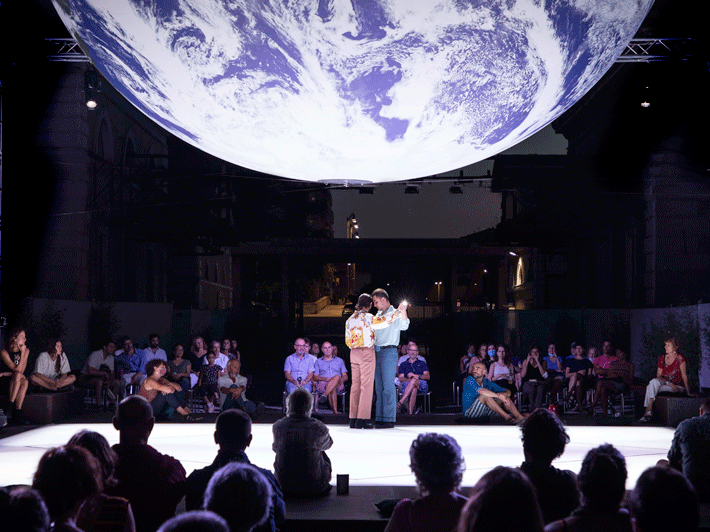 Sustainability is a journey not a destination  
As an award-winning landmark building, it is vital to do our part to aim to be as sustainable as possible. As times have changed, Millennium Point have adapted to try and become greener to protect are planet and promote the importance of sustainability. Having Gaia at Millennium Point we hope it transfers the same thought-provoking action that is needed to make a change.
You can find out more about our sustainability pledge here.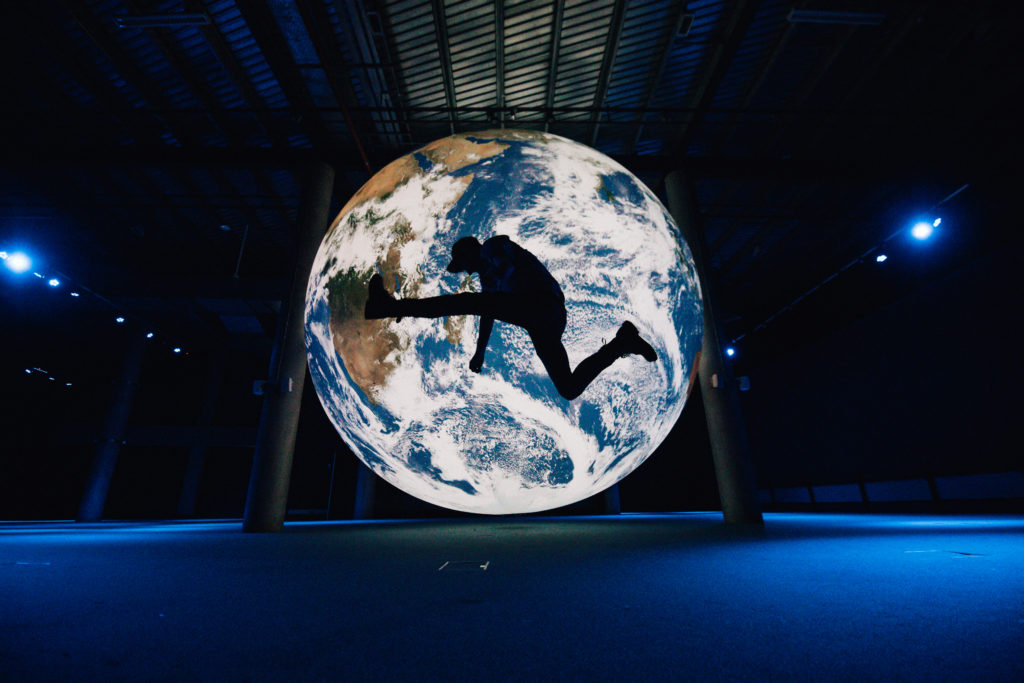 Make your event stand out with Gaia 
Luke Jerram's Gaia will be at Millennium Point for 8-weeks from Tuesday 1st February until Monday 28th March 2022, giving plenty of time for all to enjoy. Take advantage by hosting your event at Millennium Point during this period to give your guests a wow factor at no additional cost. Gaia is a unique piece that is sure to drive attendee numbers and spark conversations, while making your event one to remember. There is also an opportunity to upgrade your booking to include a welcome reception under Gaia, to greet guests in a way that is literally out of this world!
Discover more about our versatile spaces that are suitable for both public and private events here.
The Gaia exhibition is free and open to the public during standard Millennium Point opening hours from 2nd February to 28th March. More details on our exciting programme will be released in early 2022. You can keep up to date on the latest Gaia news with by signing up to our mailing list.
---
Find more interesting content from Millennium Point over at our news section, or follow us for daily updates on Facebook, Twitter, Instagram and LinkedIn with @MillenniumPoint. Millennium Point is a landmark public building and multi-award-winning events venue in the Eastside of Birmingham City centre. Profits from our commercial activity are invested by the Millennium Point Charitable Trust into projects, events and initiatives which support the growth of science, technology, engineering and maths (STEM) and education in the West Midlands.