Ghostbusters & Cocktails Halloween Screening at Millennium Point
Published 29/10/2020
3 minutes Read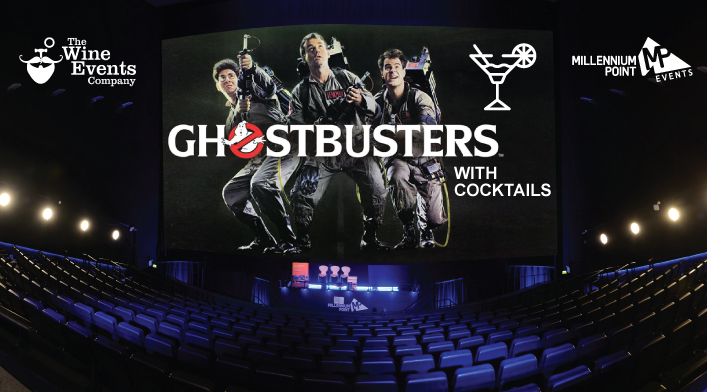 Join 'ghostbusters for the night' Tony and Ryan at Millennium Point for a truly immersive cinematic experience this Halloween. Taking place on Friday 30th October from 7:30 pm, our award-winning venue will be hosting a truly unique and interactive screening of the eighties comedy classic, "Ghostbusters", alongside four themed cocktails and a very big screen (formerly an IMAX). Tickets cost £34.95 each and include four themed cocktails to enjoy alongside the film.
About the film
After a team of scientists lose their cushy positions at a university in New York City, they decide to become "ghostbusters" to wage a high-tech battle with the supernatural for money. They stumble upon a gateway to another dimension, a doorway that will release evil upon the city. The Ghostbusters must now save New York from complete destruction.
The film features an all-star cast of Bill Murray, Ernie Hudson, Dan Aykroyd and Harold Ramis as the iconic quartet. With a supporting cast which includes Sigourney Weaver and Rick Moranis and an instantly recognisable theme song, Ghostbusters is one of the defining films of the 80s.
About the event
We've partnered with the brilliant Wine Events Company on this unmissable experience. This classic 80's movie will be paused at appropriate moments to serve you your next Ghostbusters themed cocktail whilst Tony and Ryan demonstrate how to make the cocktail and share some fun movie trivia in this safe, fun and interactive 'cocktails and movie' event in our spacious venue with a very big screen.
About tickets
Tickets are priced at £34.95 each (plus Eventbrite booking fee). The ticket price includes entry to the event and four delicious themed cocktails to enjoy throughout the movie. Tickets are only available to buy in bundles of two, three or four to enable you to select adjoining seats for people in your household. You can buy more than one block of tickets at a time however, you will only be able to pick seats as per the seating plan.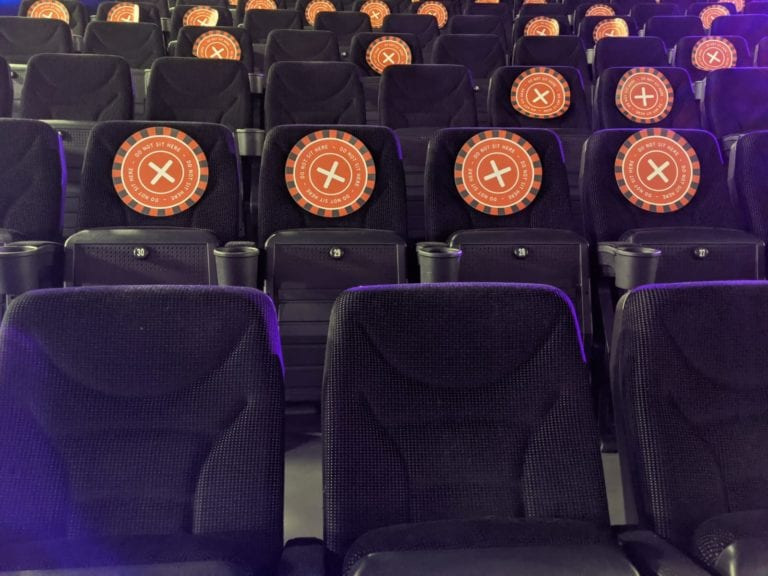 Where is Millennium Point?
Millennium Point is in the Eastside of Birmingham City Centre just 5-minutes walk from Moor Street and 15-minutes from Grand Central and the tram. There is also limited parking on-site which means we're easy to find regardless of how you travel.
How have we made it safe?
Under the current coronavirus measures in Birmingham, you are allowed to attend a film screening providing you do not mix with other households. Millennium Point has been accredited as "COVID secure". Our award-winning events team at Millennium Point has been working hard to implement new hygiene and safety measures, to ensure all government guidelines. The Auditorium, which at full capacity can host 354 people, has been reduced allow for physical distancing between households, and all seats will be allocated in advance to pre-paid ticket holders. A deep clean will be carried out between performances and all screenings will be contactless and cash-free and staff and cinema-goers alike will be wearing facemasks. Specific details for measures we have taken can be found on the booking page.
Don't miss the call, and book your tickets today!
See more film and drink experience coming up at Millennium Point including Back to the Future and Love Actually.
---
Find more interesting content from Millennium Point over at our news section, or follow us for daily updates on Facebook, Twitter, Instagram and LinkedIn with @MillenniumPoint. Millennium Point is a landmark public building and multi-award-winning events venue in the Eastside of Birmingham City centre. Profits from our commercial activity are invested by the Millennium Point Charitable Trust into projects, events and initiatives which support the growth of science, technology, engineering and maths (STEM) and education in the West Midlands.