Laura Avis named Millennium Point Trust Scholarship Winner 2019
Published 29/03/2019
3 minutes Read
Laura Avis, 17, from Redditch, was last night (March 27th) named as the winner of this year's Millennium Point Trust Scholarship programme.
Laura, who is set to begin studying Film Production Technology at the Faculty of Computing, Engineering and the Built Environment at Birmingham City University (BCU), secured a fully paid-for degree, after presenting to a panel of top industry judges and a captive audience during a live final event at Millennium Point.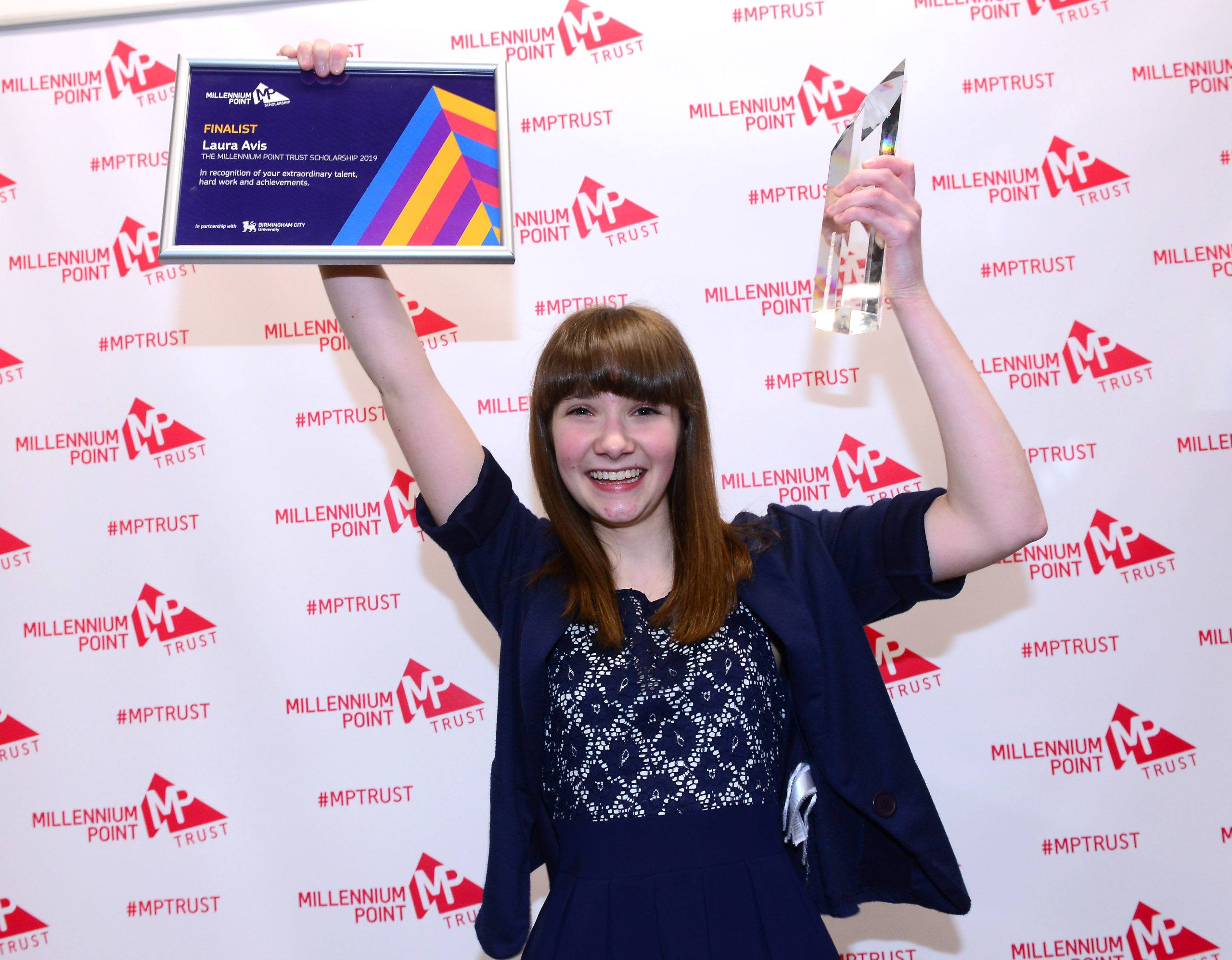 Laura said: "Winning the Millennium Point Trust Scholarship programme is a dream come true and I'm so grateful to be given this incredible opportunity to kickstart my career.
"It's important that young people are aware of the wide range of exciting STEM-related careers that are available to them and I am keen to tackle the misconceptions surrounding the subject. My chosen degree course is a proven example of this as it combines the art of film with the intricate technical detail that is also required in this line of work, and I can't wait to get started.
"I'm very proud of all the other finalists. They are all so passionate about their chosen subjects and I wish them the very best of luck in their careers in the future."
We'd like to say a huge congratulations to all of the finalists on this year's Scholarship programme. The level of passion for their chosen topic, as well as the knowledge and enthusiasm that was shown on the night, was phenomenal – not to mention the courage that is needed to stand on stage and present to a panel of five industry leaders. There is no doubt that all five of these talented individuals have very bright futures ahead of them.
It's an amazing thing to witness first-hand the growing interest in STEM among young people. Looking ahead, we will continue to invest back into the West Midlands and support STEM-related projects so we can raise awareness of the vast array of exciting and innovative careers available to the next generation of leaders. We'll be working with all of the finalists to secure them opportunities to start their career as well as Laura's degree funded through the Millennium Point Trust.
The scholarship programme, now in its fifth year, saw a record number of applicants, with almost 100 young people applying for 2019 –the highest entry level in the scholarship's history.
The flagship initiative from the Millennium Point Charitable Trust is fully funded by the charity, which in 2018 invested more than £4.8m in STEM-related organisations, projects and initiatives, based in the West Midlands.
The finalists also included Jerome Adrien, 19, from Birmingham, who has applied for Automotive Engineering; Moses Mbikayi Mukendi, 17, from Coventry, who has chosen Computer Games Technology; Caitlin Cooper, 17, from Wolverhampton, who wants to study Computer Forensics; and Feargus Flanagan, 17, from Wolverhampton, who is looking to pursue Music Technology. All finalists will continue to receive support as part of the wider Scholarship programme.
The judges were:
Liz Mercuri – a computer games programmer, Liz is Technical Evangelist at Unity Technologies and former BAFTA Young Games Designers Mentor.
Hala Lloyd – lead architect at HS2 in Birmingham, Hala studied for her postgraduate diploma in Architecture at BCU.
Simon Cox – Head of investigations at BBC Arabic and global journalism consultant.
Gavin Wade – director of Eastside Projects in Digbeth, Gavin is an award-winning artist-curator, and a producer and curator of world-class public art, exhibition making, writing, and publishing.
Professor Hanifa Shah – Executive Dean of the Faculty of Computing, Engineering & the Built Environment at Birmingham City University (BCU). She has held positions in Computing and Engineering departments at Aston, Staffordshire and Birmingham City University, and a Visiting Professorship at Manchester University. She also has several years' industry experience, including at BT, Cadbury Schweppes and Britvic.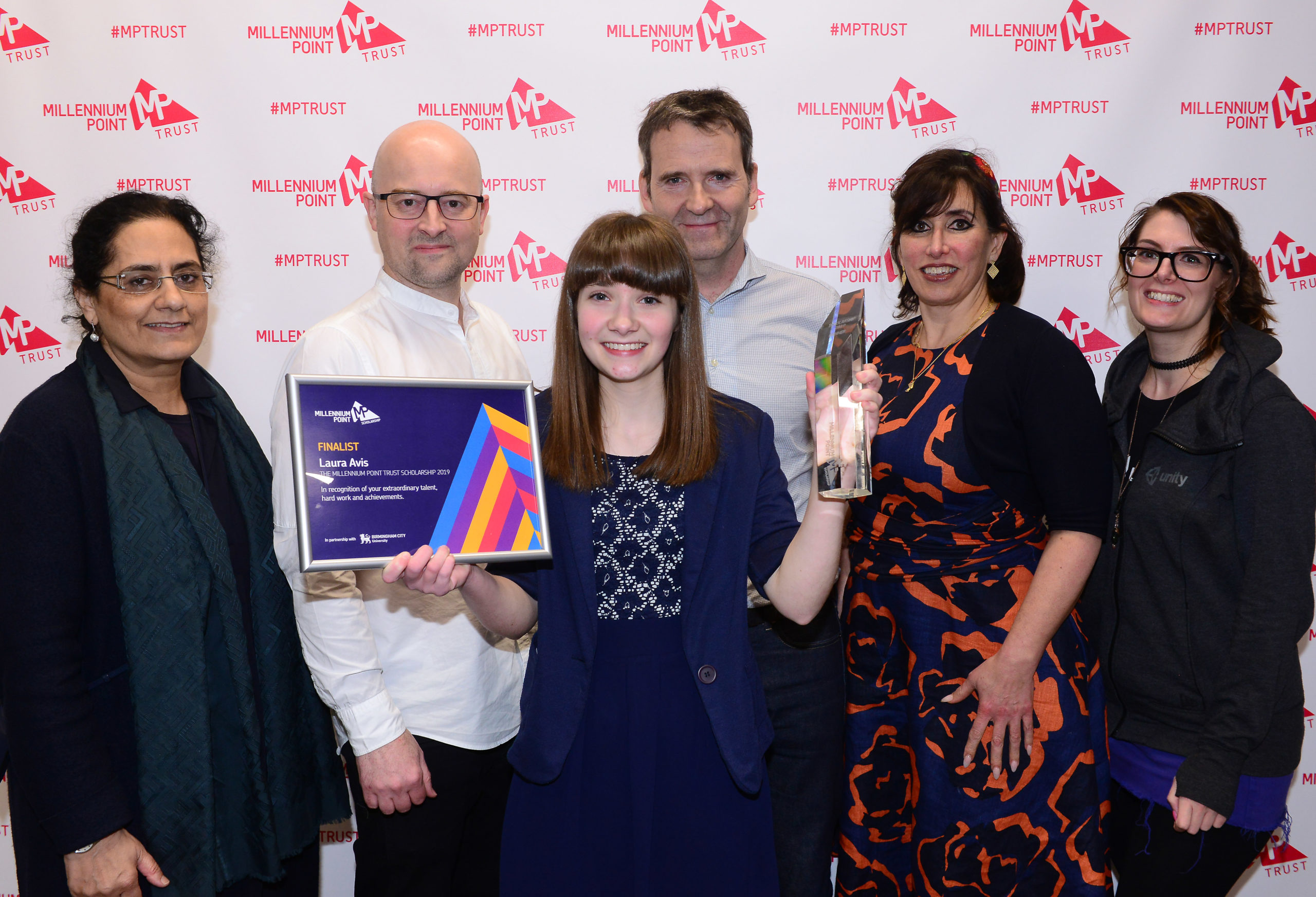 Applications for the 2020 Millennium Point Charitable Trust Scholarship open in September this year.
For more information on the Millennium Point Scholarship Project, please get in touch with our scholarship team.