You've got less than a week to book your seats for the musical hit Rocketman, alongside five 'Elton John themed' wines.
It's almost time to reach the sky and head to Millennium Point, to experience a modern musical hit while enjoying five tasty wines. Rocketman with Wine takes place on Saturday 13th November at 7:30pm (doors open at 6:30pm).
Continuing our successful partnership, we will once again be teaming up with movie geeks, The Wine Events Company, who will be serving up Rocketman trivia alongside five 'Elton John themed' wines throughout the screening. As with any musical, there will be plenty of singing opportunities, so make sure those vocal cords are warmed up!
About the film
Rocketman is the epic musical story of Elton John and his breakthrough years in the 1970s. It l ooks at his fantastical transformation from shy piano prodigy to international superstar. All of this set to the toe-tapping rythms of the pop music icons greatest hits.
Featuring: Taron Egerton, Richard Madden, Jamie Bell, Bryce Dallas Howard and many more.
Certificate: 15 | Running Time: 2 hours 1 minute
What do you get with your ticket?
Tickets are priced at £31.95 per person (plus Eventbrite fees) and you'll get more than just a film screening!
Rocketman on the big screen: Admission to the film screening in our new and improved Auditorium with entertainment throughout by the film geeks at The Wine & Events Company
Five themed Wines: So, how do you pair wines with an Elton John movie? Well, we've researched Elton's favourite wines from his demanding on-tour-Ryders and Wedding Breakfast menu. From the Loire to Burgundy, the Rhone Valley to Tuscany, Elton has an expensively decadent taste in wine that we will be sharing with you on the night. Not only that but we'll show you how to enjoy a rockstar collection on a supermarket budget!
Don't miss our movie and drink nights
Our movie and drinks nights have been hugely successful with fans and are not to be missed. Want to get a feeling of what to expect? Check out our screening of the eighties classic Dirty Dancing below. Guests had the time of their lives with a live band, themed cocktails and movie trivia. To keep up to date with all our event offerings please click here.
Feel the love this Christmas with Love Actually with Wine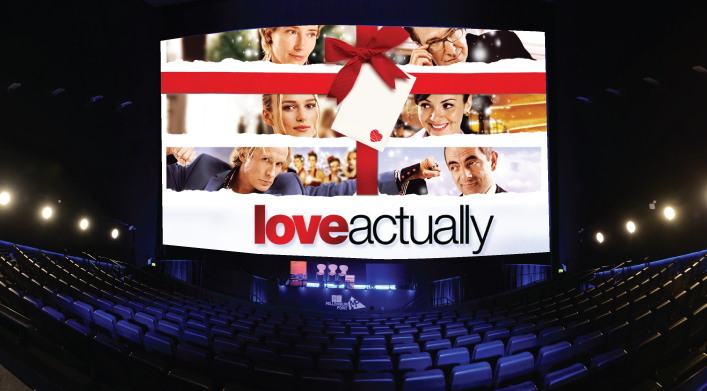 With the festive period fast approaching, feel the love this Christmas with a screening and themed wine tasting experience of the seminal 2003 festive rom com, Love Actually. We've once again teamed up with the Wine Events Company to bring you a safe, fun, and interactive 'wines and movie' event in our multi-award-winning venue with one of Birmingham's biggest screens.
The film is showing on Sunday 5th December, the doors will open at 4pm with the event starting at 5pm. There are limited tickets available so make your you secure your ticket for this fantastic festival event.
Getting to Millennium Point
Millennium Point is in the Eastside of Birmingham City Centre just 5-minutes walk from Moor Street and 15-minutes from Grand Central and the tram. For more information please click here.
---
Find more interesting content from Millennium Point over at our news section, or follow us for daily updates on Facebook, Twitter, Instagram and LinkedIn with @MillenniumPoint. Millennium Point is a landmark public building and multi-award-winning events venue in the Eastside of Birmingham City centre. Profits from our commercial activity are invested by the Millennium Point Charitable Trust into projects, events and initiatives which support the growth of science, technology, engineering and maths (STEM) and education in the West Midlands.