"The scholarship process built my confidence greatly. The scholarship has lessened the financial pressure of studying for a degree, and has meant that I can invest more in learning equipment." – Laura Avis, 2019 scholarship winner
Each year Millennium Point pay for the tuition fees of one young person to pursue a STEM related degree at Birmingham City University (BCU). This is part of the ongoing work of the Millennium Point Charitable Trust to support the growth of science, technology, engineering and maths (STEM) and education in greater Birmingham and the West Midlands.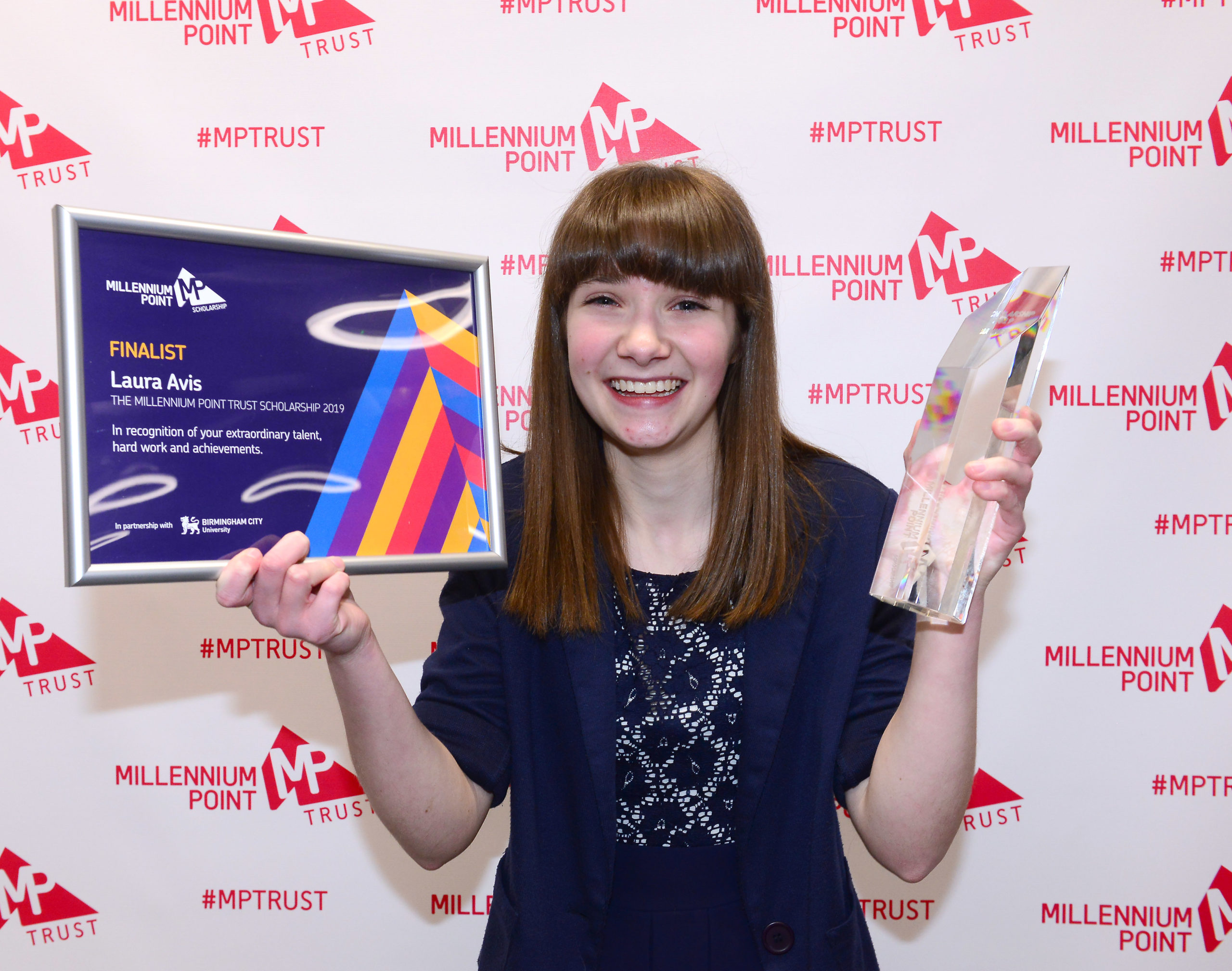 MEET LAURA
After receiving an email from UCAS highlighting the opportunity to win a scholarship to fund course tuition fees for the Film Production Technology (BSc) course at BCU, Laura, from Redditch, registered for the Millennium Point Scholarship back in 2019 – and became the lucky recipient that year. Now in her second year, Laura is a star student and active member of the Birmingham City University student body. Upon her graduation in 2022, Laura has aspirations to pursue her career in film production.
On why she chose this particular university: "I chose BCU because of its locality to me and the amazing film facilities it has to offer. I had visited the studios once before and saw how much dedicated and professional space and equipment had been given to the film and VFX courses. Much of the equipment is very specialist and high-end also, such as the MILO rig, green screen studio and foley recording studios. BCU is only one of a limited number of universities in the country that offer a Bachelor of Science degree in Film, which makes the course content extremely unique and specialist."
LAURA'S STORY
"The chance to have such an incredible opportunity directly related to the course I wanted to study was something that I just couldn't let pass by," says Laura, who studied for her A-Levels at Bournville College, Birmingham. I knew that it would be a competitive process, so I didn't think that I would get to the final stage, but I knew that I had to try because of how rare an opportunity it was to get all three years of your degree course fully funded."
"The application process was really straightforward – it was just written answers to three questions  about what the scholarship would mean for you, and your passion for your chosen subject."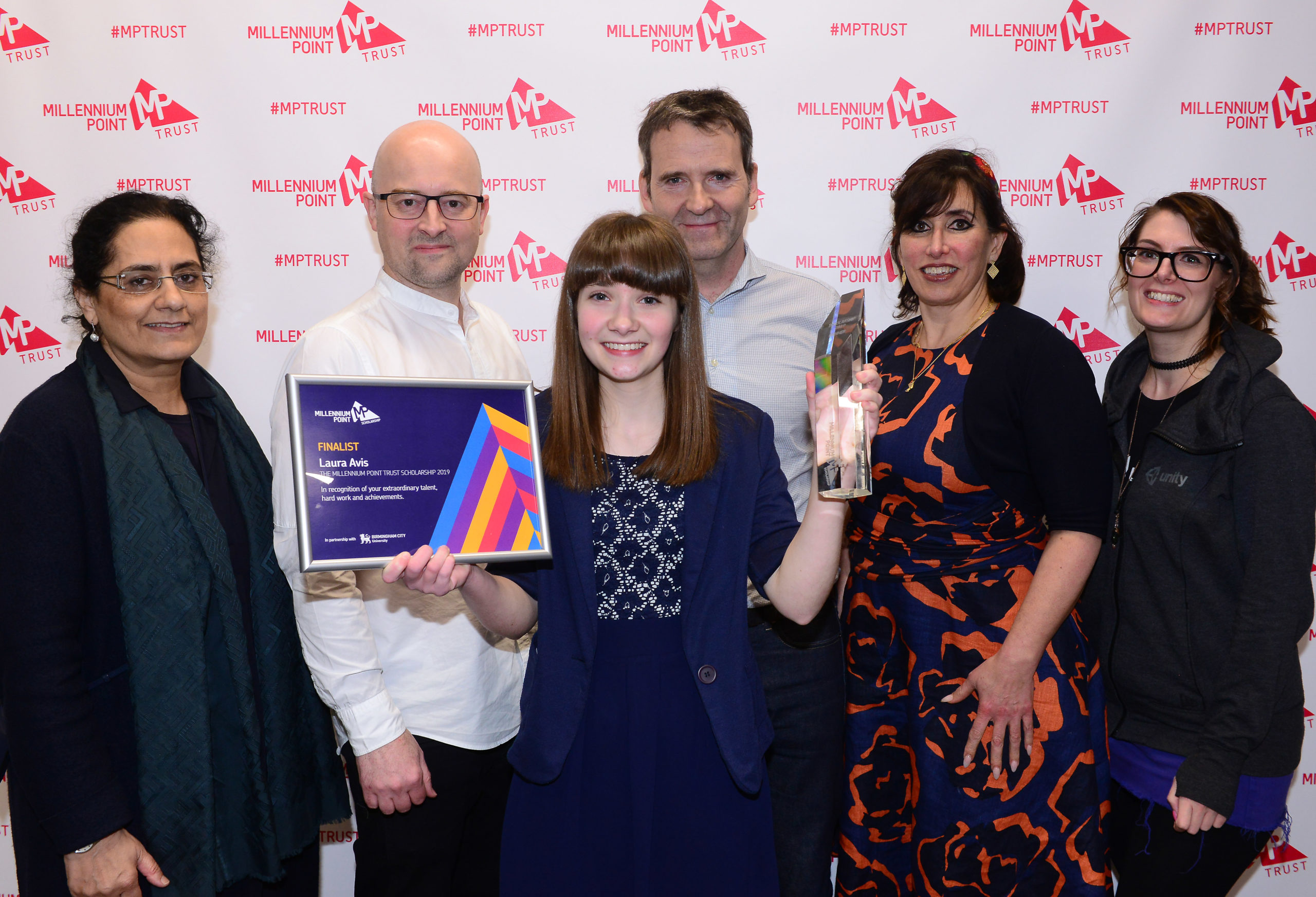 "The final was daunting because I had no idea what the other finalists had prepared for their presentations. It was nice sitting with them leading up to the presentations because we were all equally as nervous. For some reason, my actual presentation felt like it wasn't actually me presenting – I think because I had practised it so much at home it just felt natural and I was able to get through it as if it were just me speaking to myself. Just before I climbed the steps to the stage, a member of the Millennium Point events team wished me good luck and I've never forgotten that –  I am so grateful for them saying what they said right at that moment!"
"The sense of relief when I finished the presentation was immense as it was months of hard work and fear paid off. I was not expecting to win the scholarship, so for me just getting through the presentation and having that chance to say what I wanted to say about the subject that I am passionate about was the best feeling."
Laura, who is due to graduate in 2022, adds: "The scholarship process built my confidence greatly, and it has lessened the financial pressure of studying for a degree, and meant that I can invest more in learning equipment. The support that Millennium Point has given me, both throughout the scholarship process and since the final, has been so encouraging for my studies.
"It's also helped me feel included and important – knowing that someone believes in you is a great encouragement to have. During my studies they have also made me aware of film-related events happening at Millennium Point. I also attended last year's final, which provided me with a great insight into upcoming West Midlands talent and also the range of STEM courses that the Millennium Point Scholarship supports."
LOOKING TO THE FUTURE
Thinking ahead to the future, Laura says: "I am very passionate about pursuing a career in the film and television industries. During my course, I have been able to explore many of the different roles involved in film production, and I have become enthusiastic about sound design, graphic design and screenwriting. Once I complete my studies, I will be looking for job opportunities within these fields and I am so excited to take those first steps towards a creative career. I am always looking for projects and productions to be involved with during my time at university to further my love of and experience in the industry.
ADVICE FOR APPLICANTS
"My advice for anyone thinking of applying for the scholarship would be to definitely apply now. It is a life-changing opportunity that you cannot miss if your course is eligible to receive the scholarship. Ignore any self-doubt about applying, and don't be afraid of what the final may consist of. Show your passion towards the work that you have created related to your subject in your application, even if it's small – any passion is still passion."
UNLOCK THEIR FUTURE
Millennium Point is helping young people across the region unlock their future. For more information on how to apply or get involved please, visit www.millenniumpoint.org.uk/scholarship
---
Find more interesting content from Millennium Point over at our news section, or follow us for daily updates on Facebook, Twitter, Instagram and LinkedIn with @MillenniumPoint. Millennium Point is a landmark public building and multi-award-winning events venue in the Eastside of Birmingham City centre. Profits from our commercial activity are invested by the Millennium Point Charitable Trust into projects, events and initiatives which support the growth of science, technology, engineering and maths (STEM) and education in the West Midlands.