The application deadline for our scholarship program has been extended until Thursday 23rd March 2023, giving students extra time to get their applications in for a life-changing opportunity.
Now in it's ninth year, one lucky undergraduate gets complete funding for their degree, from a choice of over 20 courses at the faculty of Computing, Engineering and the Built Environment at Birmingham City University.
Interested in applying but unsure what course to pick? Our recent blog outlines the best courses to choose based on what path you're looking to take with your career.
Who can apply?
In order to apply you must live in the West Midlands Combined Authority (WMCA) and your chosen course must be listed in the 'What Courses are Included' section on our application page.
Applying is easy and simple
Applications are straight forward and can be done by visiting our dedicated application page. If you need any help please visit our frequently asked questions page or speak to one of our friendly Trust team.
What did previous winners experience
Previous winners of our scholarship have experienced life-changing moments after applying, enjoying positive steps with their development and kickstarting a career in their chosen field. Our 2017 winner Sagal studied Civil Engineering, graduating with a first class honours degree and landing a role with Jacobs as a Graduate Geotechnical Engineer.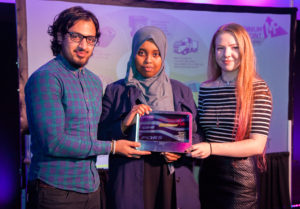 The 2021 winner Asima Adnan from Dudley, is currently in her second year of studying for a degree in Planning at BCU. She commented: "Winning the scholarship was a wonderful surprise. It allowed me as a single mom to concentrate on building myself as a strong academic individual rather than to worry about how to financially pay back for what I have achieved. Millennium Point has given me the financial and emotional support I need to continue progressing into achieving my degree."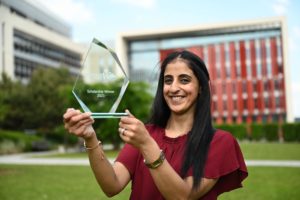 Our charitable trust funds future talent in the region
Commercial activity that takes place in our building is funded back into the Millennium Point Charitable Trust, enabling the charity to donate, invest and facilitate more than £3.25m to STEM related organisations, projects and initiatives in the West Midlands, during 2022.