We're delighted to share that Shirley Golf Club has donated a golf buggy to assist patients attending the mass vaccination centre at Millennium Point.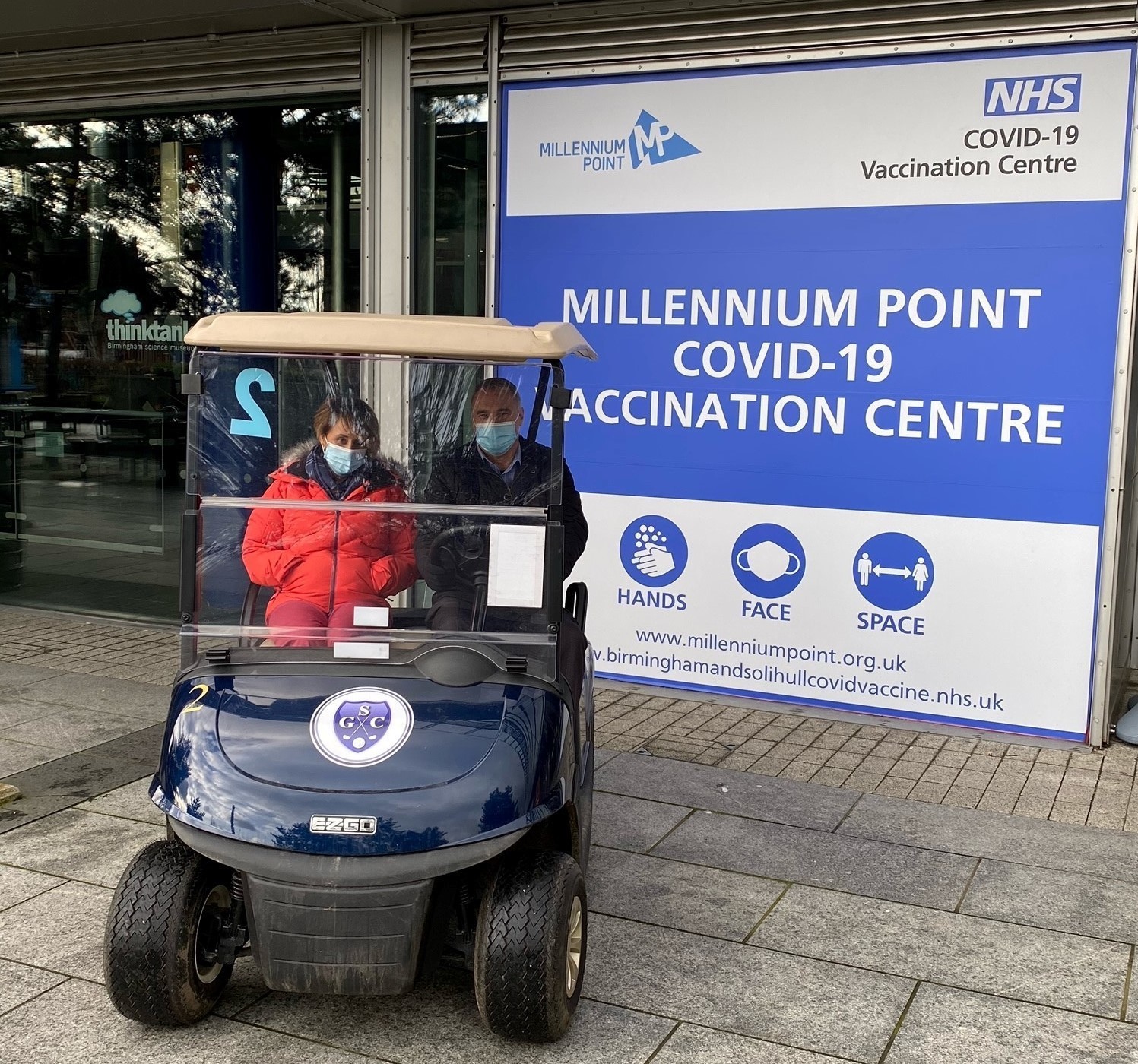 Our landmark venue opened its doors on Monday 11th January as the first NHS mass vaccination site in Birmingham. The centre is run by the NHS in Birmingham and Solihull as part of the regions Covid-19 vaccination programme, the largest vaccination programme ever, and plays a vital role in protecting lives, and in supporting the recovery of our region.
The golf buggy has been donated to assist the elderly and more vulnerable patients attending vaccinations. At the time of writing only those aged 64 and over, people that are "moderate to high risk" and key workers are eligible for the vaccine. The buggy has been a big hit with attendees, with Shirley Golf Club reporting many of their own members spotting it on their visit. We're really grateful for the donation and the impact it has made for the more vulnerable – and the fun they get riding it!
Shirley Golf Club is a popular golfing destination in the West Midlands. The club is situated within Blythe Valley on the outskirts of South Birmingham and offers golfers a luscious open space bordered by fields and natural woodlands.  Though they have been closed throughout the pandemic, they are now taking bookings for 2021. For further information please visit their website.
Is Millennium Point Accessible?
Millennium Point has several entrances, all of which are accessible for wheelchairs and those with walking aids. All zones within the building where vaccinations are taking place have access to lifts and escalators for those who need them. Staff and volunteers, including St John's Ambulance, are positioned at all entrances to the building who assist vulnerable visitors or provide wheelchairs to those who need them. Additionally, Birmingham City Council has gifted free use of the multi-storey car park based on Cardigan street, to enable NHS patients attending their vaccination appointments to park completely free of charge. There are disabled parking bays located on the ground floor of the multi-story car park available for use. It is then approximately 80 meters (262 ft) from the car park to the vaccination centre within Millennium Point, which is the equivalent of a 2-minute walk.
For more information on NHS mass vaccination centre at Millennium Point, please visit our dedicated page.
---
Millennium Point is a landmark public building and multi-award-winning events venue in the Eastside of Birmingham City centre. Profits from our commercial activity are invested by the Millennium Point Charitable Trust into projects, events and initiatives which support the growth of science, technology, engineering and maths (STEM) and education in the West Midlands. Find more interesting content from Millennium Point over at our news section, or follow us for daily updates on Facebook, Twitter, Instagram and LinkedIn with @MillenniumPoint.