New £70m restoration project revealed by STEAMhouse, boosting STEAM prospects in Eastside Birmingham.
STEAMhouse who currently operate from our multi award-winning venue at Millennium Point, have released updates for their new £70m restoration project.  The listed Belmont Works had it's scaffolding removed for the first time since development work began in February 2020, edging closer to the full opening next year.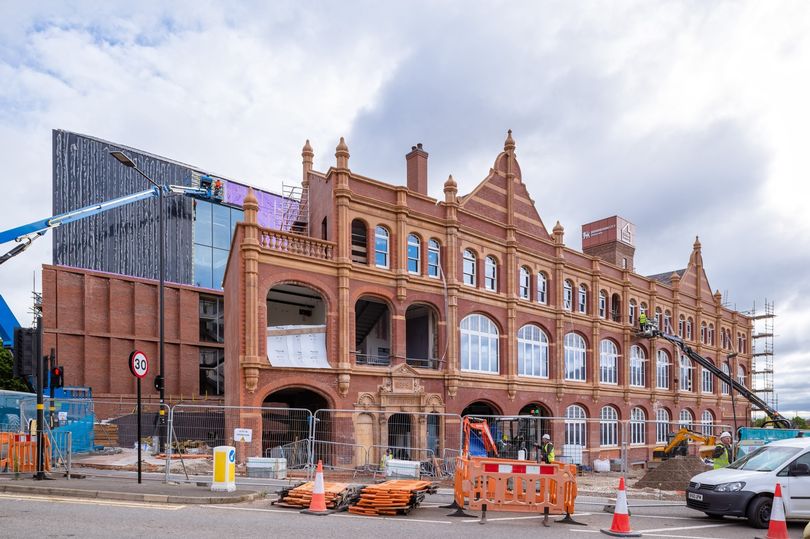 STEAM prospects in Eastside boosted
The new development is a winner for Birmingham Eastside, offering more opportunities within STEAM in the region. Once completed, STEMhouse will serve as a home for businesses, academics and creative partners to work alongside each other on several areas including business ideas, concepts, creations and technical disciplines.
New home for School of Computing and Digital Technology
Part of STEAMhouse's new project will unveil a new home for Birmingham City University's School of Computing and Digital Technology. BCU deputy vice-chancellor Julian Beer said: "Reaching this milestone is not just a real landmark for the development of our STEAMhouse project but also for the changing landscape of our city's Eastside.
"It is a credit to all that, despite the complexity of the project and the challenges presented by the covid-19 pandemic, that all partners involved in the project have been able to make such significant progress.
"As the region enters its recovery from the impact of the last 18 months, projects like STEAMhouse are essential to ensuring we provide a platform for new business, the creation of jobs and the generation of growth."
STEAMhouse to open it's doors in time for 2022/23 academic year
STEAMhouse will officially open it's doors in 2022, welcoming businesses and students that are seeking opportunities to work on industry projects. These projects will boost innovation by combining technical science, technology, engineering and maths, with a form of art added to boost STEAM learning.
How Millennium Point supports education in the region 
Our charitable trust is passionate about creating new opportunities within STEM for young people. As part of our trust program we run two annual campaigns to help shape young peoples futures.
Our grants scheme supports and contributes more than 5 million back into the West Midlands region through STEM related projects and events. This helps support deprived areas where many young people are missing out on the learning needed to boost their career prospects.
Below shows an example of the type of projects we fund.
STEM grant applications now open
Applications for the Millennium Point Charitable Trust STEM Grant Programme is now open! Grants from £1,000 to £20,000 can be made available to individual applicants ensuring the right resources can be supplied to support students. To apply simply click the button below.
WIN a fully funded degree
We also fully fund an undergraduate degree each year in partnership with Birmingham City University. Our Scholarship program begins with an application process, with the lucky finalists being selected for a chance to win a FREE degree. Each finalist presents a solution using STEM to a current ongoing issue, in front of a panel of STEM experts. Below is a video showing this year's winner, Asima Adnan's story. Asima began her fully funded degree in September.
Apply for the 2022 Scholarship
For more information on how to apply or get involved in the 2022 Scholarship program please click here.
---
Find more interesting content from Millennium Point over at our news section, or follow us for daily updates on Facebook, Twitter, Instagram and LinkedIn with @MillenniumPoint. Millennium Point is a landmark public building and multi-award-winning events venue in the Eastside of Birmingham City centre. Profits from our commercial activity are invested by the Millennium Point Charitable Trust into projects, events and initiatives which support the growth of science, technology, engineering and maths (STEM) and education in the West Midlands.