After six successful coding Bootcamps including full-time, part-time and fully remote courses, the School of Code is back again this summer with a free coding boot camp for people in the West Midlands.
Starting on 26th July 2021, the Bootcamp will be full-time, intensive, and 100% FREE to all residents in the West Midlands. There are no prerequisites and no previous experience required – those applying for the course don't even need to have seen a line of code before. School of Code takes a learner from beginner to software developer in just 16 weeks before helping them find their first role in tech.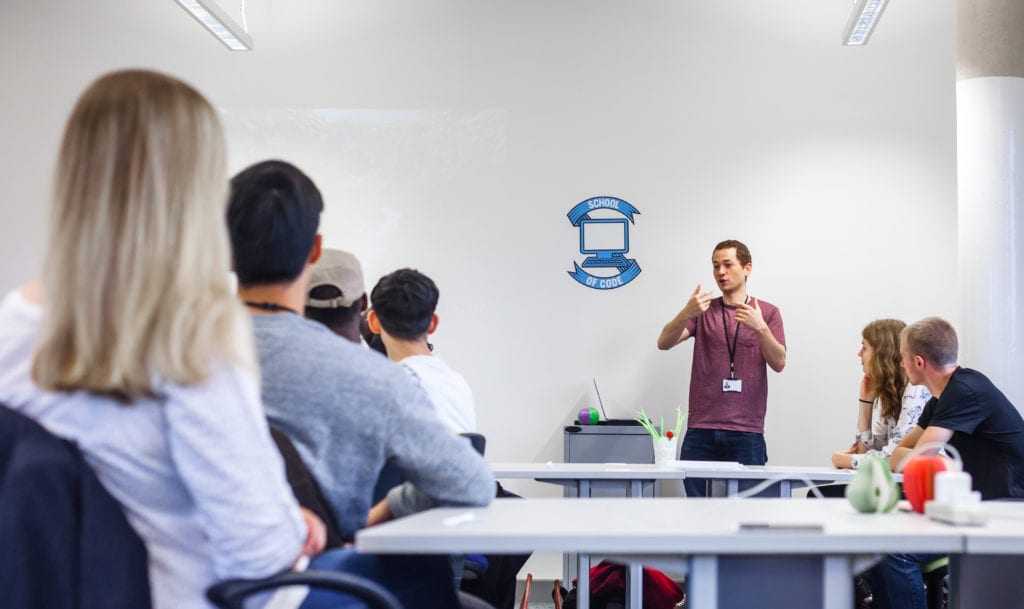 Future proofing local tech talent
With rising automation, a changing job landscape, and the economic crisis caused by COVID-19, technology will be the engine driving the recovery of our regional economy. Dr Chris Meah, Founder of the School of Code states 'Technology will be the engine of recovery for the country, but we need to make sure everyone is on board to benefit. At the School of Code we are open to everyone to help more and different types of people take advantage of the opportunities technology gives, and to future proof their skills and career.

These free coding bootcamps offer a short, intensive, immersive and transformational learning sprint to a new career. Bootcamps change lives and power growth by giving participants the right skills to be immediately useful to employers on day one and, most crucially, helps people to also learn how to learn. 
Working together to drive success in STEM
With 125,000 unfilled tech jobs in the UK every year, our friends at the School of Code aim to equip its recruits with the skills that industry needs, as well as helping them find exciting career opportunities afterwards. School of Code's cohorts had an enviable 75%-95% employment rate even during the COVID-19 pandemic. The course prides itself on being open to anyone, with a 50:50 gender split, age-range of 18-60, and demographics matching those of Birmingham. Previous graduates have successfully secured roles at The Economist, Bravissimo, Santander, Wise, VoxPopMe, Dunelm, and many more great companies in the region.
Like the mission of the Millennium Point Charitable Trust, The School of Code hopes to challenge existing stereotypes of the tech sector and encourage diversity in the workplace by making it more accessible for everyone to enter and benefit from this thriving industry. 
A Partnership with the West Midlands Combined Authority
The School of Code is focused on providing a free route into tech, and is supported by the West Midlands Combined Authority through Mayor Andy Street's "Beat the Bots" fund as well as through employers who hire through the course. They aim to continue to show more people that learning to code is fun, sociable, team-based and for everyone.
Andy Street, the Mayor of the West Midlands, said: "In the face of the coronavirus pandemic, sadly many people are going to fall out of work, but re-training or improving your current skills is a great way of finding employment again quickly. The Coding Bootcamp being offered by School of Code will help do exactly that.
"I would urge everyone of any age to look into the option of coding, and the success of people like Clare Streets, who went from being a stay-at-home mum to now running B13 Technologies, shows just what a difference it can make."
Applications are open now for Bootcamp 7. You can enrol now by visiting: www.schoolofcode.co.uk
---
Find more interesting content from Millennium Point over at our news section, or follow us for daily updates on Facebook, Twitter, Instagram and LinkedIn with @MillenniumPoint. Millennium Point is a landmark public building and multi-award-winning events venue in the Eastside of Birmingham City centre. Profits from our commercial activity are invested by the Millennium Point Charitable Trust into projects, events and initiatives which support the growth of science, technology, engineering and maths (STEM) and education in the West Midlands.