3 Reasons to Book a Conference Room With Millennium Point
Create a great first impression, through using a conference room for your meetings, staff onboarding and training sessions.  However, these shouldn't just be used to win over new clients. Using a conference room during regular client meetings also shows that you value your client's time, helping you build lasting relationships.
At Millennium Point, we understand the importance of creating strong relationships with your clients and staff. That's why this blog will explore 3 reasons why you should book a conference room with us.
1. Location
Book a conference room at Millennium Point, and let our location enhance your event experience. We provide not only the perfect conference room but also the best backdrop for a successful and convenient meeting. 
After the day's business is concluded, why not take advantage of our prime location to build personal relationships and connections? Being located in the centre of Birmingham means you're only moments away from a range of bars and venues where you can unwind and connect with your staff and clients.
2. Added benefits 
Some of our office spaces come with their very own conference rooms that are equipped to help you host the very best meetings or training sessions. Our rooms benefit from:
High-speed Wi-Fi

– This ensures you have no hiccups throughout your gathering.
On-site AV technician to support

– If you find yourself in a technical glitch, our AV technician can fix any presentation and audio issues you face.
Tea and coffee facilities

– This keeps attendees well refreshed, helping to increase focus and innovation.   
3. Networking opportunities 
A range of companies rent out our properties and conference rooms giving you the opportunity to meet new people and build potential client relationships. 
Our conference rooms aren't just for meetings, they're here to encourage networking opportunities. Through providing a dedicated professional setting, attendees feel comfortable to share ideas, collaborate and build relationships. When you have the right atmosphere you can truly connect with your staff and customers. 
Properties with a conference room 
We have a range of excellent conference rooms perfect for any small or large meeting. Available rooms include:
H3: Station
Station is our  larger space , it combines one main room with multiple boardrooms that can be utilised for speaker green rooms, quiet spaces or offices. You can have a maximum capacity of 112 delegates if you opt for a theatre-style layout or 72 delegates if you choose a cabaret style. This flexibility makes it perfect for team activities, workshops or networking.  
This venue also benefits from:
High-speed Wi-Fi

Holding up to 150 delegates

An on-site AV-technician support throughout your event 
H3: Express
Express is an all-in-one space with one main room and 3 small rooms that can be used as speaker green rooms, quiet spaces or offices. If you opt for a theatre style layout you can have a maximum of 100 delegates or 48 attendees when you choose a cabaret layout. This makes the space ideal for team activities, workshops, presentation opportunities and catering.   
The space also benefits from:
High-speed Wi-Fi

An on-site AV technician support throughout your event

Tea and coffee facilities 
H3: Curzon rooms
Curzon rooms are perfect for training staff. They offer easy access and provide presentation facilities along with high-speed Wi-Fi. 
The space also benefits from:
Holding a maximum of 60 delegates

An on-site AV technician support throughout your event 

Tea and coffee facilities
H3: Curzon Suite
Curzon Suite is also a great place to undertake employee training. This space is surrounded by natural light helping to stimulate learning and innovation and also benefits from:
High speed Wi-Fi

Holding up to 60 delegates 

An on-site AV technician support throughout your event 

Tea and coffee facilities 

Access to Millennium Point's exclusive terrace 
So if you're looking to book a conference room at Millennium Point you can explore our range of conference rooms using our events space matcherator. 
Feel the love this Valentines Day when booking your event with 20% off room hire when booking with Millennium Point.
With a versatile range of both public and private spaces for hire, Millennium Point is the ideal location for exhibition and networking, launches and banqueting, and interviews and performances. The five-storey central Atrium provides a modern public setting with high footfall, whilst connect provides a discreet setting for private meetings and events, and our auditorium is the perfect location for film screenings, award ceremonies, conferences, lectures, product launches, and AGM's.
T&C's – Event bookings must take place between 10th July and 30th September 2023. All bookings must be confirmed by the 31st March 2023. To apply the discount quote MPLOVE23 in your enquiry.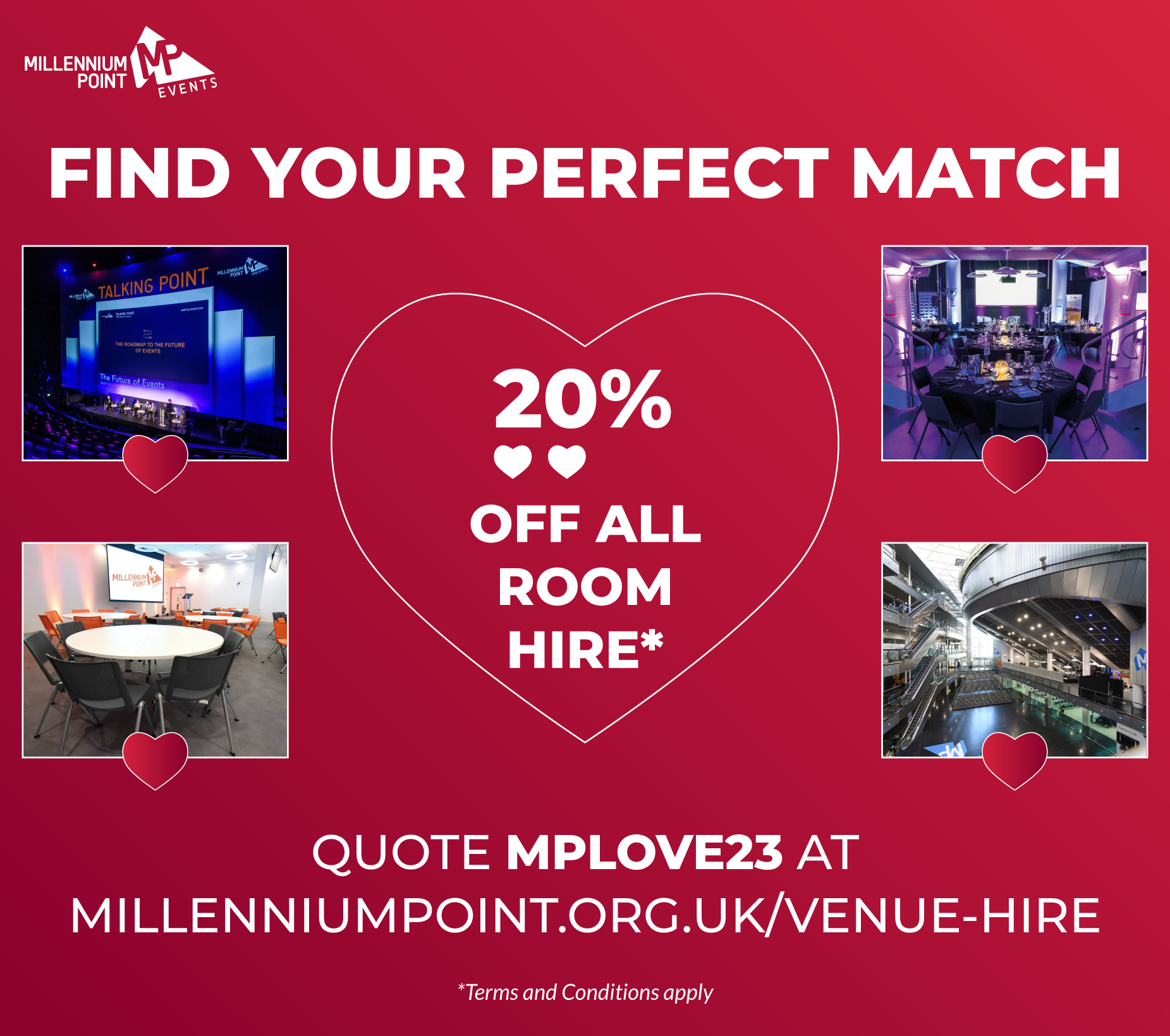 Loved by our customers, Auditorium
A great alternative to cabaret and accommodating up to 354 delegates, Auditorium at Millennium Point is the perfect location for conferences, lectures, product launches, AGM's, award ceremonies and film screenings. Featuring a 30m2 stage and a giant screen with a projector that can show up to 4k, this space is perfect for making a big impression. With tiered seating, your guests will always have clear sight of the stage ensuring they won't miss anything during your event.
The space has multiple branding opportunities such as changing light settings to match your brand colours to truly make it tailored to you. In addition to your booking add digital screen sets to your event to really promote your brand during the event.
Auditorium is also equipped with the latest range of hybrid and live streaming capabilities. By choosing the Auditorium Hybrid Conference package you widen the scope, impact, and profit of your event by increasing the number of delegates beyond the physical capacity of the venue. Your event can reach out to new audiences who can engage with your event wherever they are around the globe.
Ask a member of our friendly events team for a site visit and bring your laptop, we guarantee that seeing your content on our giant screen will blow your mind.
Build a partnership in Connect
Connect is a mini venue all on its own. There is Connect Event Space and Connect 1-3. Hire them all or pick and choose what works for your event.
Connect Event Space is a truly flexible approach to meetings and conferences, Connect Event Space provides the latest in AV and presentation facilities and high speed wi-fi for up to 85 guests. There are different set ups available and seating arrangements allowing you to be able to reach your audience how you want.
The retractable walls ensure you can create the ideal solution for presentations, meetings, workshops, training, and away days.
On the opposite side of the welcome space is the flexible Connect 1-3 Meeting Rooms. They offer a high-end environment for a range of events including board meetings, interviews, seminars, and away days. The three interconnected rooms offer a selection of layouts for up to 40 guests as well as benefiting from integrated screen and presentation facilities. Moveable walls allow you to create the space you need for your event; each section has their own doors and presentation facilities.
Impress your guests in Atrium
Atrium is a visually impressive, open-plan public space, ideal for exhibitions, career fairs, product displays, brand activation and pop-up performances. Located on the ground floor of Millennium Point, the 420 square metre contemporary space provides the perfect backdrop for your event.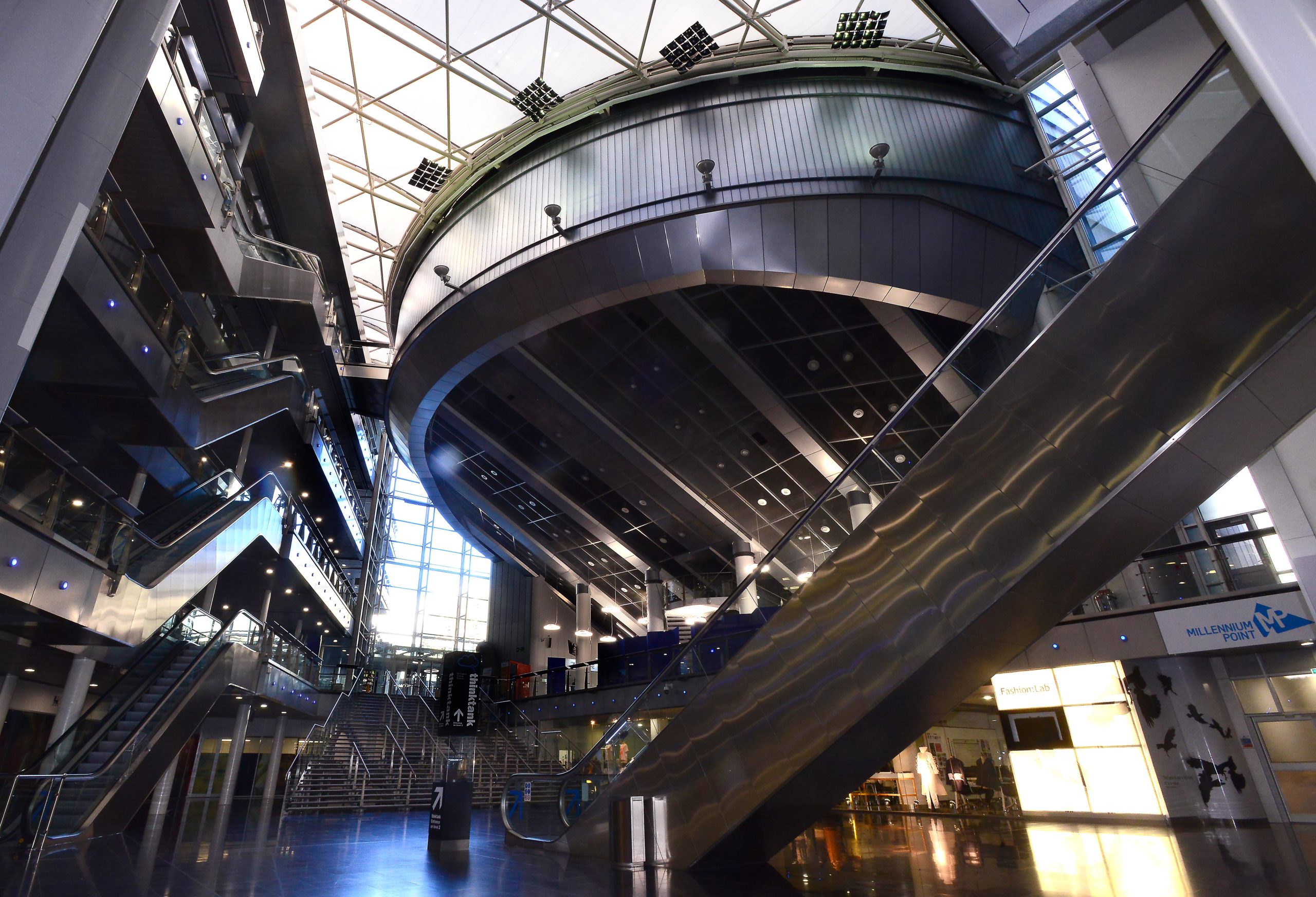 Atrium is perfect for exhibition stands creating a nice space for footfall to flow through. Previous events have seen footfall of 2,000 in one day, giving your event the exposure to make it an event to remember.  Atrium can host up to 50 exhibition stands, 350 banqueting or 500 standing.
Truly versatile, depending on when you book your event, Atrium will give guests a different experience. In the past Atrium has been home to a 39ft Christmas tree, creating the perfect scene for festive and end of year events. More recently a seven meter in diameter art installation of the world gave guests an out of this world experience. These are just some of the things Millennium Point do to give your events the extra wow factor. But at its core, Atrium can be customised and transformed to make your event your very own.
Let's talk
Millennium Point offer a range of flexible packages to suit the requirements, scale, and budget of clients, including healthier and more sustainable catering options.
With over 40 years combined experience, the events team ensures clients are supported for a smooth experience from start to finish.
Get in touch with the team today by emailing events@millenniumpoint.org.uk or call on 0121 202 2200 and see how they can make your next event a success.
The Business of Science Conference held at Millennium Point saw a successful discussion of collaborative and innovative topics on Thursday 8th October. The conference had a variety of speakers and discussion panels with a lot of emphasis on innovation and sustainability.
Andy Street, Mayor of West Midlands, opened the event on the day. With his own presentation he gave an overview on what's happening in the West Midlands. This included the excellent news of Coventry being the first all-electric bus city.
Finishing off the day the Innovative Awards took place for inspiring students and their project ideas solving future problems.
Sustainability is a journey not a destination
Amongst some of the thought-provoking topics throughout the day was Dr Simon Grant from Thomas Swann. His presentation 'Sustainability – the future agenda', Simon explains his organisation's journey towards sustainability. The Technical Director goes on to speak about how science and innovation has changed their business over the years.
Throughout the day there was other insightful presentations about topics on the commercialisation of innovation of science. The morning segment of the BoS conference also saw Rhys Morgan, Director of Engineering and Education, RAe presenting 'The Hamilton Commission – Science Inclusion'. His presentation discussed important recommendations and how we need to find other approaches to STEM engagement. Rhys goes on that there needs to be 'better careers support for Black students and scholarship programmes for black students'.
The morning ended with three parallel breakout sessions involving 'STEM Skills', 'The Science of Wellbeing', and 'The Use of Advanced Materials to Support Sustainability'.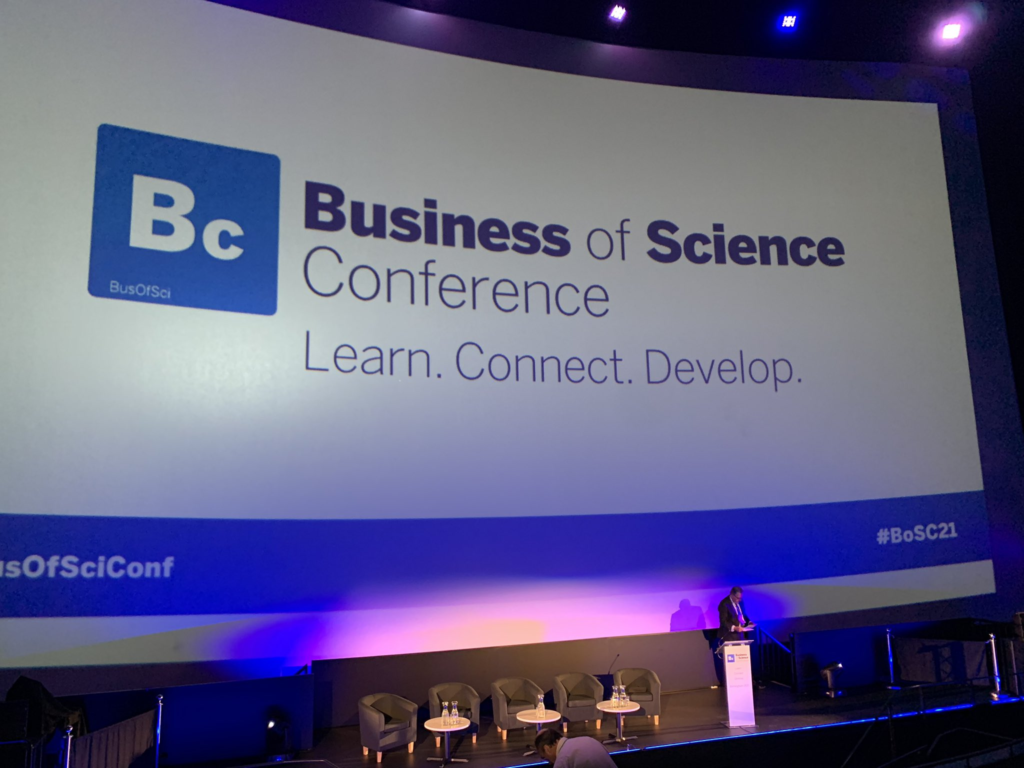 The relationship between innovation and creativity
Vanessa Currie, Head of People – Learning and Development at Millennium Point joined a panel discussing 'Innovation – the need for creativity'. On the panel was also Steve Bennett, Managing Director, Founder & Business of Science and Dr Martin Stow, Director at Nexus Leeds. Dr Martin Stow spoke on how the COVID crisis and lockdown has had a significant negative impact on innovation.
Vanessa discussed Millennium Point Trust's STEM programmes and the creativity and innovation in the school projects that are achieved. By having STEM projects such as building Lego cars it allows groups of students to collaborate creatively and helps learn new interests and topics. She continued how the trust helps develop the talent pool for the West Midlands with the grant and scholarship programmes. Over the past 7 years Millennium Point Trust has supported 140 projects through the STEM grants initiatives.
After the discussion panel three breakout sessions took place –
– Stand-alone careers session for students
– The Business of Science Advisory Sessions to support commercialisation
– Industry 5.0: How robotics, digital and smart come together for a more resilient future
Dreaming big to solve future problems
To end the day the presentation of the BoS Innovation awards took place. The BoS Innovation Awards has the aim of encouraging students to create and dream big on ideas that could solve future problems. Throughout the day the student's posters had been displayed for visitors and guests to see.
Want to book with Millennium Point?
For further information about the event, charity or venue please get in contact with our team.
---
Find more interesting content from Millennium Point over at our news section, or follow us for daily updates on Facebook, Twitter, Instagram and LinkedIn with @MillenniumPoint. Millennium Point is a landmark public building and multi-award-winning events venue in the Eastside of Birmingham City centre. Profits from our commercial activity are invested by the Millennium Point Charitable Trust into projects, events and initiatives which support the growth of science, technology, engineering and maths (STEM) and education in the West Midlands.