With Valentine's Day fast approaching, we thought we would share our special offer to treat that special person in your life this year.
Whether it's a friend, partner, or family, purchase tickets to our Greatest Showman with Wine event before the 17th February and we'll give each guest a mini bottle of prosecco to enjoy before the event. What's not to love?
Millennium Point have once again teamed up with innovative event specialists The Wine & Events Company to present a fun and unique showing of the smash hit musical, The Greatest Showman, alongside five wines and a very big screen.
Tickets are just £33.95 (plus fees) and takes place Saturday 22nd April at 7pm and available for purchase on Eventbrite.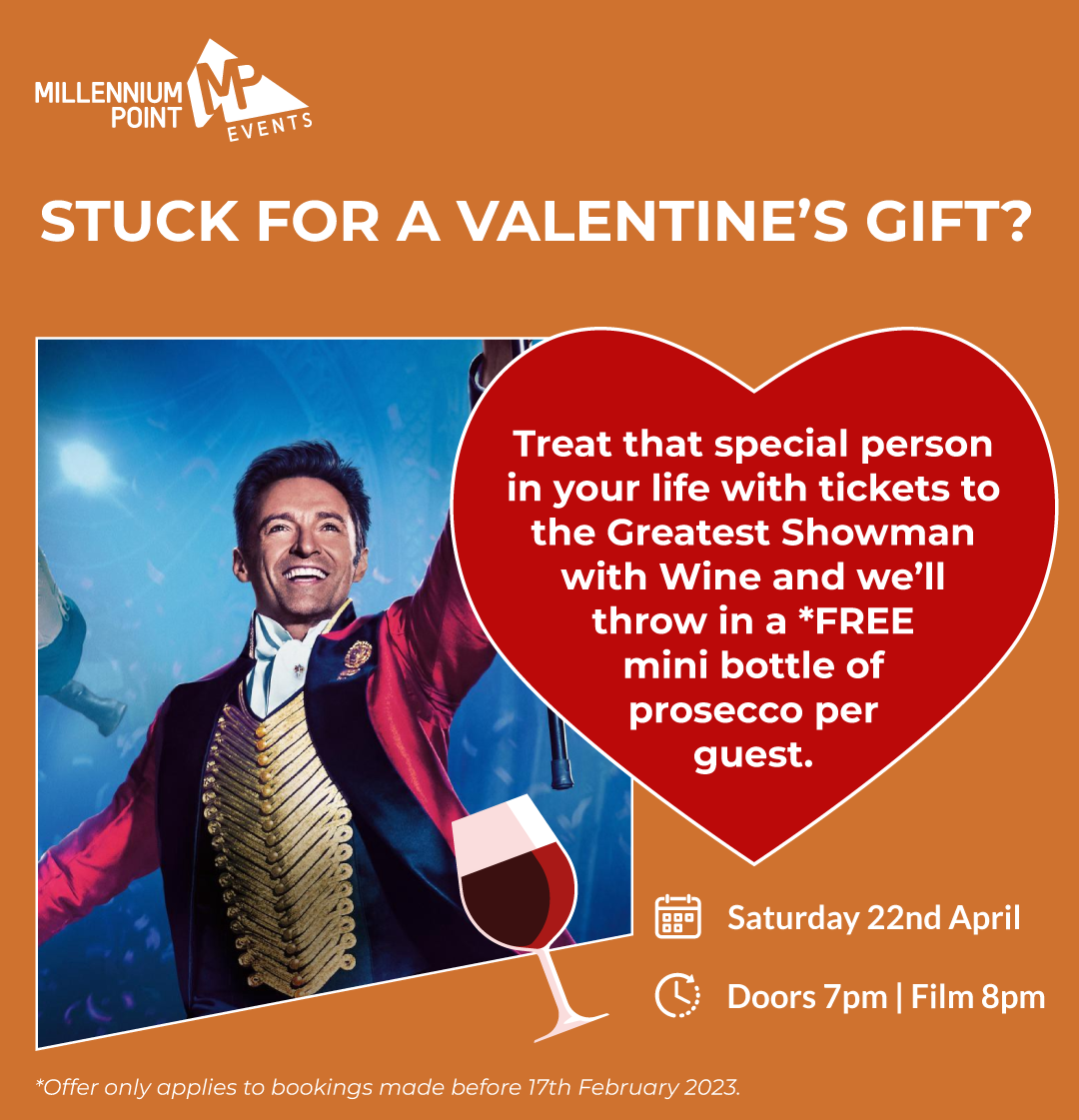 'So why don't we rewrite the stars?'
Orphaned, penniless, but ambitious -and with a mind crammed with imagination and fresh ideas, the American entertainer, Phineas Taylor Barnum (Hugh Jackman), will always be remembered as the Mn with the gift to blue the line between reality and fiction. Thirsty for innovation and hungry for success, the son of a tailor manages to open a wax museum; however, he soon shifts focus to the unique and the peculiar, introducing extraordinary, never-seen-before, live acts on the circus stage. Now, some people call Barnum's rich collection of oddities, an outright freakshow, but when Phineas, obsessed for cheers and respectability, gambles everything on the opera singer, Jenny Lind (Rebecca Ferguson), to appeal to a high-brow audience, he will lose sight of the most crucial aspect of his life, his family. Will Barnum, the greatest showman, risk it all to be accepted?
'I wish for happiness like this forever', you after five wines, probably
Tickets are priced at £33.95 (plus fees) and you'll get more than just a screening!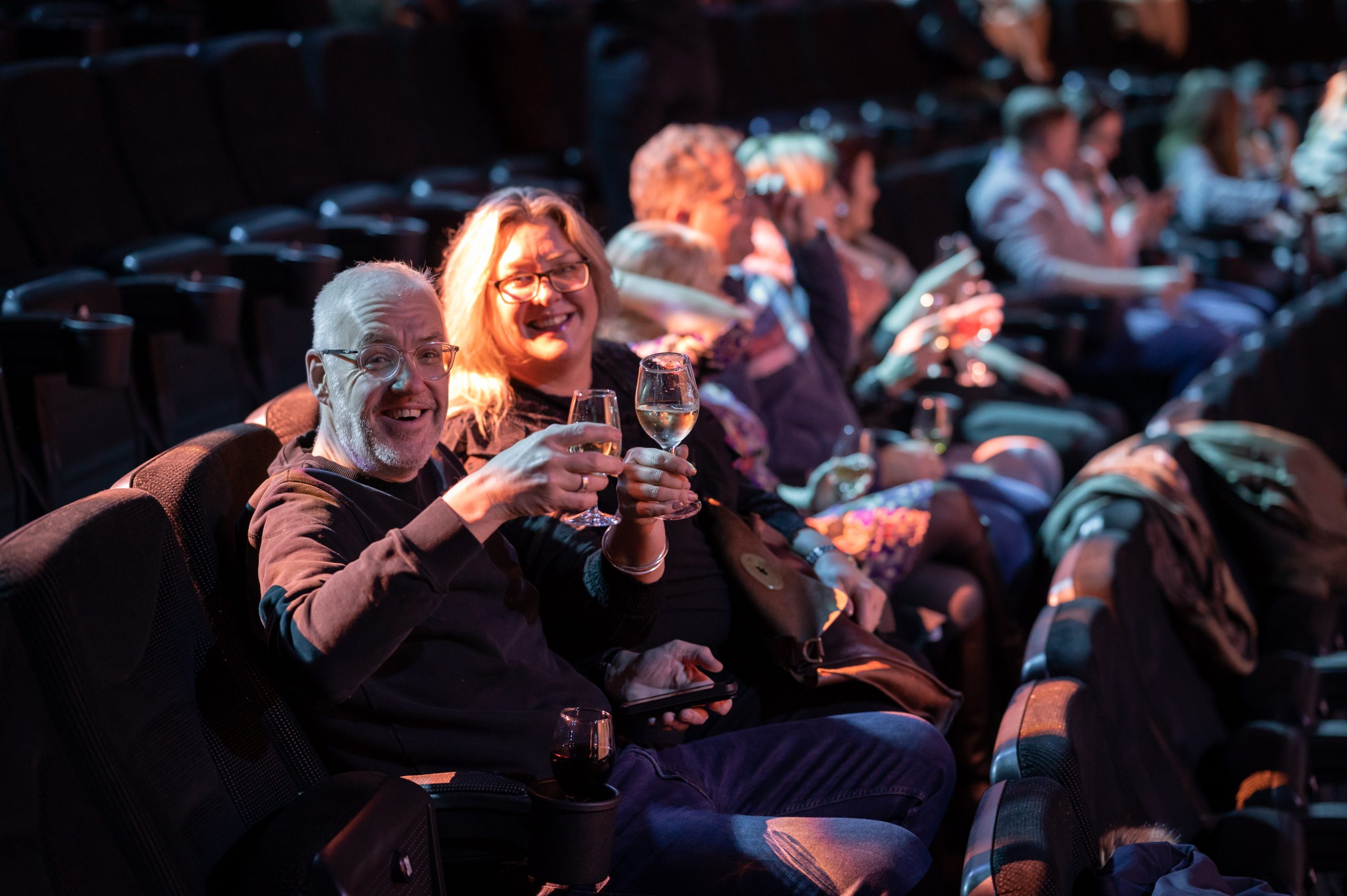 The Greatest Showman on a very big screen
Hosted in our giant screen Auditorium – previously the region's biggest and best IMAX – our host Tony Elvin, from film geeks The Wine and Events Company, will be providing entertainment and movie trivia throughout. For example, did you know Zendaya did all her own trapeze stunts? We definitely won't be trying that on the night!
Along with all of this, the film will be paused at intervals so you can enjoy five themed wines.
Getting to Millennium Point
Millennium Point is in the Eastside of Birmingham City Centre just 5 minutes' walk from Moor Street and 15 minutes' walk from Grand Central and the tram. There is also limited parking on-site which means we're easy to get to regardless of how you travel. For more information, please click here.
Feel the love this Valentines Day when booking your event with 20% off room hire when booking with Millennium Point.
With a versatile range of both public and private spaces for hire, Millennium Point is the ideal location for exhibition and networking, launches and banqueting, and interviews and performances. The five-storey central Atrium provides a modern public setting with high footfall, whilst connect provides a discreet setting for private meetings and events, and our auditorium is the perfect location for film screenings, award ceremonies, conferences, lectures, product launches, and AGM's.
T&C's – Event bookings must take place between 10th July and 30th September 2023. All bookings must be confirmed by the 31st March 2023. To apply the discount quote MPLOVE23 in your enquiry.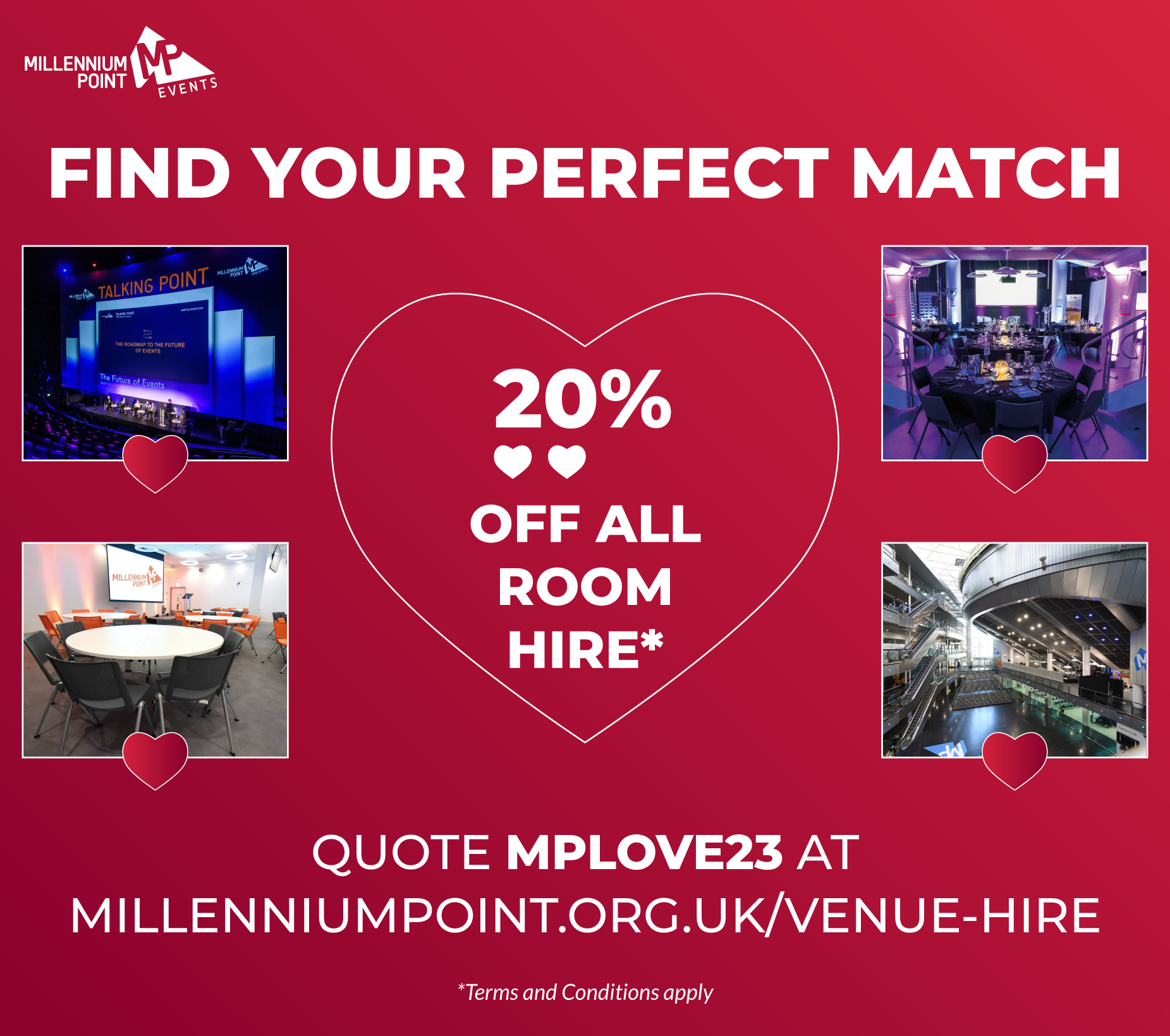 Loved by our customers, Auditorium
A great alternative to cabaret and accommodating up to 354 delegates, Auditorium at Millennium Point is the perfect location for conferences, lectures, product launches, AGM's, award ceremonies and film screenings. Featuring a 30m2 stage and a giant screen with a projector that can show up to 4k, this space is perfect for making a big impression. With tiered seating, your guests will always have clear sight of the stage ensuring they won't miss anything during your event.
The space has multiple branding opportunities such as changing light settings to match your brand colours to truly make it tailored to you. In addition to your booking add digital screen sets to your event to really promote your brand during the event.
Auditorium is also equipped with the latest range of hybrid and live streaming capabilities. By choosing the Auditorium Hybrid Conference package you widen the scope, impact, and profit of your event by increasing the number of delegates beyond the physical capacity of the venue. Your event can reach out to new audiences who can engage with your event wherever they are around the globe.
Ask a member of our friendly events team for a site visit and bring your laptop, we guarantee that seeing your content on our giant screen will blow your mind.
Build a partnership in Connect
Connect is a mini venue all on its own. There is Connect Event Space and Connect 1-3. Hire them all or pick and choose what works for your event.
Connect Event Space is a truly flexible approach to meetings and conferences, Connect Event Space provides the latest in AV and presentation facilities and high speed wi-fi for up to 85 guests. There are different set ups available and seating arrangements allowing you to be able to reach your audience how you want.
The retractable walls ensure you can create the ideal solution for presentations, meetings, workshops, training, and away days.
On the opposite side of the welcome space is the flexible Connect 1-3 Meeting Rooms. They offer a high-end environment for a range of events including board meetings, interviews, seminars, and away days. The three interconnected rooms offer a selection of layouts for up to 40 guests as well as benefiting from integrated screen and presentation facilities. Moveable walls allow you to create the space you need for your event; each section has their own doors and presentation facilities.
Impress your guests in Atrium
Atrium is a visually impressive, open-plan public space, ideal for exhibitions, career fairs, product displays, brand activation and pop-up performances. Located on the ground floor of Millennium Point, the 420 square metre contemporary space provides the perfect backdrop for your event.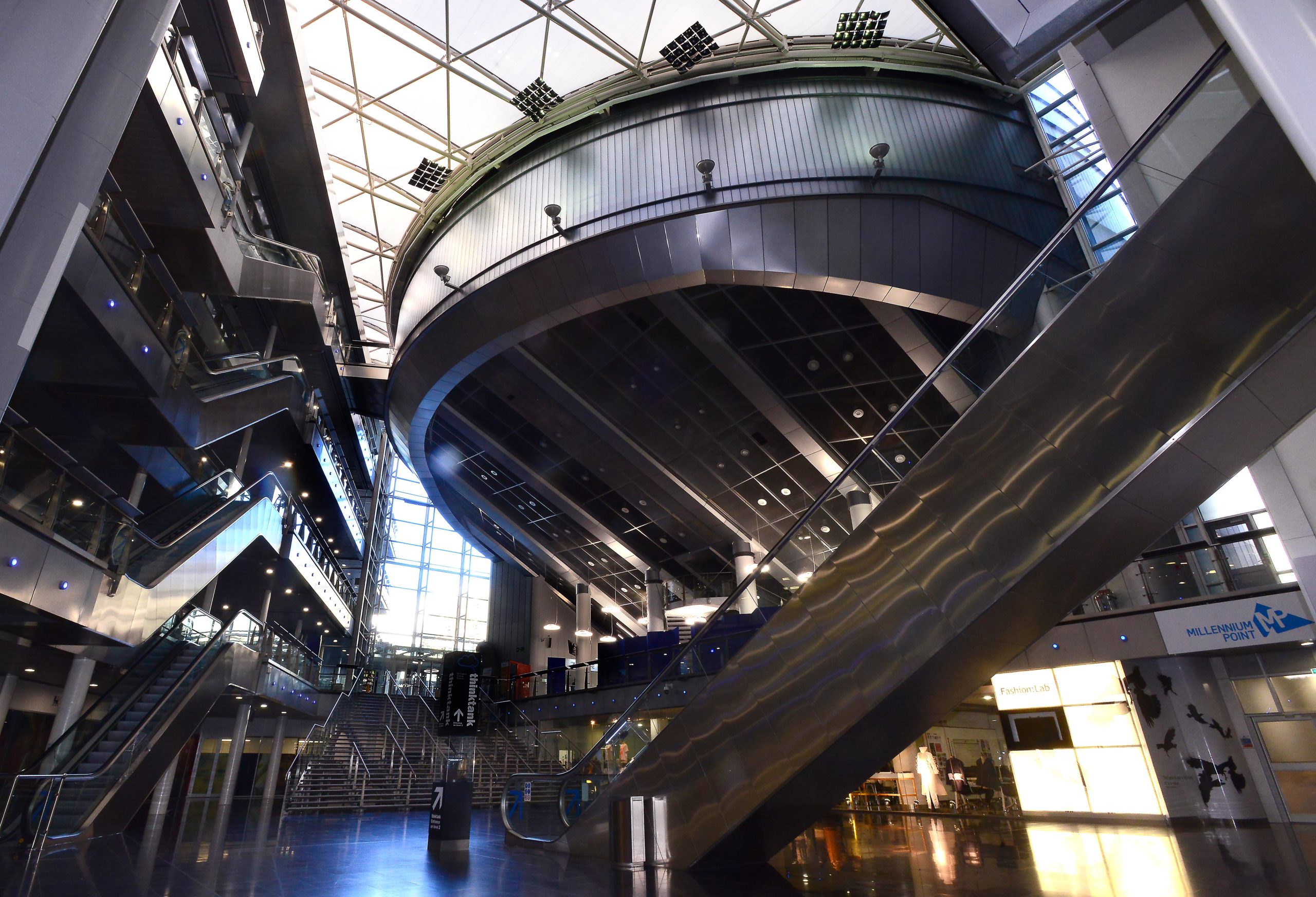 Atrium is perfect for exhibition stands creating a nice space for footfall to flow through. Previous events have seen footfall of 2,000 in one day, giving your event the exposure to make it an event to remember.  Atrium can host up to 50 exhibition stands, 350 banqueting or 500 standing.
Truly versatile, depending on when you book your event, Atrium will give guests a different experience. In the past Atrium has been home to a 39ft Christmas tree, creating the perfect scene for festive and end of year events. More recently a seven meter in diameter art installation of the world gave guests an out of this world experience. These are just some of the things Millennium Point do to give your events the extra wow factor. But at its core, Atrium can be customised and transformed to make your event your very own.
Let's talk
Millennium Point offer a range of flexible packages to suit the requirements, scale, and budget of clients, including healthier and more sustainable catering options.
With over 40 years combined experience, the events team ensures clients are supported for a smooth experience from start to finish.
Get in touch with the team today by emailing events@millenniumpoint.org.uk or call on 0121 202 2200 and see how they can make your next event a success.