We love Christmas at Millennium Point, so much so that in 2019 we made it our mission to spread a bit of festive joy. While we can't be with you and bring you together in the ways that we would like, that doesn't stop us from helping you get into the season and (hopefully) lift your spirits as we close off what has been an extraordinary and challenging year for a lot of us. Throughout this month we'll be bringing you a host of Christmas related content from playlists to Christmas gift ideas and much, much more. Kicking off, we're sharing 4 highlights from Christmas at Millennium Point in 2019.
1. Bringing sparkle to Eastside with lights and a 39ft Christmas Tree!
To show we were serious about our mission, we pulled out all the stops for looking the part. We installed icicle lights across the length of our landmark public building, accompanied by lit star motifs to the left-hand side of the building of the venue. Inside, over 131 metres of icicle lights adorned the balconies on each level with 9 large 3D stars illuminated with ED lights. Lastly, our pièce de résistance, was the installation of our 39ft Christmas tree covered by 23,000 LED Christmas lights in our multi-award-winning venue's Atrium. If you think putting up your tree is a faff, this tree took Birmingham based company, The Christmas Decorators, twelve hours to put up! You can watch the full time-lapse video of the spectacle below. The tree formed the backdrop for a range of activities we put on throughout December. While we can't bring those events back for 2020 due to the ongoing restrictions, we're pleased to say that all the decorations are back! If you're in the area, come by and check them out for yourself!
2. When Santa and the BBC turned our lights on.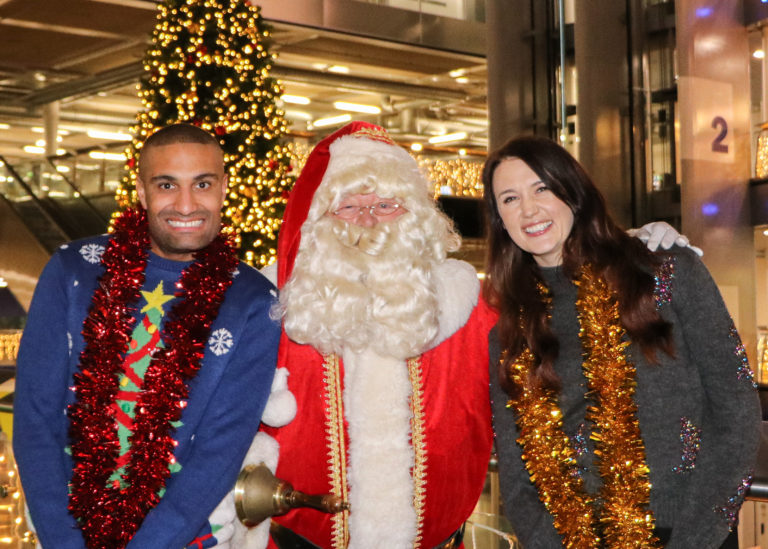 So, we looked the part, but what next? No winter wonderland is complete without a festive light switch on of course! To mark our first ever Christmas celebrations we invited Richie Anderson (Co-host on BBC Radio 2 Zoe Ball Breakfast show) and BBC Midlands Today presenter Rebecca Wood, alongside Santa himself to pull the plunger. The event was attended by our staff, tenants and a few friends. Watch the big moment below!
3. Then Santa and Olaf handed out presents to children
The light switch on wasn't the only time Santa came to Millennium Point. Santa appeared for several meet and greets over the holiday period. Sitting underneath our Christmas tree on a red and gold throne, accompanied by a nutcracker either side and a mountain of presents; Santa met and handed out gifts to families from all over Birmingham in this completely free series of events. He asked the children for their Christmas lists, posed for photos and brought the excitement and magic ahead of the big day. Alongside the meet and greet, the children were also treated to an assortment of free activities including face painting, games and dancing with Olaf from Disney's Frozen! We also hosted exclusive meets with Santa for several SEND groups, including a dedicated event for Calthorpe Academy, a 2-19 special needs school in Birmingham city centre.
4. And G4 gave a stunning performance on our steps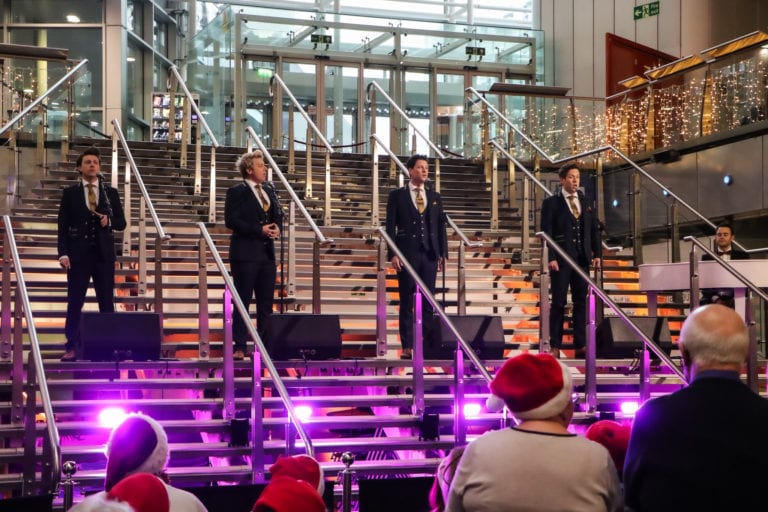 Oh yes, and what a performance it was! Prior to their concert at Birmingham Town and Symphony Hall as part of their "G4 Christmas", the boys took to the steps of our multi-award-winning venue to give an intimate and magical free preview to fans and lovers of all things Christmassy. The operatic four-piece rose to fame on the original series of the X Factor.  They reunited in 2014 after disbanding in 2007, with the release of their first post-reunion album 'G4 Christmas' followed by a Christmas tour, a tradition which has continued and grown in the years since. One attendee commented, "It was magical, truly breath-taking and I couldn't have picked a better place to see them than here!" During the performance, the group laughed and chatted to the crowd and afterwards posed for photos before heading off to prepare for their full show.
Look to the future!
Looking back on last year makes us excited for the future. We promise that this won't be the last of the fun – like Birmingham, we're coming back for 2021 with all the events and activities you enjoyed so much and when we do, it's going to be big! In the meantime, if you're around in Birmingham City centre then please do visit us (but remember your facemask!) and see the decorations for yourself, pose under our giant Christmas tree with nutcrackers, share your photos online, and while you're in the building, why not have a nice warm drink from the delicious Mulinos?
---
Millennium Point is a landmark public building and multi-award-winning events venue in the Eastside of Birmingham City centre. Profits from our commercial activity are invested by the Millennium Point Charitable Trust into projects, events and initiatives which support the growth of science, technology, engineering and maths (STEM) and education in the West Midlands. Find more interesting content from Millennium Point over at our news section, or follow us for daily updates on Facebook, Twitter, Instagram and LinkedIn with @MillenniumPoint.