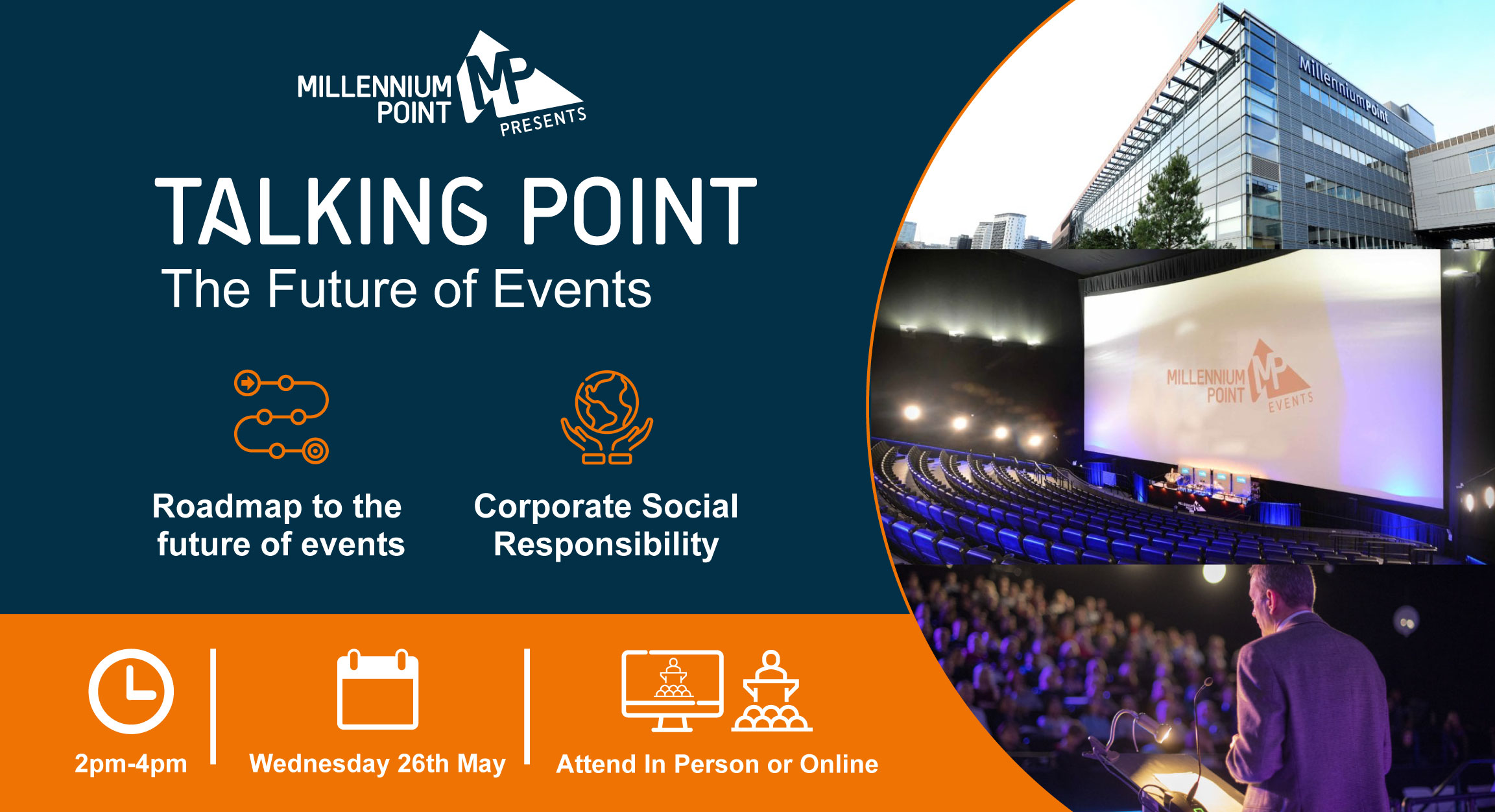 We are proud to announce our first hybrid conference – Talking Point: The Future of Events. This two-hour hybrid conference covers the roadmap to recovery for the events industry and coincides with the relaunch of our multi-award winning events businesses.
Fourteen months ago the events and hospitality industry in the UK was forced to close due to Covid-19. Now with the industry reopening, venues, booking agents and customers have a lot to consider on the road to recovery.
Talking Point: The Future of Events runs from 2pm – 4pm on Wednesday 26th May. It consists of two panels that will examine what the next 12-18 months has in store for the events industry. Topics covered will include the latest trends, the rise of hybrid and virtual conference solutions, the importance of sustainability, corporate social responsibility and what the roadmap to recovery will be for events and hospitality.
This will be an opportunity for agents, event bookers and professionals to see how a hybrid event at Millennium Point works as well join in a vital conversation around kickstarting the events and hospitality industry across the UK.
The panels comprise local leaders across key industries including Chris Peacock, Co-Founder of Conference;  Michael Anderson, Director of Projects at West Midlands Metro and Andrew Perolls, CEO of Greengage Solutions – with more to be announced over the coming weeks.
Rebecca Delmore, Commercial Director and Victoria Webb, Sales Manager both at Millennium Point, will also join the panels to give insight into the current position of being an events and conference venue.
This event will be hosted live from our newly refurbished 354 seat Auditorium and is available to attend online and in limited numbers in person at Millennium Point. This will be the first glimpse at our Auditorium since it's refurbishment in spring this year with brand new features which include a larger stage and inmproved lighting and AV technology.
This event is free to attend both online and in person. The event will be broadcast live across our digital channels and will be available for replay on our Youtube following it's conclusion.
To reserve your ticket, or for further information, visit the dedicated page here.
---
Find more interesting content from Millennium Point over at our news section, or follow us for daily updates on Facebook, Twitter, Instagram and LinkedIn with @MillenniumPoint. Millennium Point is a landmark public building and multi-award-winning events venue in the Eastside of Birmingham City centre. Profits from our commercial activity are invested by the Millennium Point Charitable Trust into projects, events and initiatives which support the growth of science, technology, engineering and maths (STEM) and education in the West Midlands.