Every year, the Millennium Point Charitable Trust Small Grants programme gives out grants of up to £20,000 to support science, technology, engineering and maths (STEM) education projects in the West Midlands. We have funded many different projects across all areas of STEM, supporting learning development for young students.
Here is an example of the type of work we do, this project was funded in 2019 and shows the power of what the grants funding can achieve for STEM organisations.
Who are Ahead Partnership?
Ahead Partnership is a leading social enterprise which works across the country to connect schools and children with employers to promote education and employability and raise awareness of STEM careers.
What's the project all about?
Ahead Partnership wanted to address an issue in the West Midlands, where many students are only taught very basic STEM practices due to lack of resource. They launched a new project which features a week long STEM festival that aims to enthuse young people about STEM careers whilst they are still in education and build a stronger talent pipeline for the sector. The festival showcases the career opportunities that exist and encourages young people to make subject and study choices that open up these opportunities.
What did the Millennium Point Trust fund?
The Millennium Point Trust team were excited to get involved with this project and understood the importance of improving STEM learning for young people, while opening more doors for future careers within the industry. Our involvement helped fund the following areas of the project:
The operation and delivery of key events within the festival.
Resources and materials for the events.
Travel subsidies for schools travelling to the events.
Hire of additional equipment and resources for the events (i.e. AV equipment).
What impact has the project made?
The project had a positive outcome on over 250 students, 16 secondary schools and 2 education colleges. The students gained improvements in confidence, developed STEM learning across business and sectors, and workplace specific skills that will be valuable for their career choices.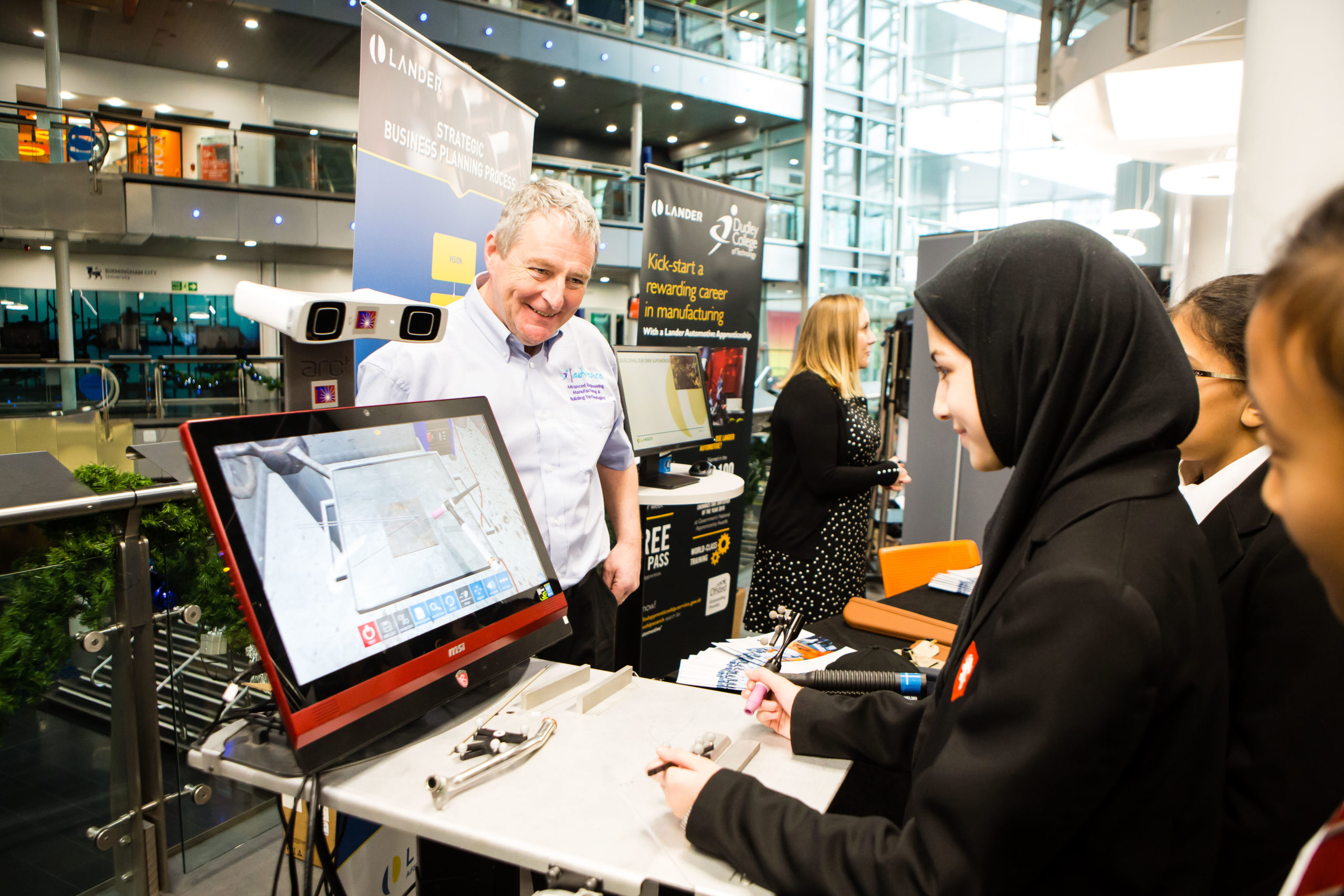 Ahead Partnership were delighted with how the project unfolded and said: "Working with Millennium Point Charitable Trust will help us increase the pool of younger entrants to STEM occupations and to support the growth potential of businesses by promoting and furthering understanding of STEM.
"Currently, too few young people have a concrete understanding of the opportunities that exist within the West Midlands region. Employers have a very valuable role to play in developing this understanding and bringing careers alive through direct interventions with young people.
"This project will bring together education and employers, to contribute to regeneration in Birmingham, resulting in a future workforce that has STEM, entrepreneurial and creative skills to build on the City's heritage and legacy and benefit the public through new products, services, businesses, jobs and economic growth."
#GirlTechWM is back in 2021!
Following the success of two previous #GirlTechWM events, we're delighted to say we are supporting once more. This year Ahead Partnership are taking the experience for Year 8 girls across the West Midlands ONLINE. This week-long festival will see young people from across the West Midlands take part in interactive workshops, guest speeches and panels to meet and ask female role models in the tech industry their questions, as well as give them a hands-on experience of what working in this sector is all about. Online means it's safe and more accessible than ever.
About educational grant funding from Millennium Point
Educators, Charities and Not-for-Profits within the West Midlands Combined Authority can apply for up to £20,000 from Millennium Point to fund their STEM activity. For more information on how to access this funding please visit www.millenniumpoint.org.uk/grants
---
Find more interesting content from Millennium Point over at our news section, or follow us for daily updates on Facebook, Twitter, Instagram and LinkedIn with @MillenniumPoint. Millennium Point is a landmark public building and multi-award-winning events venue in the Eastside of Birmingham City centre. Profits from our commercial activity are invested by the Millennium Point Charitable Trust into projects, events and initiatives which support the growth of science, technology, engineering and maths (STEM) and education in the West Midlands.