Neil Thompson, Founder and Managing Director of The Delegate Wranglers will be the host of Talking Point: The Future of Events.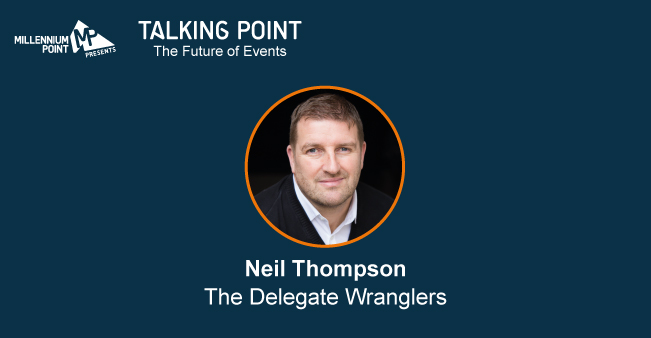 With just under 4 weeks to go until Talking Point: The Future of Events,  we are delighted to announce that Neil Thompson, Founder and Managing Director of The Delegate Wranglers, will lead the discussions at Millennium Point's critical hybrid conference examining the events and hospitality industry's road to recovery over the next 12 – 18 months. We are excited to see what unique insights Neil brings to the discussions over the two panels with his more than 22 years experience in events and hospitality industry, having organised  and managed events across the globe.
He founded The Delegate Wranglers Facebook group in 2014, which brings together professional conference organisers and events industry suppliers. The Delegate Wranglers has become a platform where more than  21,000 members worldwide share information, ask questions, advertise industry positions and services and provide advice and support.
Neil comments: "The pandemic has hit our industry hard and we've lost a lot of good people and businesses over the past 12 months.  I'm thrilled to be heading up Talking Point, which is going to give event professionals and bookers meaningful insight into into important topics such as the latest trends, consumer attitudes and current obstacles we face in the immediate future of our industry with."
Get your free ticket to Talking Point: The Future of Events
Talking Point: The Future of Events runs from 2pm – 4pm on Wednesday 26th May. It's two panels will cover vital topics relevant to the industry including the latest trends, the rise of hybrid and virtual conference solutions, the importance of sustainability, corporate social responsibility and what the roadmap to recovery will be for events and hospitality.
The panels comprise local leaders across key industries including Chris Peacock, Co-Founder of Conference Care;  Michael Anderson, Director of Projects at West Midlands Metro and Andrew Perolls, CEO of Greengage Solutions – with more to be announced over the coming weeks. Rebecca Delmore, Commercial Director and Victoria Webb, Sales Manager both at Millennium Point, will also join the panels to give insight into the current position of being an events and conference venue.
This will be an opportunity for agents, event bookers and professionals to see how a hybrid event at Millennium Point works as well join in a vital conversation around kickstarting the events and hospitality industry across the UK. This event is free to attend both online and in person. The event will be broadcast live across our digital channels and will be available for replay on our Youtube following it's conclusion.
To reserve your ticket, or for further information, visit the dedicated page here.
---
Find more interesting content from Millennium Point over at our news section, or follow us for daily updates on Facebook, Twitter, Instagram and LinkedIn with @MillenniumPoint. Millennium Point is a landmark public building and multi-award-winning events venue in the Eastside of Birmingham City centre. Profits from our commercial activity are invested by the Millennium Point Charitable Trust into projects, events and initiatives which support the growth of science, technology, engineering and maths (STEM) and education in the West Midlands.