Millennium Point bring the music in first Facebook live concert
Published 09/06/2020
3 minutes Read
Millennium Point partnered with a popular local acoustic duo for a feel-good Friday concert broadcast to hundreds of viewers on Facebook Live.
On Friday 5th June Millennium Point invited popular local musicians, Jade & JP Acoustic Duo, to perform in the multi-award-winning venue's Platform event space for the enjoyment of people online.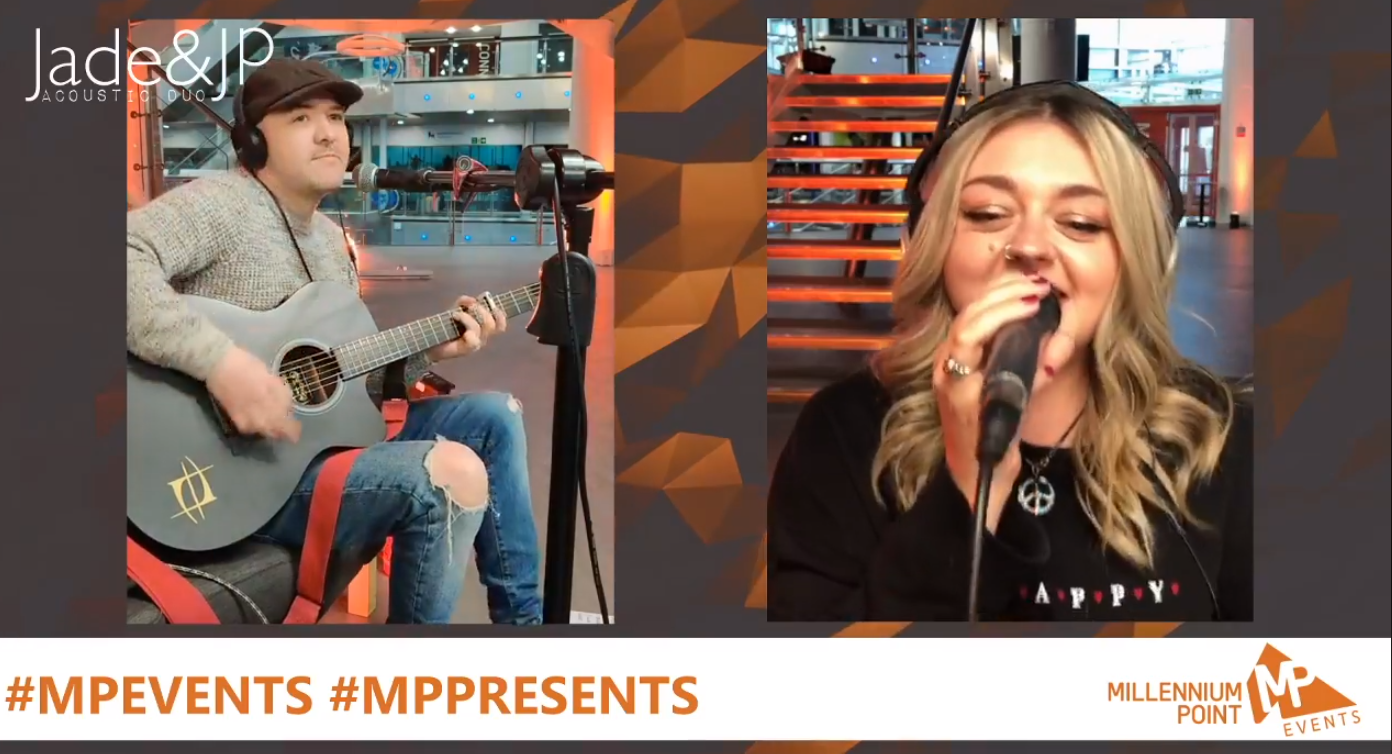 The performance included the titular duo sitting 2m apart on opposite sofas performing to cameras, which was then broadcast live through Facebook on Millennium Point's page. The duo laughed and chatted with each other and viewers within the stream while performing an eclectic mix of popular hits from an emotional rendition of The Fugees "Killing Me Softly" to a high energy cover of "Belle of Belfast City" originally by the late Kirsty MacColl.
The duo commented, "It has been an absolutely fabulous evening, we're so glad to have been invited here this evening by Millennium Point." Before rounding off the evening with an explosive rendition of "River Deep – Mountain High" made famous by Tina Turner.
This two-hour performance has been viewed almost 5000 times on the social media network, with viewers hailing from Southern Ireland to Sweden. You can view the full performance on below.
Bringing people together
This online performance is the first of what Millennium Point hopes to be a series of events and live performances hosted remotely and safely in our award-winning venue and broadcast online for people both locally and around the world to come together and enjoy.
Millennium Point is an organisation which is, and has always been, about bringing people together. This has always been a core principle on which our organisation was founded; whether that is through the building, such as being the home of the renowned Thinktank Science Museum, through our charitable projects such as the small grants or fully funded scholarship or through the multitude of events hosted through our venue.
We believe this principle is needed now, more than ever. Friday was a great success thanks to an amazing musical act and the technology and space we have available.
While our venue is closed for the time being, we're delighted that we can still bring people together during such a critical time.
Want to broadcast your own event?
Millennium Point has everything you need to broadcast your next big event with our live video streaming bolt-on. Get in touch with our events team on 0121 202 2200 or by contacting events@millenniumpoint.org.uk. You're in safe hands, read more about about how Millennium Point is minimising the impact of COVID-19 on events by reading our Client Protection Plan here.
---
Find more interesting content from Millennium Point over at our news section, or follow us for daily updates on Facebook, Twitter, Instagram and LinkedIn with @MillenniumPoint.
Millennium Point is a landmark public building and multi-award-winning events venue in the Eastside of Birmingham City centre. Profits from our commercial activity are invested by the Millennium Point Charitable Trust into projects, events and initiatives which support the growth of science, technology, engineering and maths (STEM) and education in the West Midlands.