Millennium Point's Giant Screen Auditorium is available to hire
Published 23/08/2020
3 minutes Read
Millennium Point is a multi-award-winning event and conference venue in the Eastside of Birmingham City centre.  Home to 17 spacious and flexible event spaces, we're home to a large variety of exciting and vibrant events – none more so than in our giant screen auditorium. Here's everything you need to know about hiring one of Birmingham's biggest screens at Millennium Point.
What is it?
The Auditorium at Millennium Point is a spacious theatre-style event space. It holds 354-tiered-seating and a 6.2m x 2.3m stage underneath a giant 24m x 12m sized screen. Formerly one of the first IMAXs in the region, this remarkable space in our landmark public building can be accessed from Level 4 and Level 1, via a striking twin curved staircase in our open-plan Platform space. Platform features a fully licenced bar and toilet facilities with optional features such as a cloakroom, stage, projector screen and additional AV depending on your event. This space can be combined with the Auditorium at a reasonable cost to elevate your event.
The Auditorium with giant screen at Millennium Point is available to hire from as little as £500+VAT.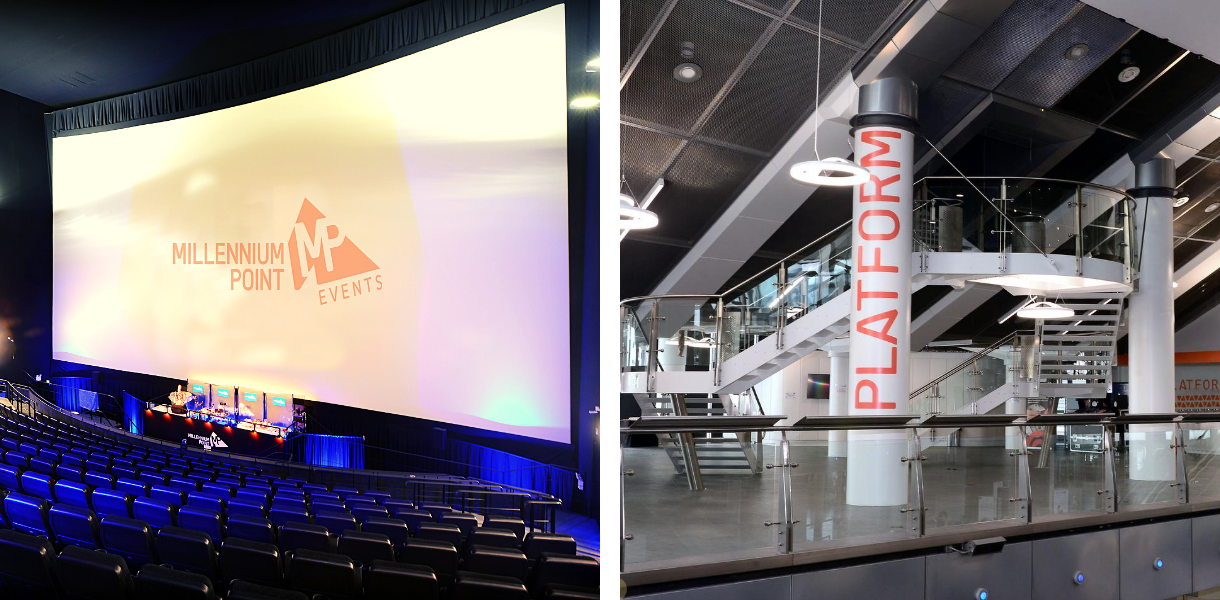 What can it be used for?
Millennium Point's Giant Screen Auditorium has been used for a multitude of exciting events and, like our other spaces, can accommodate almost anything you can think of. The Auditorium is the home of the popular annual Birmingham Film Festival and VSFighting, one of Europe's largest fighting game esports tournaments. It's regularly used for film screenings, award ceremonies, conferences, exhibitions, panels and Q&As and, more recently, a live performance space.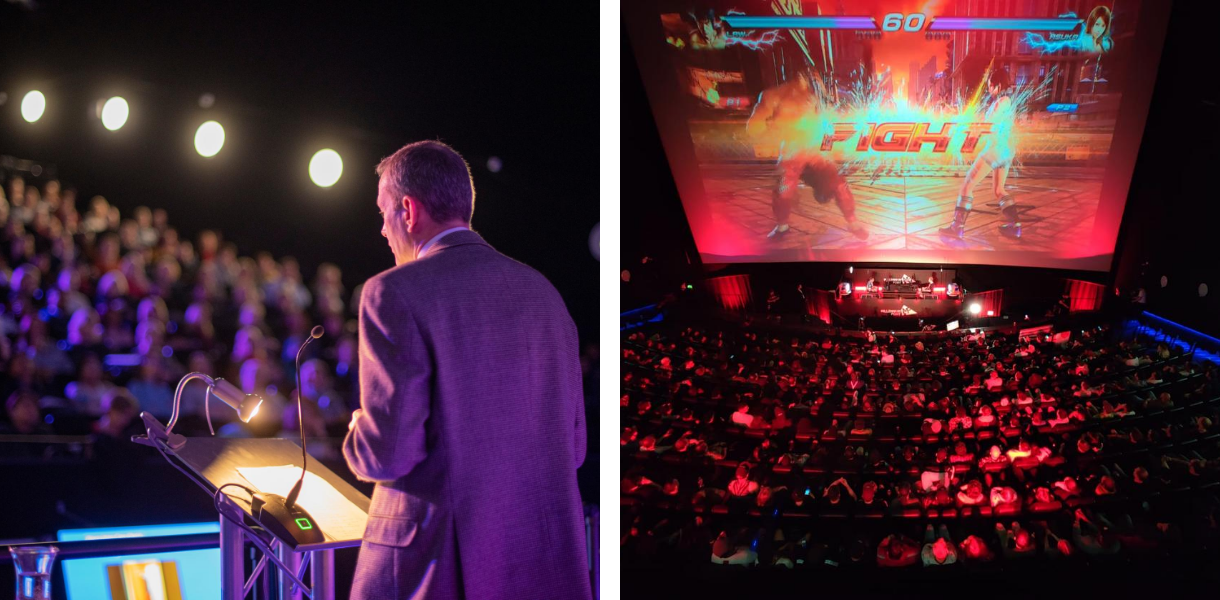 What comes with it?
Unlike more conventional venues with screens, such as cinemas or theatres, you will get exclusive use of the auditorium without having to worry about fitting into a schedule or facing higher costs to cover loss of earnings. This screen is yours when you want it, for less money. Each event comes with your own dedicated event manager who will be on hand to assist you from initial enquiry through to the big day. Your event will be supported by our dedicated AV team to ensure the smooth running of your event at no extra cost.
Where is it?
The Giant Screen Auditorium is located inside the landmark public building Millennium Point, Curzon Street in the Eastside of Birmingham City centre. The multi-award-winning venue is a 15-minute walk from Birmingham New Street Station and major inter-city transport links. Millennium Point has an onsite 900 space multi-story car park owned by Birmingham City cancel which is easily accessible from the M6, M5 and M42.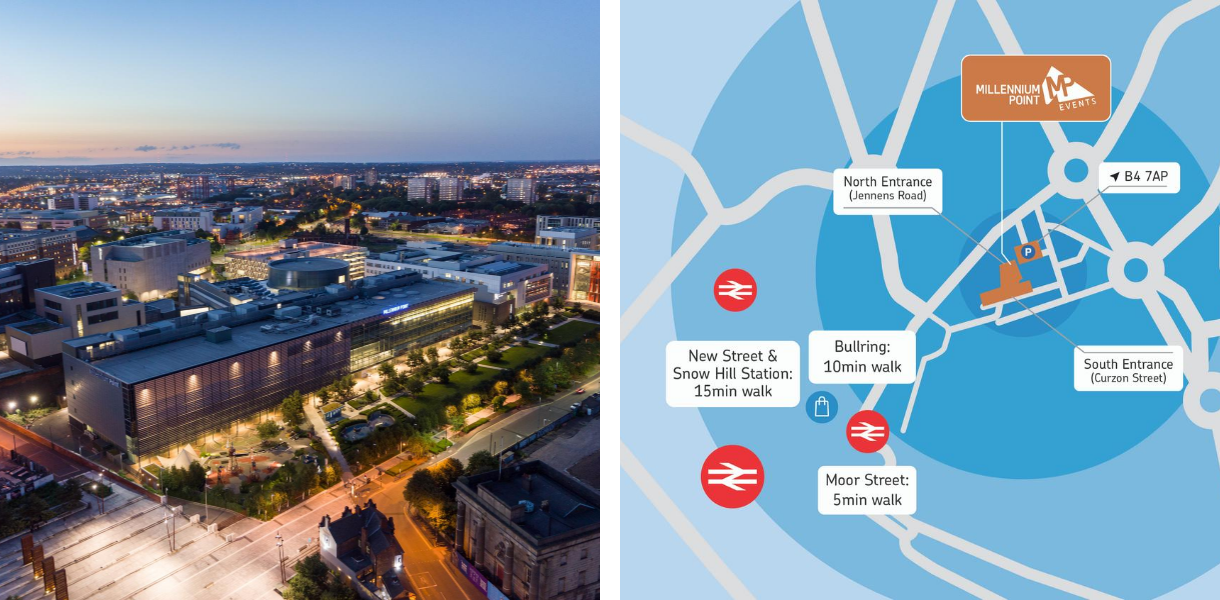 Make a big impression with Live Video Streaming
Take your event online with our live video streaming packages, perfect for larger events without the stress of social distancing. Hosted on a dedicated page on our website for up to 100 delegates, our professional videography team will work with you to make it look slick and seamless with HD video and audio.
Related article: Live Video Streaming at Millennium Point
Social Distancing & Safety Measures.
Our highly accredited team have been working tirelessly behind the scenes to ensure that our building and Auditorium is safe, clean and compliant with the latest government guidelines on coronavirus without compromising the scope and quality of your event.
We have reduced capacity in our Auditorium from 354 seats to 115 seats for corporate events and 181 seats for leisure events. Seats that are off limits are clearly marked.
One-way systems around the space to ensure reduced contact.
The Auditorium is deep cleaned, including seats, before and after every event in addition to our regular, rigorous cleaning regime.
Our staff will be wearing appropriate PPE and our fully trained in COVID-19 protection.
Our fully licenced bar is cashless with protective screens.
All refreshments and catering are self-contained with minimal contact from our staff.
Our measures have been fully tested and received overwhelmingly positive feedback from organisers and attendees alike. One attendee to a recent film screening commented:
"I just wanted to say how great mine and family's experience was watching trolls today. I was very anxious but was immediately put at ease from all the things you had implemented to make it COVID safe. It was lovely to do something normal again with my child without a worry. So, thank you very much!"
We understand the risk of hosting an event during these uncertain times, which is why our new temporary flexible booking policy allows you to move or cancel your event at no additional cost should it be affected by the impact of COVID-19.
Related article: Client Protection Plan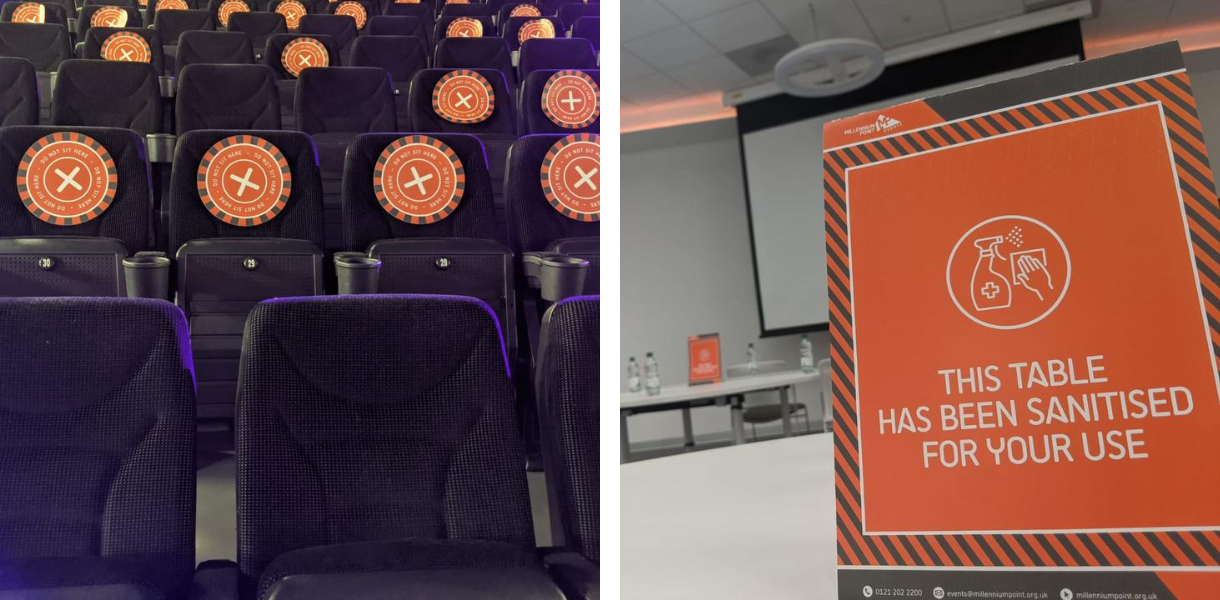 Book your free guided tour now
Enquire now for your free no-strings guided tour. A member of our friendly events team will provide a contact-free guided tour of the space, or you can choose a guided virtual tour over the video communication platform of your choice.
Get in touch by calling 0121 202 2200, emailing events@millenniumpoint.org.uk or by using our quick enquiry form.
---
 Millennium Point is a landmark public building and multi-award-winning events venue in the Eastside of Birmingham City centre. Profits from our commercial activity are invested by the Millennium Point Charitable Trust into projects, events and initiatives which support the growth of science, technology, engineering and maths (STEM) and education in the West Midlands. Find more interesting content from Millennium Point over at our news section, or follow us for daily updates on Facebook, Twitter, Instagram and LinkedIn with @MillenniumPoint.