Challenge yourself to sleepout outside for a night and help raise money so that vulnerable young people don't have to do it for real.
About this event
The St Basils Big Sleepout is the oldest, longest running event of its kind in the world. It's one of the most popular annual events that has been described as 'eye-opening' by many. The challenge is to sleep out on a cold, winter's night in December to get a slight glimpse of what it could feel like to be homeless.
The event will be charging £10 per person. This is to cover the cost of putting on the event and to reduce the number of people who register but don't turn up.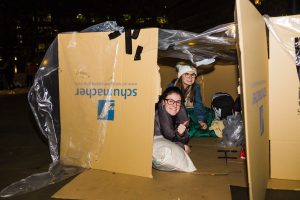 Getting to Millennium Point
Millennium Point is in the Eastside of Birmingham City Centre just 5-minutes walk from Moor Street and 15-minutes from Grand Central and the tram. There is also limited parking on-site which means we're easy to find regardless of how you travel. For more information please click here.
Want to find out more about this event?
If you require further information on this event then please head over to our dedicated landing page by clicking here.