Are you looking to book an event and love a good Summer sale? If so you've come to the right place. Book an event for September at our award-winning venue and get 20% off your room hire. We'll also throw in a complimentary round of tea and coffee on us. Simply use the code MPSUMMER22 on our enquiry form.
What does Millennium Point offer?
Our venue is equipped with 11 versatile event spaces, ranging from outdoor networking spaces to one of Birmingham's biggest screens. Whatever your event needs, we have you covered, our friendly events team are on hand to help you all the way, ensuring your event will be a winner.
If you've got an event in mind, don't hesitate to fill out our short form below and our team will give you a call back.
Make a big impression on our giant screen
Accommodating up to 354 delegates, our Auditorium is just what you need for making that big impression. Along with having one of Birmingham's biggest screens, this space offers high tech AV (with on-site support), LED lighting, a newly refurbished performance stage and branding opportunities.
We also offer affordable Virtual and Hybrid packages available in the Auditorium.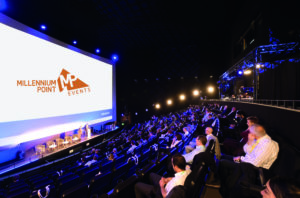 The big question you're probably wondering is what event types are suitable for this space? Well we are pleased to say our Auditorium can cater for a large range of events including conferences, lectures, product launches, AGM's, award ceremonies, film screenings and much more.
Take a virtual tour here.
Dress and lay out our Platform space any way you want
Directly below our Auditorium takes you to Platform, an incredibly versatile event space that can be dressed and laid out any way you want.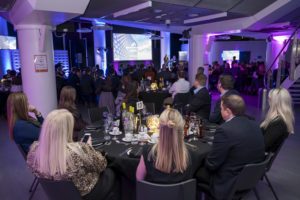 This space is perfect for receptions, launches, banquets, fund raisers, award ceremonies and much more, giving you the open and spacious feel that a conventional meeting room doesn't have.
Take a virtual tour here.
Flexible interconnected conference suites
Experience a truly flexible approach to conferences and meetings with our Connect event suite. Accommodating up to 100 delegates, this interconnected space offers three rooms equipped with the latest AV and presentation facilities, making it the perfect solution for hosting meetings, conferences, workshops, training days and away days.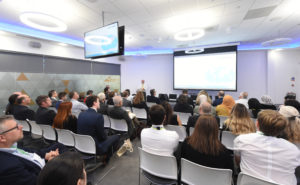 Take a virtual tour here.
Help support STEM in the region by booking with us
Help support STEM in the region and widen your CSR just by booking an event at Millennium Point. Commercial profits from our multi-award-winning events business and landmark public building go towards our charitable trust. The Millennium Point Charitable Trust reached a landmark £30m in STEM support to organisations across the West Midlands over the last seven years.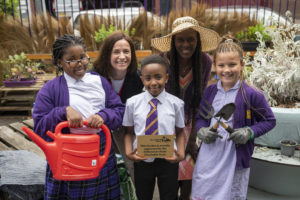 ---
Find more interesting content from Millennium Point over at our news section, or follow us for daily updates on Facebook, Twitter, Instagram and LinkedIn with @MillenniumPoint. Millennium Point is a landmark public building and multi-award-winning events venue in the Eastside of Birmingham City centre. Profits from our commercial activity are invested by the Millennium Point Charitable Trust into projects, events and initiatives which support the growth of science, technology, engineering and maths (STEM) and education in the West Midlands.