In the current climate, outdoor events are becoming an increasingly attractive idea for event organisers. The fresh air and natural daylight will keep your audience happy and engaged. Most importantly, it's a simple twist which makes it easy to implement social distancing measures to protect your delegates without compromising the scope of your event.
Millennium Point has two outdoor spaces for you to consider and each week we will be putting a different event idea under the spotlight. This week, we look at outdoor screenings.
Why an Outdoor Screening?
Outdoor screenings are nothing new, they're particularly popular during the summertime and around major sporting events such as the Olympics or the World Cup. Our multi-award-winning venue has hosted fan zones in the past as testament to that.
However, in light of the recent coronavirus pandemic, there is an increased need to ensure that measures are put in place to restrict crowds and implement social distancing something which outdoor spaces can achieve quite easily with the proper planning without compromising the vision and capacity of your event.
Moving your screening outdoors also adds an additional experience into the mix, mainly a more relaxed and sensual experience compared to being in a cinema or pub. Similarly, its very visual. People walking past can see what you're screening, see your branding and, even if it's ticketed, it has the potential to grab their attention and lead to future sales. Of course, there are some considerations which we will address later.
Host an outdoor screening at Millennium Point.
Millennium Point is in the Eastside of Birmingham City centre. Our landmark public building is easy to spot and even easier to get to by foot, car or public transport is just five minutes from Moor Street and fifteen minutes from New Street Station.
Both of our outdoor spaces at Millennium Point benefit from natural sunlight. Ingress offers a closed, semi-private outdoor space. It's adjacent to our level 1 space, Platform, which has a fully licenced bar and restroom facilities. It's also adjacent to the Millennium Point privately owned car park which can be used for drive-in style screenings.
Promenade is our open public space which backs onto Eastside city park providing ample room ideal for staging an outdoor screening. Our promenade benefits from naturally high footfall which means more opportunity to generate a captive audience. This space has access to power and is close to our ground floor atrium and level 1 space, Platform.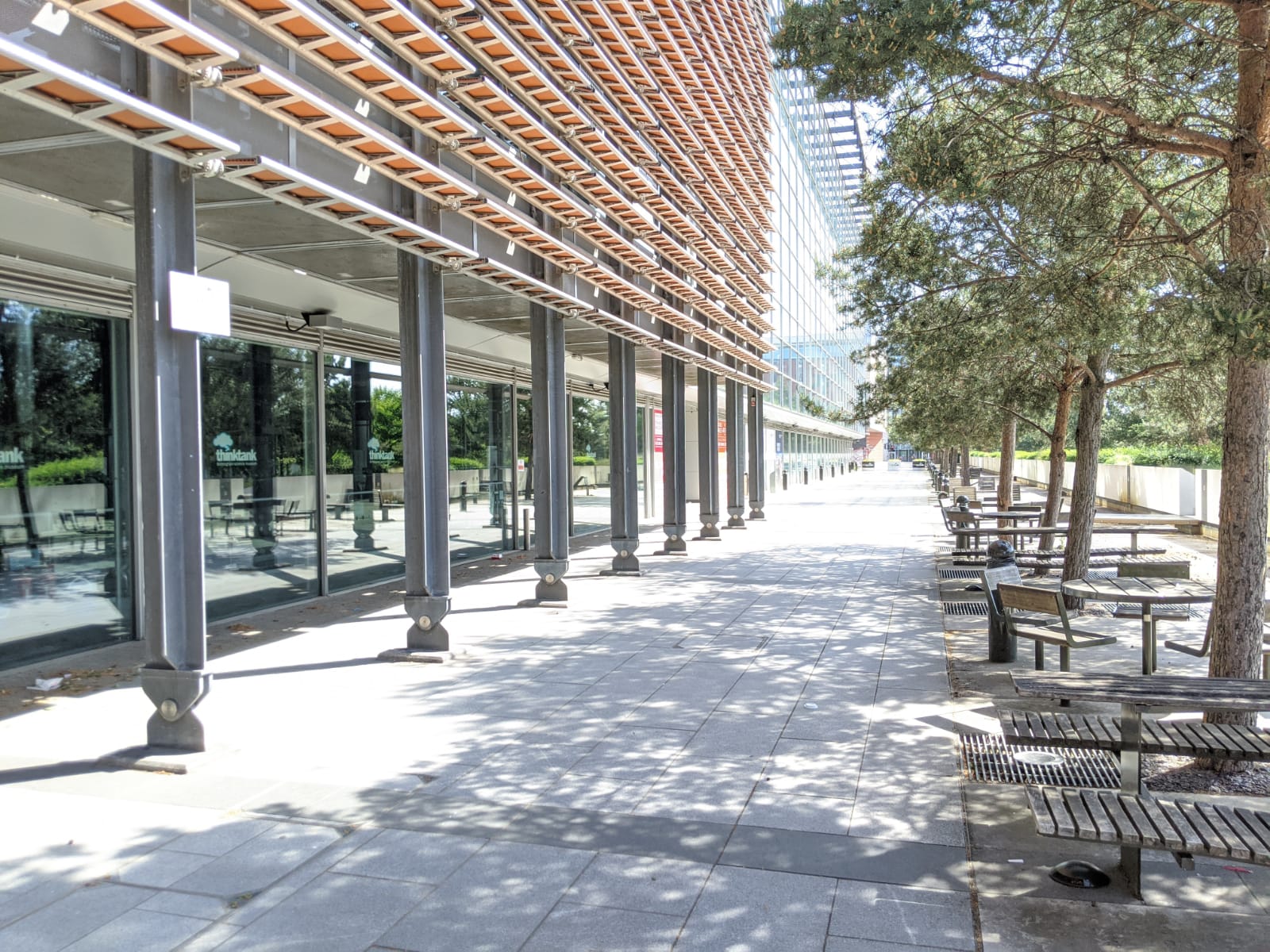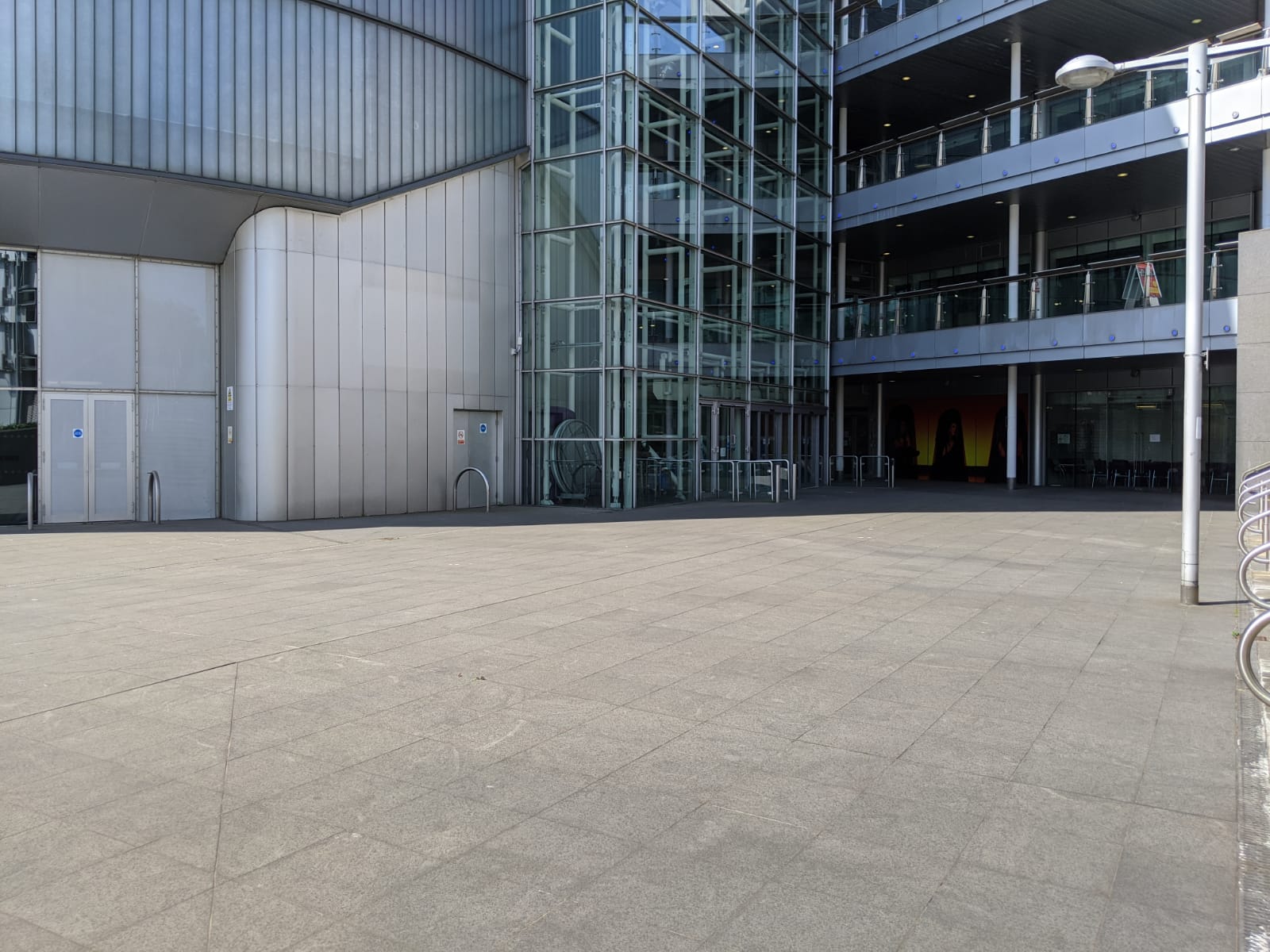 What about social distancing and the weather?
Millennium Point has released a Client Protection Plan (CPP) which outlines in detail how we are adapting and implementing measures to protect you, your booking, your delegates and our staff during this unprecedented time. Measures include queue management barriers, signage and floor markings and contact-free catering. For full details please visit this webpage here or get in touch with our team.
Sunny, hot weather is the dream however, that's not always the case (especially in the UK). Millennium Point offers outdoor furniture which includes seating from chairs to beanbags, umbrellas for shade and outdoor gazebos. We can also offer pop-up bars and catering in addition to our in-door fully licenced bar. These elements can be adapted to suit your brand and theme of your event, and if we can't meet your needs in-house, we will work with you using our network to find the best suppliers who can.
If the weather is too bad then we will work hard to offer solutions such as bringing it indoors to our Platform or 354-seat Auditorium with giant screen, again, ensuring that all precautions have been taken to make sure the event is safe and compliant with social distancing regulations.
While we can't guarantee the weather, we can guarantee a high-level service, professional and flexible event management and a range of catering and high-tech audio-visual support.
For more information on outdoor screenings please visit our dedicated page here. If you are interested in hosting an event then please get in touch with our friendly events team for a no-strings quote.
---
Find more interesting content from Millennium Point over at our news section, or follow us for daily updates on Facebook, Twitter, Instagram and LinkedIn with @MillenniumPoint.
Millennium Point is a landmark public building and multi-award-winning events venue in the Eastside of Birmingham City centre. Profits from our commercial activity are invested by the Millennium Point Charitable Trust into projects, events and initiatives which support the growth of science, technology, engineering and maths (STEM) and education in the West Midlands.