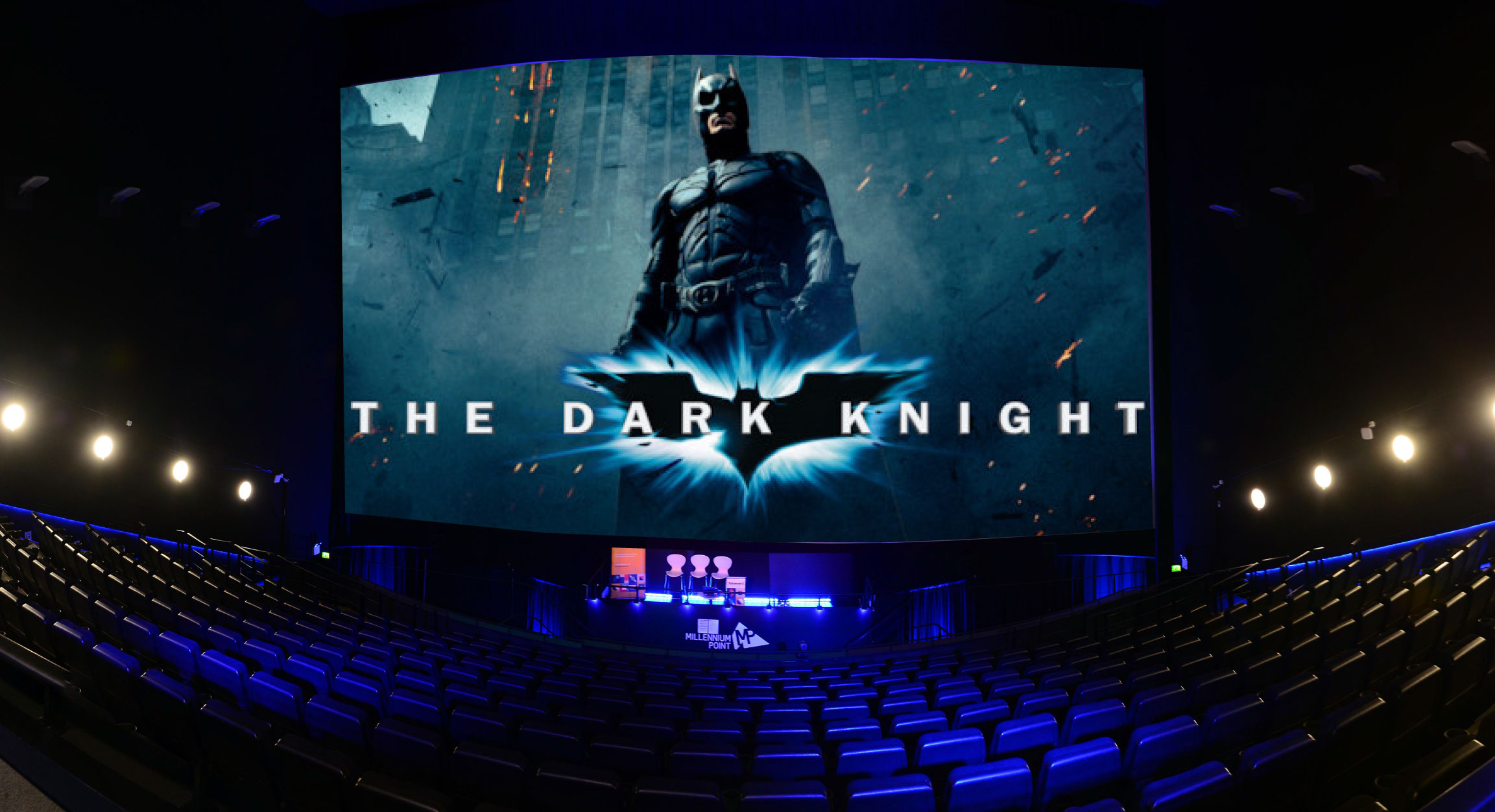 The Caped Crusader returns for one night only to Millennium Point's giant screen auditorium in the eastside of Birmingham city centre. On Thursday 24th September 2020 from 7:30 pm we will be hosting a one-off screening of Christopher Nolan's genre-defining superhero movie, 'The Dark Knight' as part of our 'Millennium Point Presents…' series of socially distanced film screenings in our large Auditorium. This will be the first time in over a decade since The Dark Knight has been at Millennium Point, originally screening in the former IMAX back in 2008. Tickets cost £15 per person and include two drinks within the price of bottled beer, a glass of house wine or soft drink. Doors open at 6:30 pm for film lovers to relax in our level 1 space with the fully licenced bar before the start of the film at 7:30 pm. Additional drinks and snacks can be purchased from our cashless and contactless bar throughout the screening.
Win two tickets to The Dark Knight by heading over to our Facebook page and taking part in our competition.
The Dark Knight is the second instalment of the Nolan's The Dark Knight trilogy and a sequel to 2005's Batman Begins. The film centres around the menace known as the Joker wreaks havoc and chaos on the people of Gotham, Batman must accept one of the greatest psychological and physical tests of his ability to fight injustice and save Gotham from the Clown Prince of Crime and from itself. It features an all-star cast including Christian Bale and supported by Michael Caine, Heath Ledger, Gary Oldman, Aaron Eckhart, Maggie Gyllenhaal, and Morgan Freeman. The film received eight award nominations at the 81st Academy Awards and won two for Best Sound Editing and Ledger was posthumously awarded Best Supporting Actor. The film is considered one of the best superhero films of all time and marks Ledger's final film, with his iconic performance as the Joker redefining the superhero movie villain.

(Video Credit: HD Retro Trailers)
Tickets and what's included
The film will be screened in Millennium Point's spacious Auditorium with a giant 24m x 12m screen, the former home of the IMAX cinema which closed in 2013. Tickets cost an equivalent of £15 per person and include two drinks of bottle beer, a glass of house wine or soft drinks, with additional snacks and beverages available to purchase at our fully licenced bar throughout the screening. Tickets are available in bundles of 2-4 with assigned seating as part of Millennium Point's highly praised measures for social distancing in line with the latest government guidelines on COVID-19.
Read more about our social distancing measures: Millennium Point is Reopening for Events
Keeping you safe in uncertain times
The award-winning events team at Millennium Point has been working hard to implement new hygiene and safety measures, to ensure all government guidelines are met. We are certified "Safe, Clean and Legal" by Quality in Tourism. The Auditorium, which at full capacity can host 354 people, has been reduced to 181 seats to allow for physical distancing between cinemagoers, and all seats will be allocated in advance to pre-paid ticket holders. A deep clean will be carried out between performances and all screenings will be contactless and cash-free. Our staff have been fully trained and will be wearing protective PPE. Specific details for measures we have taken can be found on the booking page.

"Something normal"
This will be the 5th social distanced screening our award-winning Birmingham-based team have organised since lockdown restrictions began to ease in July. Following our socially distanced family screening of Trolls: World Tour in July, one satisfied cinemagoer commented:
"I just wanted to say how great mine and family's experience was watching trolls today. I was very anxious but was immediately put at ease from all things you had implemented to make it COVID safe. It was lovely to do something normal again with my child without a worry. So, thank you very much!"
Tickets are on sale until Thursday 24th September at 11am. Get your ticket now and enjoy a little slice of normal with one of cinemas greatest superhero films.
Is Millennium Point a Cinema again?
No, Millennium Point's Auditorium is neither an IMAX or a regular cinema and has not been since the closure of the Giant Screen Cinema in 2015. Instead, space has been renovated as an impressive 354-seat auditorium available for private hire, which includes films screenings. These socially distanced screenings are one-off events organised by Millennium Point as part of our ongoing commitment to providing fun and affordable activities for the general public. For more information on hiring our giant screen auditorium see here.
---
Millennium Point is a landmark public building and multi-award-winning events venue in the Eastside of Birmingham City centre. Profits from our commercial activity are invested by the Millennium Point Charitable Trust into projects, events and initiatives which support the growth of science, technology, engineering and maths (STEM) and education in the West Midlands. Find more interesting content from Millennium Point over at our news section, or follow us for daily updates on Facebook, Twitter, Instagram and LinkedIn with @MillenniumPoint.