Recently we talked about how environmental sustainability has been gaining significant traction in-light of the impact of the coronavirus pandemic. Now, with a tentative date for conferencing and events to make a return, many event bookers are starting to consider ways in which they can ensure their events are more considerate of the environment. We've checked in with our multi-award winning events team as they're gearing up to re-open to bring you three ways to make your event more environmentally friendly.
Make it a hybrid event
A hybrid event combines a physical event with an online presence through live streaming and virtual conferencing technology. This allows for an online audience as well as a physical one, eliminating capacity issues and increases the reach and engagement of your event. Other benefits to a hybrid event include being more accessible to vulnerable people, or those restricted by location or transport; greater flexibility and security from cancellation caused by local disruption; and valuable data and metrics that give a deeper insight into your event.
Hybrid events go a long way to reducing an events carbon footprint. With people accessing online, it reduces carbon emissions that would have been generated from travel; it also reduces the energy and water consumption required and cuts down on wasted food and products venues will have leftover from the event. Outside of the event itself, you would also be reducing the carbon footprint of attendees who may have had to travel and stay in a hotel by giving them the option to attend virtually.
Read more about our hybrid event solutions here.
Sustainable food and drink
Adopt sustainable food and beverage practices when providing for your attendees. Examples of this can be vegetarian and vegan meal options and locally and ethically sourced produce that support the local economy, and managing food waste rather than simply binning it. These practices not only help the environment but also provide more choice and for your guests, allowing them more opportunity to reduce their carbon footprint and feel good about themselves and by extension creating a more positive event experience. Having these practices may also increase engagement from your audience, reducing any concerns they have over their carbon footprint and making your event more attractive to attend.
Most venues, like Millennium Point, should have their own supply chains for sustainable food and drink should you wish to go through them rather than source your own.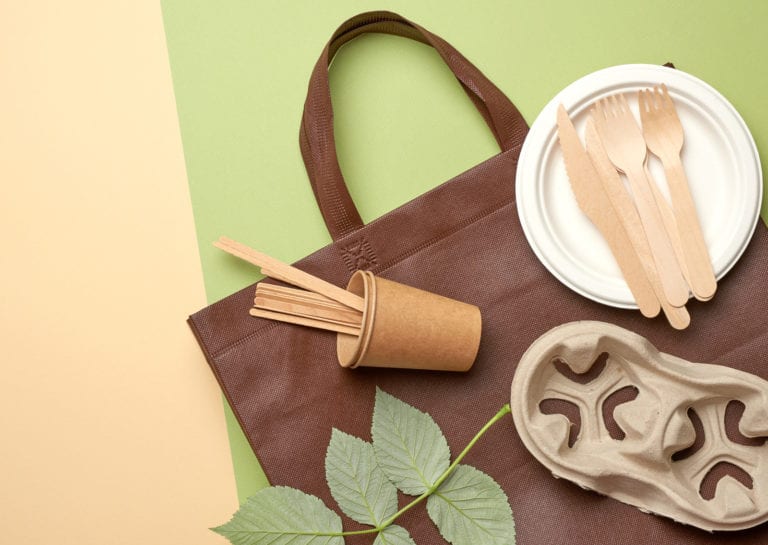 Use recyclable and environmentally sustainable materials
Complimentary to your sustainable food and beverages, you can also look at switching to more recyclable and environmentally friendly materials for use at your events. This can be anything from using paper or canvas bags to hand out to attendees to using paper plates, paper straws and wooden cutlery and serving drinks in biodegradable cups. Similarly, ensure that these items are recycled properly after the event rather than binned through dedicated recycle bins or recycle "stations" set up throughout the event.
Switching to recyclable and environmentally sustainable materials save on waste products, energy and water consumption (from cleaning). Like we mentioned above, they are also a great way of visually demonstrating your commitment to the environment to your attendees. Their event experience may also be improved knowing that both you and they are taking steps to reduce your carbon footprint.
Start planning your next environmentally sustainable event at Millennium Point
Our multi-award winning venue is located in the eastside of Birmingham city centre. We have seventeen versatile indoor and outdoor conference and event spaces from intimate meeting rooms to a large 354-seat auditorium with a giant screen. We offer hybrid and virtual conference solutions with seamless HD live streaming and advanced audio and visual technology. We are proud to be an ECOsmart venue for the measures we are taking to be environmentally sustainable. Speak to one of our highly trained and friendly events team, with over 40 years of combined experience, about planing your next environmentally sustainable event or conference at Millennium Point.
---
Find more interesting content from Millennium Point over at our news section, or follow us for daily updates on Facebook, Twitter, Instagram and LinkedIn with @MillenniumPoint. Millennium Point is a landmark public building and multi-award-winning events venue in the Eastside of Birmingham City centre. Profits from our commercial activity are invested by the Millennium Point Charitable Trust into projects, events and initiatives which support the growth of science, technology, engineering and maths (STEM) and education in the West Midlands.