Deadline extended to apply for our fully funded undergraduate degree
Published 01/02/2021
3 minutes Read
The deadline for our life-changing fully funded undergraduate scholarship at Birmingham City University has been extended to 28th February 2021
Each year, the Millennium Point Charitable Trust fully fund an undergraduate degree at Birmingham City University's Faculty of Computing, Engineering and the Built Environment, which covers over 20 different courses across computing, digital technology, engineering and the built environment. Now in its seventh year, the Millennium Point Trust Scholarship has already funded six young people from the region through their degrees at Birmingham City University.
Young people in education are among those most impacted over the past 12 months by the pandemic causing uncertainty and anxiety over final grades and their future. This has caused a dramatic increase in young people taking to time to carefully consider their futures. After listening closely to the anxieties of young people and feedback from schools and colleges across the region, we have taken the decision to extend the deadline for applications to our life-changing fully funded scholarship from the end of January to 28th February 2021.
The objective of the Millennium Point Scholarship, and the Millennium Point Charitable Trust, is to give young people the support and encouragement they need to unlock their future in science, technology, engineering and maths (STEM).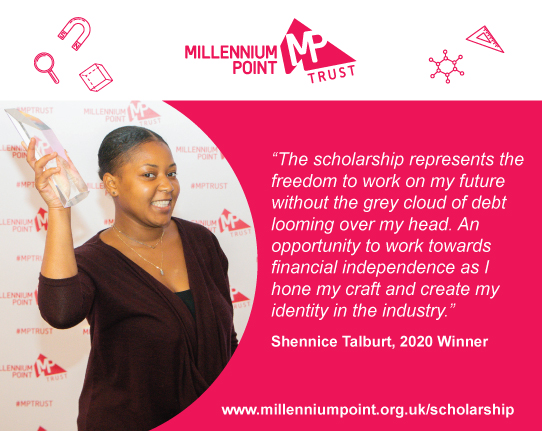 The offer of a fully-funded undergraduate degree is more appealing than ever to young people in the region with value for money being a key driver in applying to uni. With the decision to extend the deadline of the scholarship project this year by four weeks, we are hoping to offer respite and reassurance to students by giving them extra time to apply for this unmissable opportunity to have their tuition fees paid for.
The competition is open to applicants aged 17 and over within the West Midlands Combined Authority, who are looking to start a qualifying degree in September 2021. To apply, they need to download and complete our quick and easy application form from our website by answering four questions. They will then submit their completed form to scholarshipapplications@millenniumpoint.org.uk by Sunday 28th February 2021. We will invite five applicants to a final assessment day in April 2021 before deciding a winner.
Why apply?
If you win you we'll pay your tuition fees. If you make it to the shortlist you get a range of benefits and support that develop your core skills and create opportunities to help you kick start your career in science, technology, engineering and maths. You have nothing to lose by applying.
Get started
If you or someone you know is interested, head over to millenniumpoint.org.uk/scholarship to download the application form before midnight on 28th February 2021.
---
Millennium Point is a landmark public building and multi-award-winning events venue in the Eastside of Birmingham City centre. Profits from our commercial activity are invested by the Millennium Point Charitable Trust into projects, events and initiatives which support the growth of science, technology, engineering and maths (STEM) and education in the West Midlands. Find more interesting content from Millennium Point over at our news section, or follow us for daily updates on Facebook, Twitter, Instagram and LinkedIn with @MillenniumPoint.