Here's 18 years of Millennium Point – how much do you remember?
Published 24/09/2020
3 minutes Read
Well, like many 18-year olds, this isn't really how we planned to spend our big birthday. Nevertheless, we're not going to let that stop us! Millennium Point is known today for three things: a multi-award-winning conference and events venue and a landmark public building home to Birmingham City University's Faculty of Computing, Engineering and the Built Environment and Thinktank Science Museum; with commercial profits going towards the Millennium Point Charitable Trust who invest £5m each year into projects which support science, technology, engineering and maths (STEM) in the region.
Our landmark public building was the catalyst for the regeneration of the eastside of Birmingham city centre, and over the past 18 years we have welcomed over 1 million people (and sometimes animals) through our space-age sliding doors and as such have been, done and seen our fair share of weird and wonderful things. To celebrate 18 years here's a year-by-year round-up of some of our personal highlights.
2002: Official Opening & Unveiling by Her Majesty Queen Elizabeth II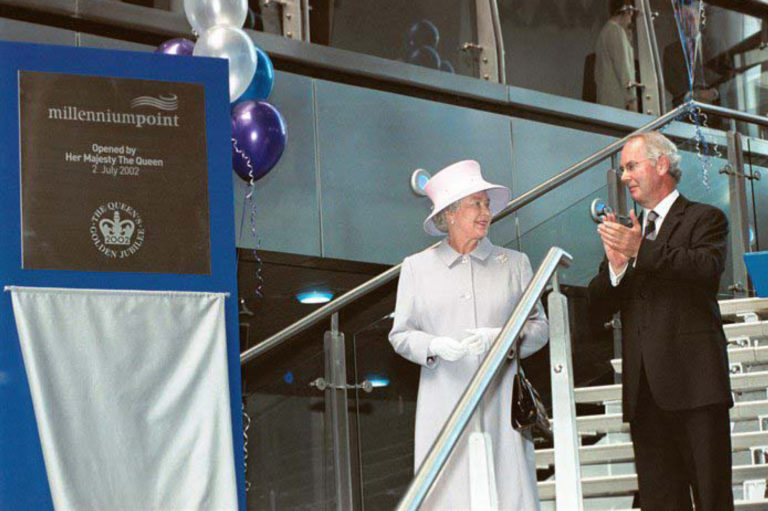 Of course, where better to start than where it all began? The year is 2002, Harry Potter and the Chamber of Secrets is going wand-to-sword with The Lord of the Rings: The Two Towers at the box office; Apple released its second-generation iPod with an unprecedented 20GB of storage and Arsenal won the FA Cup Final with a 2–0 win over London rivals Chelsea. Meanwhile, Millennium Point was officially being unveiled by Her Majesty Queen Elizabeth II on Tuesday 2nd July 2002. The Queen was visiting the West Midlands as part of her Golden Jubilee tour around Britain, and following the unveiling of Millennium Point, she expressed that she had no doubt Millennium Point would be used to 'inspire the next generation who will shape the technology and industry of tomorrow'.
You can read her full speech here.
2003: Betty Boothroyd Visits
We had the pleasure of hosting a visit from former West Bromwich MP, Betty Boothroyd, in 2003. Affectionately known across the nation as 'madame speaker', Betty Boothroyd was one of the most successful upholders of standard in the House of Commons. She is the only female to have served as a Speaker in the Commons as is one of only two living, former Speakers.
Betty visited Millennium Point after retiring from that role and being invited by the University Of The First Age, who arranged a televised link between Betty and children and young adults in South Africa, who she discussed politics with. She then delivered a powerful speech encouraging young people in attendance at Millennium Point to think about politics and how it affects the world around them.
Betty received an Honorary Doctor of Civil Law award and was named the millennium's first Life Peer before also being appointed the Order of Merit, which is one of Britain's highest honours gifted by Her Majesty The Queen. Her reputation of being tough yet very charming led to a more accessible parliament to the public and we are honoured to have hosted such a truly loved icon here at Millennium Point.
2004: Christmas Lights Switch-On
The 2004 Christmas Lights Switch-On took place on Sunday, November 21st 2004. Families from across the city came to Millennium Point for the festivities, which included a funfair and BRMB 'Party at the Point' concert (and that was just the warm-up!) The then Lord Mayor of Birmingham, Mike Nangle, was given the responsibility of getting Christmas underway with the switch on of the evening as crowds gathered. After the big-switch-on, synchronised images of the lights around the city were beamed onto giant screens at Millennium Point, while revellers stuck around to celebrate.
2005: Planetarium opens at ThinkTank

Birmingham's first Planetarium – and the UK's first digital planetarium –  opened to the public on Saturday, December 17th 2005 as the new centrepiece of a £2 million upgrade for the award-winning Thinktank Science Museum at Millennium Point. With seating for up to 70 visitors per show, the new Planetarium boasted a projection dome measuring 10 metres in diameter and gave Brummies a chance to find out all about the Universe from their doorstep. At the time of opening the Chief Executive of Millennium Point and Thinktank Dr Nick Winterbotham said local people had been waiting for this kind of initiative since the world's first Planetarium opened in 1923.
The attraction has continued to be at the cutting edge of technology throughout the years, and the new 4K planetarium system has brighter and sharper images than ever before, as well as crystal clear surround-sound. It remains the only one of its kind in the West Midlands. Special events held at the planetarium over the years have included evening astronomy talks, solar observing and even theatrical productions.
2006 – Recycle It brings an environmental message to ThinkTank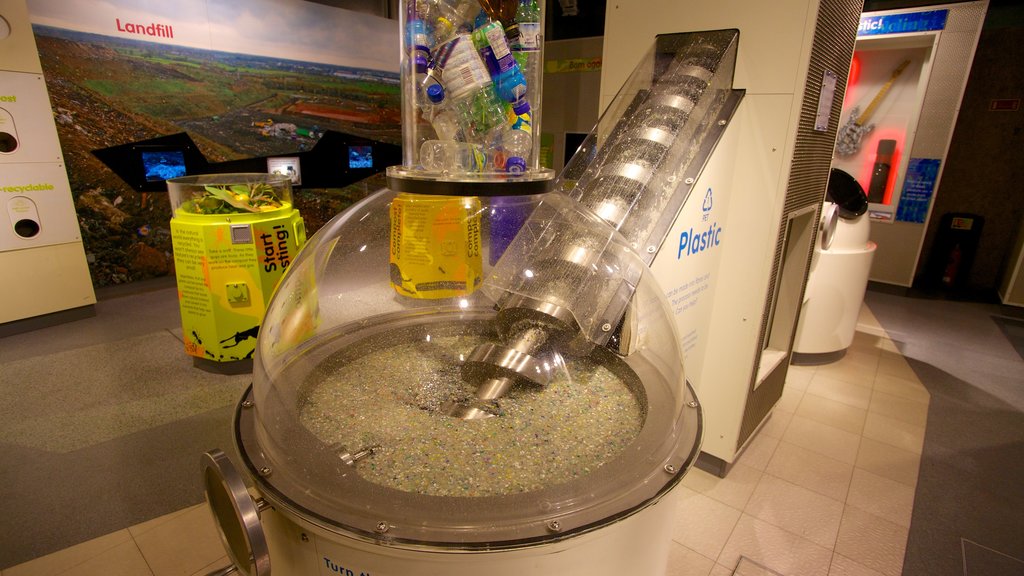 ThinkTank was built to amaze and inspire and has hosted countless exhibitions over the years that have done just that. In 2006, the 'Recycle It' gallery was installed to highlight the benefits of an environmentally friendly attitude to youngsters. Using unique, eco-friendly lighting set up, the first non-halogen lit gallery to be installed at Think Tank brought a positive message to visitors about what they can do to help save the planet while learning about the journey everyday items take once discarded if they are being taken care of properly.
2007 – From Millennium Point's Atrium With Love
In May 2006, the Atrium of the building was used to host a theatrical extravaganza, From Ithaca With Love, a modern retelling of Homer's The Odyssey, which was the launch event of the New Generation Arts Festival. For his swan song, former band manager, marketing guru and film producer Martin Woods had decided to put together a special performance for the inaugural New Generation Arts Festival. It would be From Ithaca With Love, a modern comedy take on the classic The Odyssey, and the Millennium Point atrium was chosen as the venue.
When asked about the event Woods commented: "When Greece won the European Cup the commentator said 'we've come home, we've found Ithaca', and I felt that Millennium Point was like finding our Ithaca."
2008 – The Dark Knight Cometh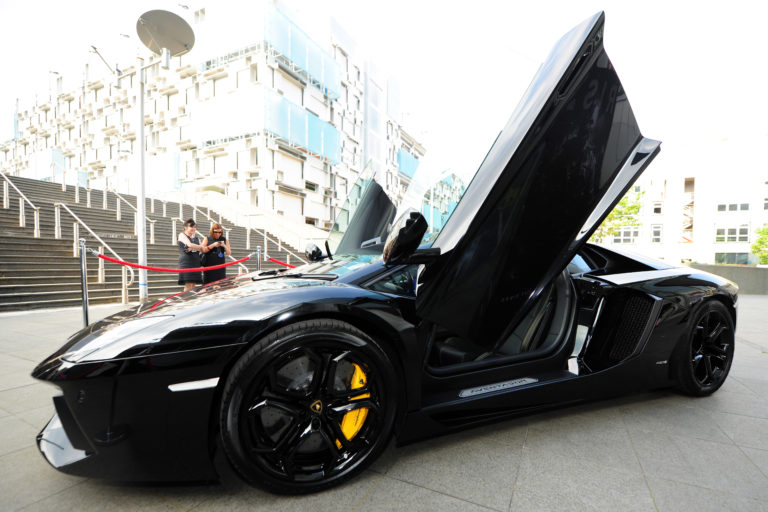 The Dark Knight was deemed an instant classic on release back in 2008, with its reputation and impact continuing to grow over the years. Now rated as the fourth-best movie of all time on IMDB, the movie is the first Hollywood film to have been partly shot using IMAX format cameras. This worked out perfectly for movie fans in Birmingham, who got to see The Dark Knight in all of its glory on our IMAX screen, one of only four in the UK at the time. Six scenes from The Dark Knight were shot in IMAX, including the now-iconic opening segment with The Joker robbing a bank. The Auditorium is now available to hire for private screenings. We have also launched our exciting Festive film and food package for anyone looking to put a quirky spin on their festive office party – find out more here.
Bonus Trivia: Here's a bonus nugget for all you comic book and movie fans out there. Over a decade later, Batman would return to our giant screen in our new 354-seat auditorium for a one-off screening of 1966 classic Batman starring Adam West. The screening was organised by local multi-media collective Geeky Brummie in partnership with Not Another Comic Con to celebrate the 80th anniversary of the caped crusader.
2009 – Children in Need – Pudsey Does Bhangra

(Video Credit: BBC Asian Network)
Children in Need is one of the biggest charity initiatives in the UK, both as a fundraising drive and TV event. We were incredibly proud to take part in 2009 with a Bollywood themed party broadcast to the nation. Joanne Malin, taking the Children In Need helm for the first time, presented live from Millennium Point alongside BBC Asian Network's Adil Ray and Tommy Sandhu, and of course Pudsey Bear.  Spectators were able to try their hand at dhol drumming, take part in a Bollywood dance workshop and have their photos taken in the Asian Network Bollywood photo booth, in return for a donation to Children in Need. You can find a clip of the event above.

2010 – Gunther Von Hagens – Body Worlds
The Body Worlds exhibits are one of the most successful travelling exhibitions in the world. On display since 1995, they have attracted more than 50 million visitors in over 140 cities across America, Africa, Asia, and Europe. We welcomed the unique works to Millennium Point in 2010, bringing a truly awe-inspiring and thought-provoking piece to Birmingham. The exhibitions were conceived to educate the public about the inner workings of the human body and to show the effects of healthy and unhealthy lifestyles. They aimed to inspire visitors to become aware of the fragility of their bodies and to recognize the anatomical individual beauty inside each of us.
This fascinating work is still on tour, for the latest news about this visit the official website.
2011 – IMAX Refurbishment
While the Giant Screen would eventually close in 2015, both iterations of this groundbreaking cinematic experience are still remembered fondly by Brummies as part of Birmingham's evolving cultural and technological progress at the turn of the century.
Their legacy lives on, however, in the Millennium Point you have come to know today. The foyer of the cinema on level 1 was transformed into the flexible open plan event space Platform. This space features an in-situ, fully licenced bar and slick audio-visual equipment including multiple HD repeater screens and PA system. The installation of a new white screen and 4K digital projector means that the former cinema, now known as the Auditorium, is still a key attraction for client events held at our multi-award winning venue.  To this day, the quality of the auditorium remains outstanding and has become the home for major events in the region such as the Birmingham Film Festival and VSFighting.
2012 – Millennium Point welcomes AC-12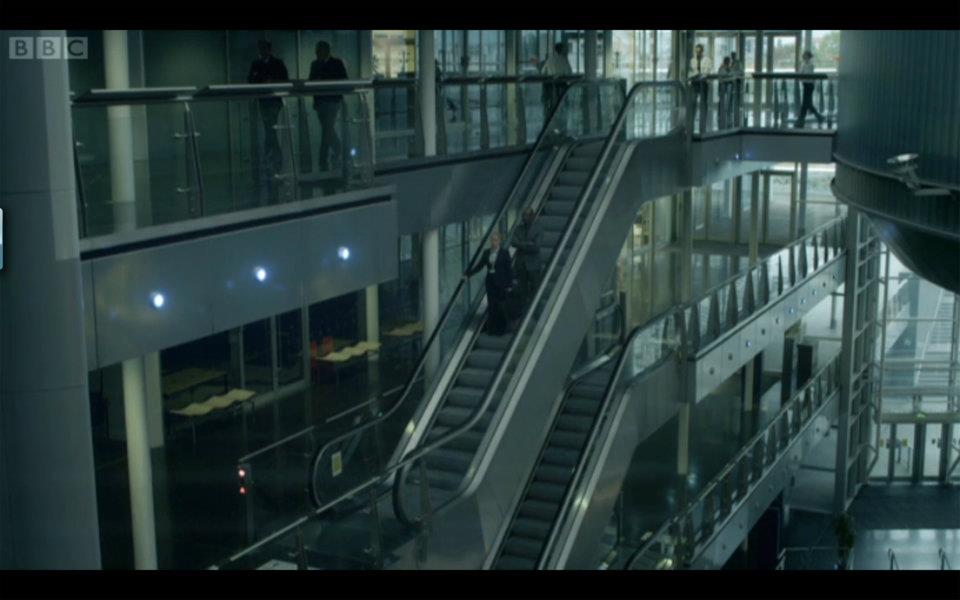 Steve Arnott, Ted Hastings (like the battle) and Kate Fleming all called Millennium Point home in the first series of BBC crime drama Line of Duty. Jed Mercurio's gripping series, centred on the efforts of a police anti-corruption unit to tackle 'bent coppers', transformed our meeting complex into interrogation rooms as the case of DCI Tony Gates unfolded. Millennium Point was used for internal shots of the Police headquarters – most notably in episode three of the first series – where you can see our iconic Atrium, glass elevators and space-age looking escalators! The first series was famously filmed in Birmingham with several other landmarks and familiar sites including the Grade II listed pub in the Jewellery Quarter, The Queens Arms and Broadstreet also spotted in several scenes.
The show has gone on to be recognised as one of the BBC's most successful projects and we are proud to have played our part in its opening series.
2013 – 'Worlds Coolest Car Park'?
Now, the terms 'car park' and 'cool' don't often go hand-in-hand, but we have always set out to be different… In 2013, the Jennens Road multi-storey, which glows blue at night, was one of ten facilities vying for the title of Coolest Car Park in the World. The cuboid structure which sits next to Millennium Point is one of many Birmingham buildings built in the 'Brutalist' style of architecture. The car park is owned by Birmingham City Council and designed by its in-house architects Urban Design. Next time you think Millennium Point; as well as remembering (obviously) that we're a multi-award winning events & conference venue, landmark public building and charitable trusts; remember that we're also the home of a super cool car park!
2014 – Millennium Point Launched the Young Innovator Prize (Millennium Point Scholarship)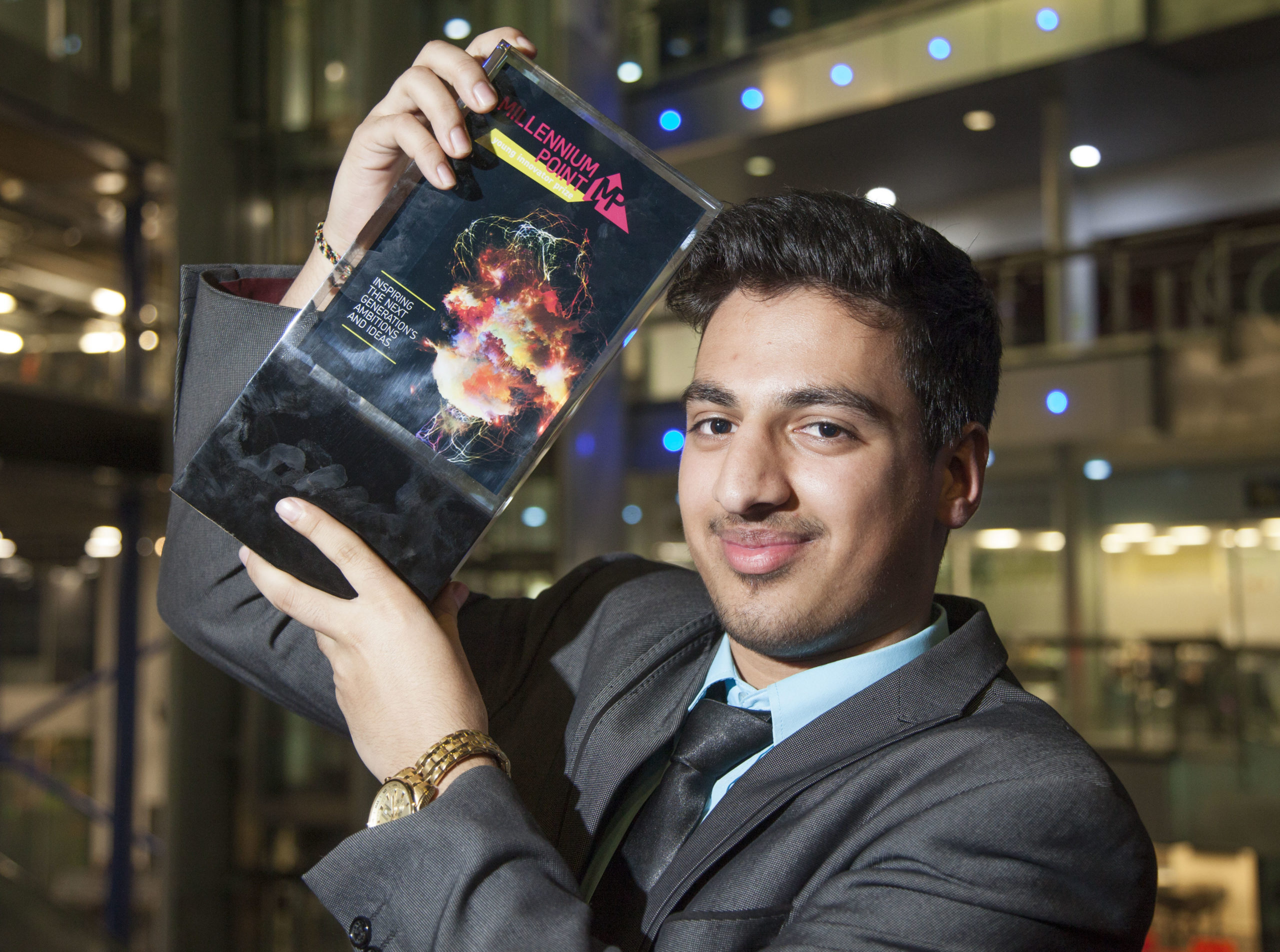 Today, we're delighted to see that there is a significant emphasis made by the government and local authorities on skills pertaining to roles in science, technology, engineering and maths (known collectively as 'STEM') both in education and in business (although there is still a long way to go in bridging the STEM skills gap and addressing wider issues such as inequality and diversity). Back in the early 2010s, however, this was not the case. 
In 2014, Millennium Point's Charitable Trust arm partnered with our tenants, Birmingham City University, to launch the Young Innovator Prize. This initiative was designed to encourage young people to consider careers in STEM by offering one lucky winner a fully funded undergraduate degree at Birmingham City University's Faculty of Computing, Engineering and the Built Environment. A call was put out to school leavers across the West Midlands region and six young hopefuls were selected to compete in a live final of the competition the following March. The launch event took place in our Atrium space in December 2014, where our then CEO Philip Singleton announced the competition alongside (then) Dean of BCU's Faculty of Computing, Engineering and the Built Environment and engineer and popular BBC Presenter Kate Bellingham, known for presenting the BBC 1 Tomorrow's World. The first final was hosted by popular comedian, writer and broadcaster Robin Ince and saw then 17-year old Malik Sheryar-Karamat from Ark St Alban's claim the sponsorship prize. Malik graduated with 1st Class Honours in Mechanical Engineering in 2018.
In 2017, the Young Innovator Prize was overhauled to what it's known today as the Millennium Point Scholarship. This overhaul was part of a wider refresh that the Millennium Point Charitable Trust was undergoing in order to increase the visibility and impact of the charity's contributions back into the West Midlands region. The scholarship is still running today, with the most recent winner, 28-year old Shennice Talburt, being crowned back in March this year.
The competition will open again later this year for students looking to study at Birmingham City University's Faculty of Computing, Engineering and the Built Environment, for more information please see here.
2015 – The Last Performance at Millennium Point's Giant Screen Cinema.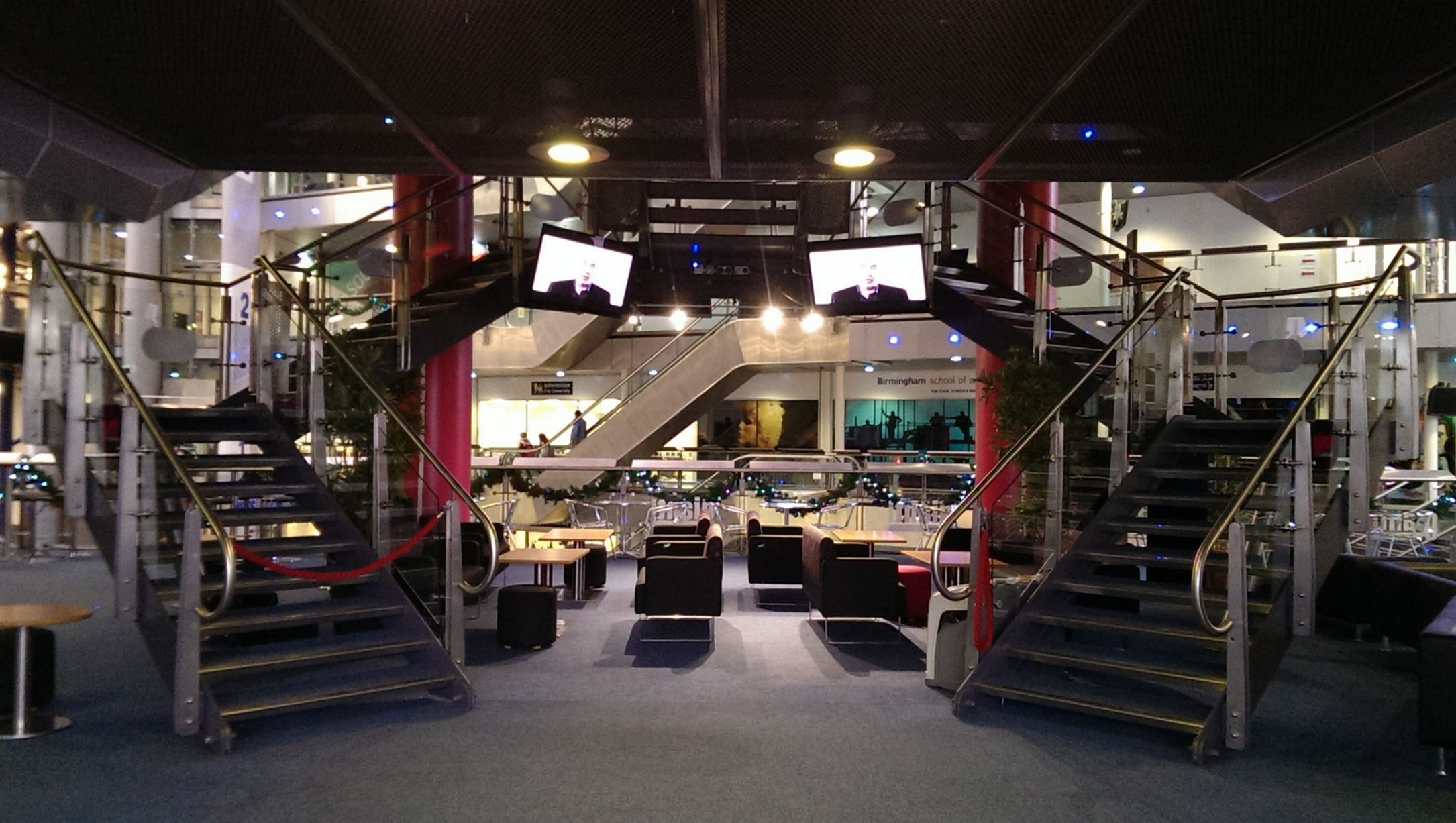 We mentioned earlier the transition from IMAX to the Giant Screen, well, following 14 fantastic years, the cinema at Millennium Point was closed, and what better way to say goodbye than with one last epic movie night? The movie chosen for the final performance was from the world-famous fantasy film series and the second-highest-grossing film of 2014 – The Hobbit: The Battle of the Five Armies. With the incredible sound quality and a 70ft x 41ft cinema screen, over 100 people were able to sit and enjoyed the show.
Both iterations of the cinema as an IMAX and the Giant Screen is something that was close to the hearts of Brummies and something that many will still reference today. Unfortunately, the closure was a sign of the times with increased competition and a rapid decline in attendance, it was no longer sustainable for the charitable trust to uphold. Their legacy lives on, however, in the Millennium Point, you have come to know today. Recently, we returned to our cinema roots with a series of socially distanced film screenings of some classic films including Pulp Fiction, The Shawshank Redemption, Sex & the City: The Movie and the newly released Trolls: World Tour. This series was well received by the public and is something we will look to revisit on a more regular basis so watch this space!
The foyer of the cinema on level 1 was transformed into the flexible open plan event space Platform. This space features an in-situ, fully licenced bar and slick audio-visual equipment including multiple HD repeater screens and PA system. The installation of a new white screen and 4K digital projector means that the former cinema, now known as the Auditorium, is still a key attraction for client events held at our multi-award winning venue.  To this day, the quality of the auditorium remains outstanding and has become the home for major events in the region such as the aforementioned the Birmingham Film Festival and VSFighting.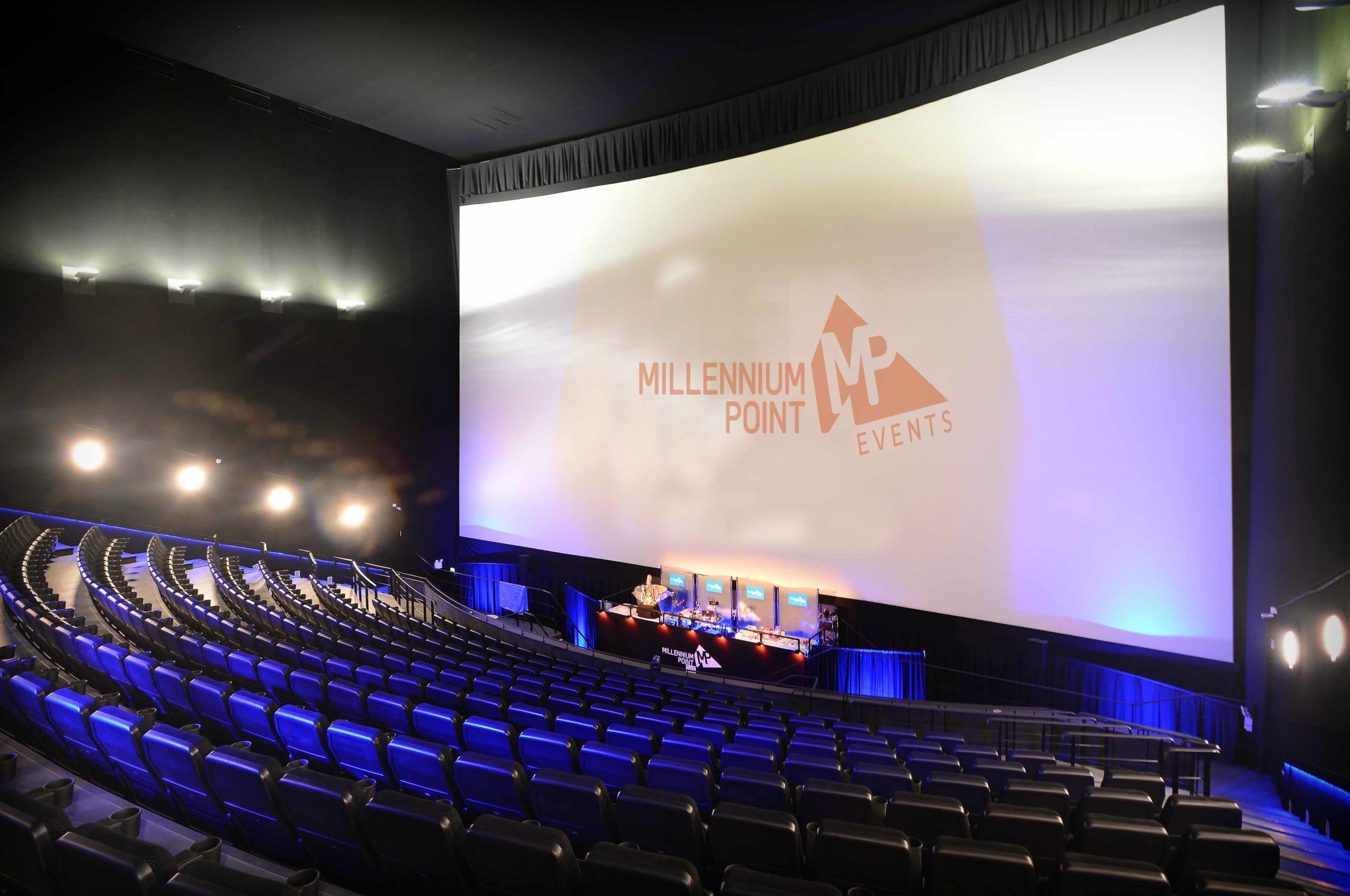 2016 – Gallery 37 Season

(Video Credit: Puch Records)
On September 10th 2016, we hosted a free music and art showcase event called Gallery 37 in our main atrium space here at Millennium Point. The programme explored space as a theme, making our Atrium the perfect venue thanks to the futuristic interior. Participants of Gallery 37 were able to showcase their work to a room filled with live musicians, poets, spoken word performers, dancers and many other great creative talents.
Local street food provider, Taste and Liquor, was on-site serving up an array of delicious fresh food, and attendees enjoyed live performances throughout the day from Apples and Snakes, Beatfreeks, Sticky Toffee, Paul Steadman, Terri Walker and RoxXxan. The showcase featured a range of masterclasses and workshops with creative career advice and industry events to get involved in. Overall the event was a great initiative with lots of opportunities for people to learn new skills and network, while also just having a great time. We look forward to honouring our ongoing commitment to support and encourage education amongst youth across the West Midlands, with many more fantastic events like this!
2017- Ball Mania in the Atrium

In May of 2017, for just a few days, Millennium Point hosted a crazy, one-off event at the Atrium event space called 'Ball Mania'. Lights and music helped complete the atmosphere and guests were able to escape the reality of an exhausting 9 to 5, to see just how deep they could bury themselves in the 200,000 plastic balls flooding our Atrium space.  The ball pit created was the largest in the country, and to add to the experience, we dotted huge, adult-sized inflatables around the space as props for games like catch, tig and hide and seek.
Although a one-off event for us here at Millennium Point, Ball Mania was part of a UK wide tour and followed on from a similar, successful event in Manchester.  
2018 – Platform launches after refurbishment
In 2018, we launched Platform, a brand new flexible event space which is adjoined to our 354-seat Auditorium. The official launch night was held on a mild September evening and saw the cream of Birmingham's business world invited to see it ahead of reopening. With entertainment throughout the night from Elegant Entertainment, free-flowing drinks, mouth-watering food from the brand new menu and even an interactive mirror photo booth and photo wall, guests experienced the height of hospitality throughout. 

Formerly the foyer for the Giant Screen Cinema, this level 1 space was transformed over the summer months into fit-for-purpose open-plan space. In addition to a new look and feel in-line with the Millennium Point Events branding, new features included a built-in bar, presentation facilities and dedicated AV equipment. Since launch, Platform has remained one of our most popular spaces and has seen a wealth of events from exhibitions, conferences and AGMs to formal dining, Christmas parties and even an eSports tournament! 

Check out space on our venue page or you can book a contact-free guided tour by calling our friendly events team on 0121 202 2200 or via our online contact form.
2019 – MiniBrum rolls into town

MiniBrum has been a roaring success since its opening in Thinktank Science Museum at Millennium Point in May 2019. Funded partially by the Millennium Point Charitable Trust, MiniBrum was created by Thinktank in collaboration with schools, families and community groups. It allows children under 8 to explore and question their understanding of STEM (Science, Technology, Engineering and Maths) world around them. The Thinktank based role play city, centred around the famous Old Joe clock tower, is truly a one-off experience and has been enjoyed by people of all ages in the months following its launch. From shopping at the Bullring to going on a barge down Gas Street Basin, Mini-Brum is as entertaining as it is educational.
Its 750 square metres is split into five different zones, with a phone in each so you can call and book a table at the cafe, an appointment at the doctors or the station to check if your train is on time. MiniBrum will be back open along with the museum over the next few months, for more information please visit their website.
2020 and beyond
So now we're in 2020 and, like many businesses, we've had to adapt to changing and uncertain times. However, that hasn't stopped us achieving our goal of supporting local communities and STEM in the West Midlands.
Achievements with the Millennium Point Charitable Trust
In the 2019/20 financial year, The Millennium Point Charitable Trust has contributed over £5.5m to supporting the growth of STEM in the region.
The Millennium Point Scholarship had a second record year for applications increasing 65% over 2019. Following the live final at the start of March, all five finalists have since received additional support and coaching through their next steps. Three past winners have now graduated from university, most with first-class honours with three more currently in higher education.
We've given over £561,000 in grants and funding to over 60 STEM projects and organisations in the region.
We continue to support Thinktank Science Museum with a donation of £250,000
Equipment at Bishop Vesey Grammar School, funded by the Millennium Point Charitable Trust, was used to produce vital PPE for local organisations struggling during the PPE shortage.
Achievements in our landmark public building
Our live acoustic gigs performed in our venue and live-streamed through Facebook live have been viewed over 23,000 times.
Over 300 people to have attended our socially distanced film screenings
Our venue has been accredited "Safe, Clean and Legal" by Quality in Tourism for our outstanding work implementing measures which protect against the spread of Covid-19
Now, more than ever, the region needs to come together to overcome the challenges that the current pandemic is causing us. We will continue our work supporting the region and facilitating opportunities for growth both in STEM and the wider community through our landmark public building, award-winning venue and a charitable trust. For more information on what we do or how you can collaborate on our objectives, please get in touch.