As the lockdown eases across the UK, businesses are gearing up for a full return to work and with it, many event bookers are now turning their attention in earnest towards event planning.
The Millennium Point team have been working tirelessly behind the scenes to ensure our landmark public building and multi-award-winning venue is safe, clean and ready for when we open our doors next month. Last week, we announced that event bookers can now book a contact-free guided tour or an online virtual tour of our venue with a member of our Event Sales team.
With that in mind, here's why you should choose Millennium Point for your small meeting.
SPACIOUS, CLEAN AND FORWARD THINKING
We have 7 flexible meeting rooms located across Level 2 and 4 of our multi-award-winning venue. From simple to sophisticated, there is everything you need to make your small meeting a success.
As outlined in our Client Protection Plan, each meeting room is cleaned thoroughly as part of our rigorous cleaning schedule and will be deep cleaned prior to your event. Our meeting rooms provide ample space for delegates with layout and signage adapted for the latest social distancing regulations.
Lastly, you will benefit from our forward-thinking technology with access to high-speed Wi-Fi offering smart conference solutions allowing for additional delegates to dial in from wherever they are. We have AV equipment, from screens and projectors to lights that can be programmed to match your brand giving you a fully immersive meeting experience.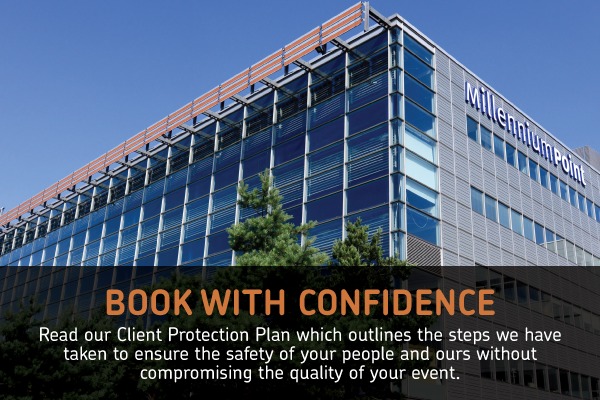 CONNECT EVENT SUITE
Connect is a purpose-built sophisticated event suite located on Level 2 of our venue. Connect consists of four interconnected rooms which can be combined to create a combination of small meeting set-ups from intimate workshopping to formal board meetings. Each room in Connect is equipped with ready-to-use AV including HD screens, projection facilities, high-speed wi-fi and temperature and light controls. Connect also includes four hot drinks machines which can be included in your package.
[easingslider id="4555″]
ENGINE, INTER-CITY & JUNCTION
Our next space available is our triple event suite on level 4. Engine is the largest of the three rooms, with ample space to conduct your small meeting. Inter-city is the medium-sized meeting space, suitable for board room meetings and Junction is the smallest for more intimate small meetings or workshopping. Engine is equipped with ready-to-use projection facilities while Inter-city and Junction are equipped with large HD Screens ideal for presentations.
[easingslider id="4562″]
CATERING & REFRESHMENTS
We now offer contact free catering options that minimise hygiene risks without compromising on the satisfaction of your delegates. Food items are individually wrapped or sealed with options for biodegradable cups and cutlery which will be recycled after use.
ENQUIRE NOW

Getting in touch is quick and easy:

ON THE PHONE
You can chat to our friendly events team between 8am – 5:30pm every weekday on 0121 202 2200.

ONLINE
Fill out our quick enquiry form online and a member of our team will get in touch as quickly as possible.
OVER EMAIL
Email our events team at events@millenniumpoint.org.uk. 
---
Find more interesting content from Millennium Point over at our news section, or follow us for daily updates on Facebook, Twitter, Instagram and LinkedIn with @MillenniumPoint.
Millennium Point is a landmark public building and multi-award-winning events venue in the Eastside of Birmingham City centre. Profits from our commercial activity are invested by the Millennium Point Charitable Trust into projects, events and initiatives which support the growth of science, technology, engineering and maths (STEM) and education in the West Midlands.