Enjoy the big screen and modern twist on Shakespeare's classic, Romeo + Juliet on Saturday 12th February 2022 at Millennium Point. This perfect Valentine's gift costs just £20 per person (plus fees) and guests can expect to receive a bottle of prosecco with their ticket.
Also enjoy Luke Jerram's Gaia at night and gaze up at Earth and be amongst the stars.
You can purchase your ticket on Eventbrite here.
Baz Luhrmann's Romeo + Juliet, a modern spin on the romantic tragedy
Did my heart love 'till now? Forswear its sight. For I never saw true beauty till this night.
Baz Luhrmann helped adapt this classic Shakespearean romantic tragedy for the screen, updating the setting to a post-modern city named Verona Beach. In this version, the Capulets and the Montagues are two rival gangs. Juliet (Claire Danes) is attending a costume ball thrown by her parents. Her father Fulgencio Capulet (Paul Sorvino) has arranged her marriage to the boorish Paris (Paul Rudd) as part of a strategic investment plan. Romeo attends the masked ball and he and Juliet fall in love.
Certificate: PG-13 | Running Time: 2 hours
What you get with your ticket
Tickets are £20 (plus fees) per person. Tickets can be purchased in groups of two or four only. Each pair of tickets will include a complimentary bottle of chilled prosecco to enjoy during the film.
While enjoying your drink why not gaze up at Luke Jerram's Gaia Earth Artwork and give your loved one the world this Valentine's weekend?
The Auditorium Bar will also be open with a selection of drinks available for purchase during the event.
Please note that only those aged 18 or over will be permitted entry.
Enjoy Luke Jerram's Gaia this Valentine's weekend
While at Millennium Point, you can also enjoy your drinks under Luke Jerram's Gaia, an art installation of Earth.
The unique installation features 120dpi detailed NASA imagery of Earth's surface on a globe measuring seven metres in diameter. The artwork is 1.8 million times smaller than the real Earth with each centimetre of the internally lit sculpture describing 18km of the Earth's surface.
This is just one of the events we're holding while Gaia is visiting, for more information discover more on our website.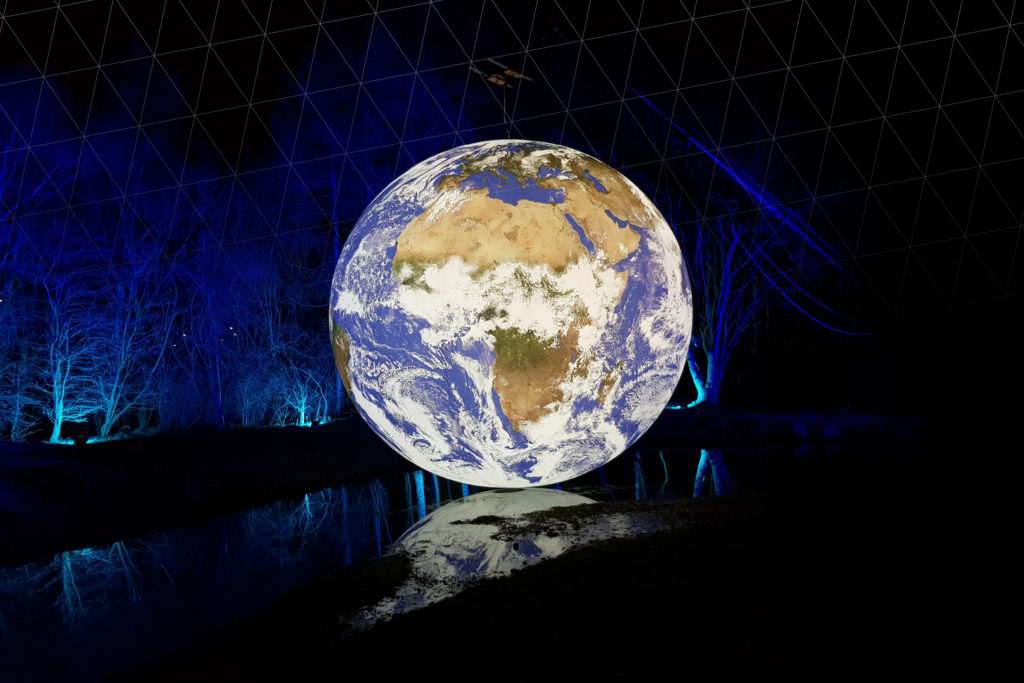 A trip to Millennium Point is not to missed
Last year we have had lots of amazing events take place in our landmark building. With plenty to offer, make Millennium Point your place to go to this year.
Are you a fan of films? Dirty Dancing Revellers had the time of their lives with cocktails and entertainment in our much-loved Auditorium. Following on from the success of Dirty Dancing, we reached for the sky, where guests experienced the epic musical story of Elton John in Rocketman, with 5 delicious wines that were given out for all to enjoy. For a festive treat, we showed the modern classic Christmas movie, Love Actually. Visitors sat back to watch the film, along with a few glasses of festive cheer (wine) and some movie trivia presented by the charming movie geeks The Wine Events Company.
In December, we just couldn't stop talking about our spectacular 39ft Christmas Tree, we even put some fir-tastic facts together. It was great to see our multi-award-winning building come to life with lots of visitors enjoying the festivities.
Also at Millennium Point is the home of authentic Italian food experts Mulino's Café, based on level 2. Here you will find the delicious pizzas, bakery items and more, why not grab a bite when visiting?
Fancy going on a scientific journey of discovery? Plan a visit to the award-winning Thinktank Science Museum, don't forget to visit their science garden!
Getting to Millennium Point
Millennium Point is in the Eastside of Birmingham City Centre. Just 5 minutes' walk from Moor Street, and 15 minutes' walk from Grand Central and the tram. There is also limited parking onsite which means we're easy to find regardless of how you travel.
---
Find more interesting content from Millennium Point over at our news section, or follow us for daily updates on Facebook, Twitter, Instagram and LinkedIn with @MillenniumPoint. Millennium Point is a landmark public building and multi-award-winning events venue in the Eastside of Birmingham City centre. Profits from our commercial activity are invested by the Millennium Point Charitable Trust into projects, events and initiatives which support the growth of science, technology, engineering and maths (STEM) and education in the West Midlands.